The Michigan Prevailing Wage Act of 1965 was based on the federal Davis-Bacon Act of 1931, which was named for the two Republican lawmakers who were its sponsors. At the time, the clear intent of the law was to ensure that local labor was performed by local workers, not by a low-way workforce brought in to undercut area wage standards.
Michigan's Prevailing Wage law was established under the same principles:
To prevent low-wage, unskilled workers from undercutting an area's wage standard, to maintain quality workmanship on state-sponsored construction projects and to assure the strength of local economies by keeping local tax dollars re-circulating in the economy.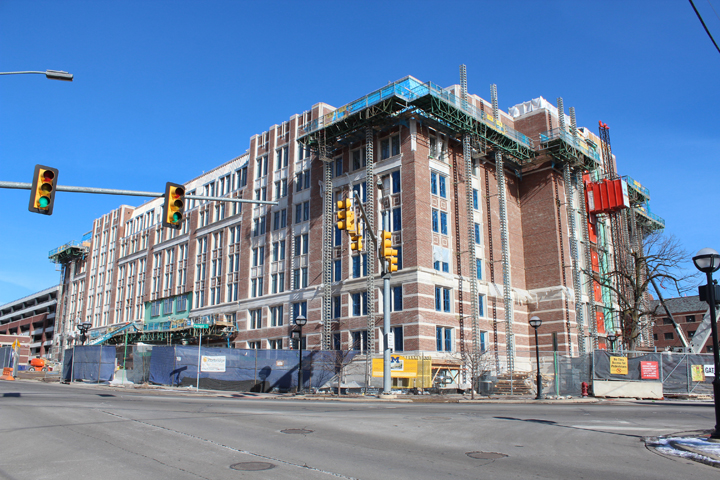 Over the years, other detractors have claimed repeal would save taxpayers as much as 30 percent. Testimony by the Mackinac Center for Public Policy before a state House subcommittee suggested 10-15 percent savings. Generally, labor represents 25 percent of the cost of a construction project. At 10-15 percent savings, construction workers would have to work for about half their wage in order for taxpayers to realize those savings, which is highly unlikely.
There is ample real-world evidence from several studies that repealing prevailing wage laws does not provide savings to taxpayers. One study looked at three states. The State of Kentucky adopted a prevailing wage law for school construction in 1996. Ohio repealed its prevailing wage law for public school construction in 1997. And, a court ruling temporarily suspended the Michigan Prevailing Wage Act from 1994-1997, making our state a "poster child" for study prevailing wage repeal, because we had it, lost it, and regained it, according to a study by University of Utah economics Professor Peter Phillips.
"A study of the construction of 391 schools in these three states, half built under prevailing wage laws and half not, found no meaningful or statistically significant difference in the cost of construction," Phillips wrote. Furthermore, he said construction at 4,000 schools across the nation were similarly examined and he got the same result: no statistical difference in costs whether prevailing wage was applicable or not.
Eleven years after the Kansas repealed its prevailing wage law in 1987, Professor Philips released an academic study proving that Kansas taxpayers did not see the savings they were promised by those who pushed to repeal the Prevailing Wage. Among Philips' findings:
*Wages and benefits dropped for working families after Kansas' Prevailing Wage law was repealed whether or not they belonged to a labor union.
*Workplace safety worsened following the Prevailing Wage repeal, as worker injuries increased 19 percent. Lost time means project delays and additional cost to taxpayers by way of more workers' compensation claims.
*Kansas' Prevailing Wage repeal drastically cut the size of the skilled workforce, particularly among minorities; apprenticeship training fell by 38 percent, and minority apprenticeship training plummeted by 54 percent.
Hiring cheap, unskilled or undocumented labor might on the surface appear to cost less, but as it was demonstrated in Kansas, doing it "cheap" ends up costing taxpayers more than doing it right. Michigan should take notice of what happened in Kansas, and retain its Prevailing Wage law.
Furthermore, a 1998 study by State University at New York Professor Mark Prus examined how a prevailing wage law, or lack of a law in six East Coast states, affected school construction costs. "I concluded that prevailing wage laws had no impact and that cost variances were caused by other factors, such as (project) size and cost of materials," Prus wrote.
Numerous other studies and papers on prevailing wage show that repeal isn't all it's cracked up to be. Republicans in Congress understand the benefits of prevailing wage. On Feb. 19, 2011, a Davis-Bacon repeal amendment, offered by Congressman Steve King (R-IA), was defeated by a vote of 189-233, with 48 Republican members joining 185 Democrats in opposing the King Amendment.
The threat of undermining local wage standards is as real today as it was in 1931. Without a prevailing wage on which to base their bidding, contractors will be tempted to under-bid others by employing a lower-cost, out-of-state workforce, and oftentimes, an undocumented workforce that doesn't pay taxes.
Michigan's Prevailing Wage Act is designed to ensure that workers who build our public works projects are paid a fair and decent wage so they can provide for their families. Public projects that pay decent wages attract skilled, safe and productive workers who contribute to the local economy.