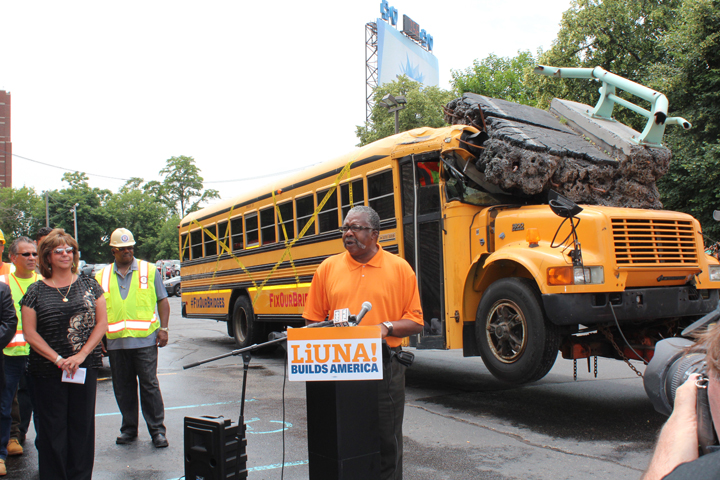 DETROIT – The Laborers towed a not-so-subtle reminder about the poor condition of Michigan's roads to a parking lot east of downtown on June 24 – and then held a press conference in front of it.
The prop under tow was a crushed school bus. The message: the state's Republican lawmakers did a disservice to Michigan's motorists and construction industry when they opted to break for summer recess on June 12 instead of allocating any significant money to repair the state's roads and bridges. And on a national level, Congress isn't helping by not coming up with money to replenish the Highway Trust Fund.
To drive those points home, a salvaged yellow school bus with a windshield crushed by a piece of art representing a section of fallen overpass is being towed through Michigan and around the country this summer, urging the public to contact their lawmakers about funding road repairs. Television, radio and print journalists showed up at the Christ Church parking lot where the bus was parked at West Jefferson and I-375.
"We're attempting to raise awareness about our crumbling infrastructure," said Laborers Local 1191 Business Manager Mike Aaron. "Michigan's roads are facing challenges from two sides: Congress' failure to pass long-term investment in our infrastructure through the Highway Bill and the state legislature's willful inaction to find a road funding solution to fix our crumbling roads and bridges. On both a national and state level, our elected leaders have failed to act and we're calling them to get back to work."
State Rep. Marilyn Lane (D-Fraser), vice chair of the state House Transportation Committee, said given the condition of the state's roads, "it's only a matter of time before there is going to be more accidents, more injuries. This lack of funding has been going on for decades. What this state needs is a comprehensive plan, and I'm proud to stand with the Laborers to encourage lawmakers to do the right thing, stop playing games and get the roads fixed."
The bus was recovered in Pittsburgh and the prop section of fallen overpass was made by Hollywood artists. After the Detroit stop, the crushed bus and the tow truck were slated to make three other stops later that week in Michigan, in Saginaw, Lansing and Kalamazoo. All told, the prop bus is expected to be taken to 22 cities nationwide. Prominently shown on the bus: www.FixOurBridges.org.
The effort is sponsored nationwide by the Laborers International Union to press Congress to assure long-term transportation funding. The campaign includes radio ads, billboards online activity and grassroots action.
The American Society of Civil Engineers gives Michigan a "D" rating on roads, with 38 percent of them being in poor or mediocre condition. The ASCE also reported that driving on roads in need of repair costs Michigan motorists $2.53 billion a year in extra vehicle repairs and operating costs – $357 per motorist.
Also on hand for the crushed bus event was State Rep. Rudy Hobbs (D-Southfield), who called it "embarrassing that the Legislature was unable to "find a road funding plan on our watch. Leaving Lansing without a solution was unbelievable. We need to get the Legislature back to work to fix the roads."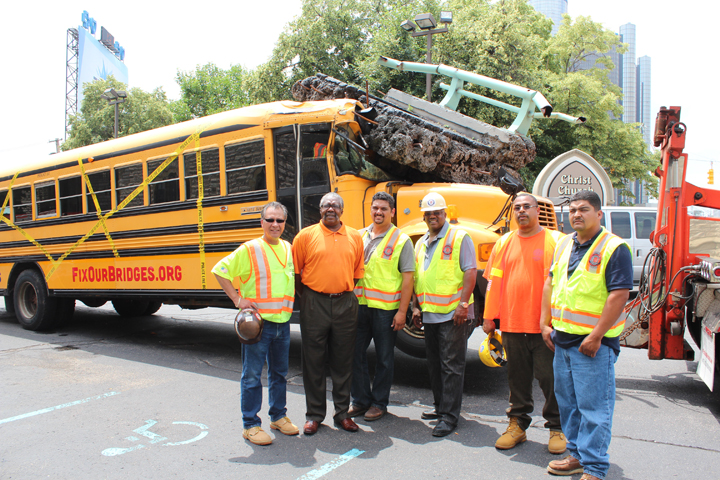 LABORERS LOCAL 1191Business Manager Mike Aaron takes the mic at a June 24 press conference pushing for more state and federal road funding. Behind him: a a fake crushed school bus.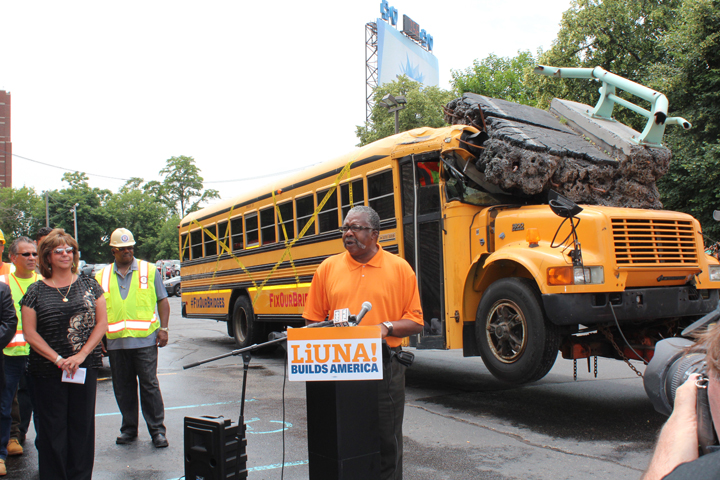 IN FRONT OF THE CRUSHED BUS after the press conference are Laborers Local 1191 members (l-r) Secretary-Treasurer Mark Pulice, Business Manager Michael Aaron, Recording Secretary & Business Agent Antonio (Tony) Garza, President & Business Agent Ricardo (Rick) Williams , Sergeant at Arms & Organizer Antoine Bell, and Vice President & Business Agent Jesus (Jesse) Pena Jr. Not pictured: Dennis Larimer, Business Agent & Dispatcher.