DETROIT - The Fisher Building along West Grand Boulevard is known as the city's "largest art object." Completed in November 1928, the 28-story building was erected essentially without a
budget,
and incorporated fantastic mosaics and frescos, 40 different kinds of interior marble, bronze elevator doors, and a granite and marble exterior.
It was built complete with a 3,000-seat theatre, an attached 1,000-car parking garage and space totaling 1.13 million square feet. Ninety years later, all that space and hardware requires maintenance, although the trades have, with some regularity, been working on keeping the building operating well and looking good over the years.


This year, at least two important items are on the Fisher Building's to-do list, including tasks inside and out: elevator improvements and masonry rehabilitation. In addition, the Christman Co. is undertaking a number of renovation projects inside.
A crew of Elevator Constructors Local 36 members employed by
Thyssenkrupp
has a lot going on: the four-person crew has been all over the building this year, with the goal of upgrading, modernizing or replacing 17 elevators. The building, remarkably, actually has 42 elevators in the building, but many of them have been long abandoned and are located in now-inaccessible areas.
"With the elevators, we think there were probably two major upgrades done here over the years, the last one being in the 80s," said Thyssenkrupp foreman Doug Doyle. "We're basically here doing modernization work; taking out the old and replacing it with modern equipment."


Some of the original elevator machinery and controls from 1928 are still in place in the Fisher Building. The public won't notice much of a difference with the replacement and upgrade work going on. Nearly all of the original elevator car interiors have already been replaced years ago with modern materials, and call button enclosures on individual floors will look the same, but have new electronics behind them.


"The elevator systems are in various conditions," Doyle said. "Some have great needs, some are reliable and some don't run at all. The older motors are becoming problematic, it's getting harder to keep them running."


Some of the building's original motors are still in working condition, but getting spare parts for them is increasingly difficult. Worn out brushes and armatures and bad bearings on the old motors are getting impossible to repair because no one is building matching replacements. It has been a common practice throughout the industry to cannibalize parts from unused elevators in an old building, but that's not possible any more at the Fisher. The old motors and other works will eventually be swapped out with modern equipment.


Scott Zilch, another Local 36 member, works for Thyssenkrupp full time performing maintenance at the Fisher Building, and he crosses paths frequently with his fellow elevator mechanics installing new equipment. "The way I look at it," he said, "I'm responsible for keeping the old stuff alive, while these guys are bringing new life to the building."


Zilch added: "It's a cool place to work, and the management are great people to work with. They understand that a lot of this equipment is overdue for replacement, and sometimes it's a struggle to keep it running."


In the elevator world, some of the "old stuff" is rare and interesting. Throughout the Fisher Building, elevator doors were built with heavy, ornamental brass, which will likely never be installed on such a building again. Originally, a long-abandoned "air actuated" pressure system opened the doors. Now electrical power does the job. Near the control motors are long abandoned rows of switch-gear banks. Call buttons are encased in brass throughout the building, and on the 26th floor is a unique, original call button that is mounted not on a wall but on a brass stand in the middle of the elevator lobby.


"You see a bunch of things they did back in the day that you never see today," said Randy Radjewski, one of the elevator mechanics on the project. "Everything they did back than was bigger and heavy duty. But it has lasted all these years."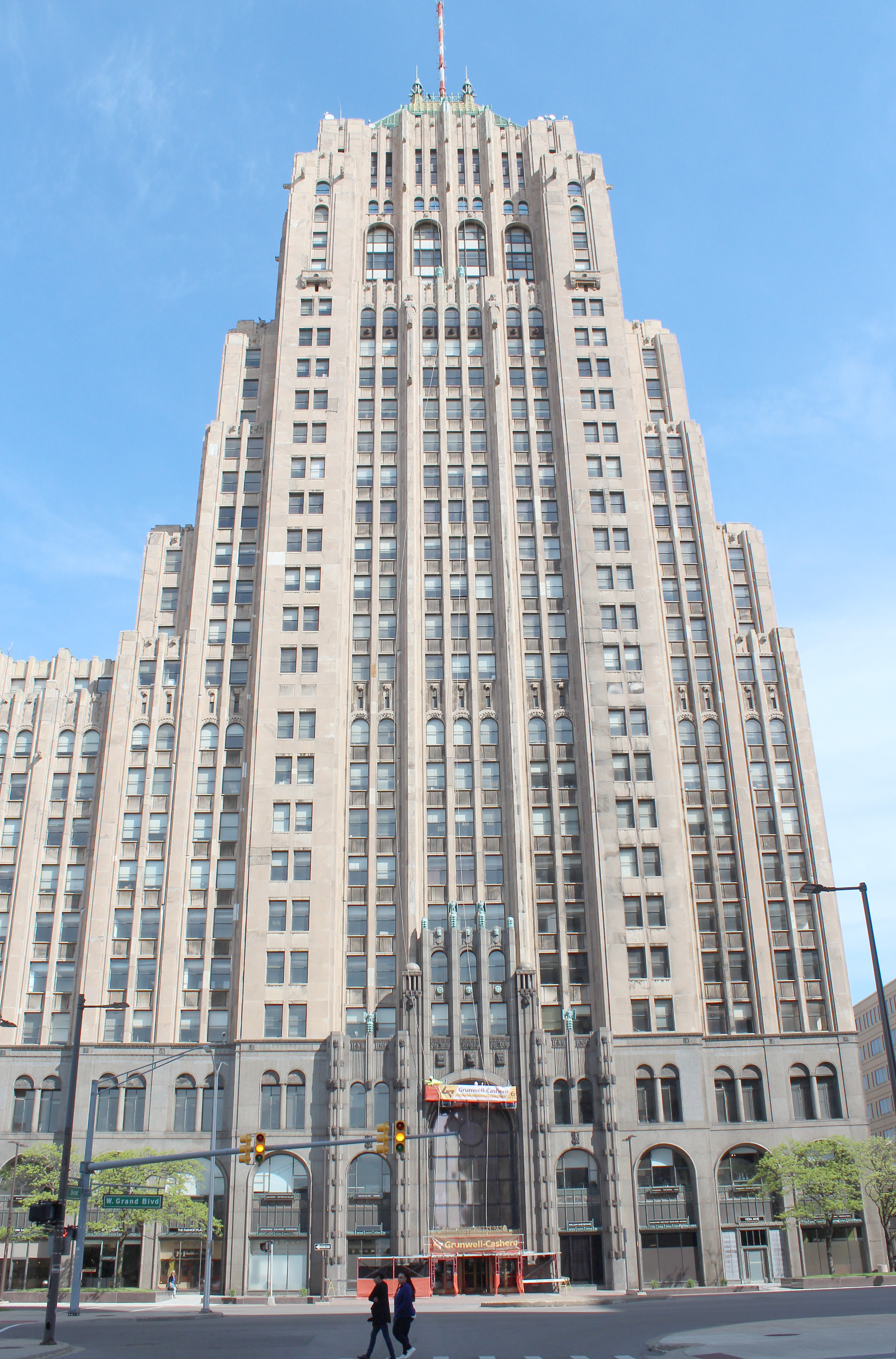 THE 28-STORY FISHER Building anchors Detroit's New Center area, which is about three miles north of Downtown. The neighborhood has become abuzz with building trades activity in recent months.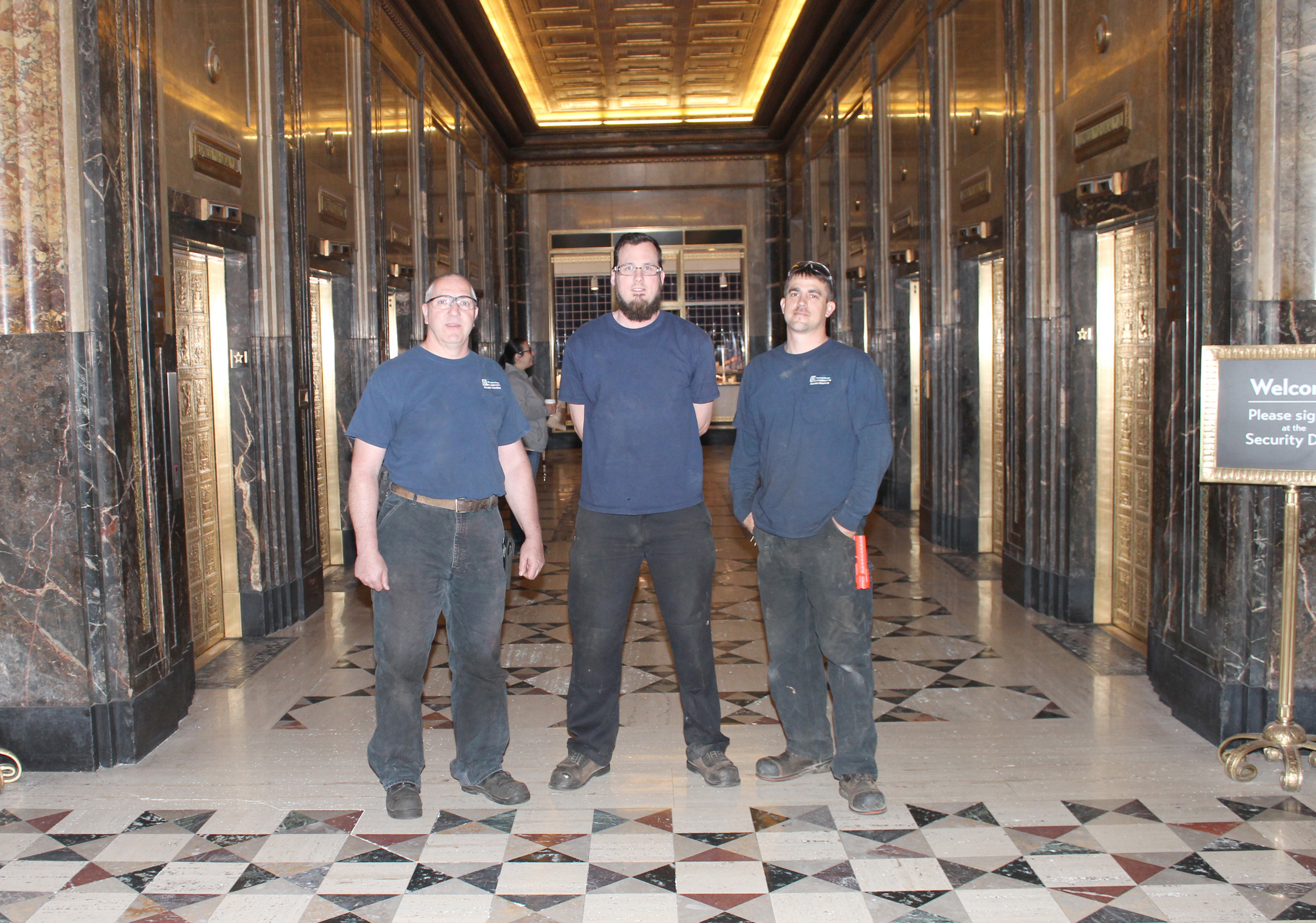 ONE OF TWO LOBBY elevator banks in the ornate Fisher Building are a small part of the purview of (l-r) foreman Doug Doyle, apprentice Jim Shields and assistant mechanic Randy Radjewski. Missing from the crew is Stan Moore. The Elevator Constructors Local 36 members are employed by Thyssenkrupp.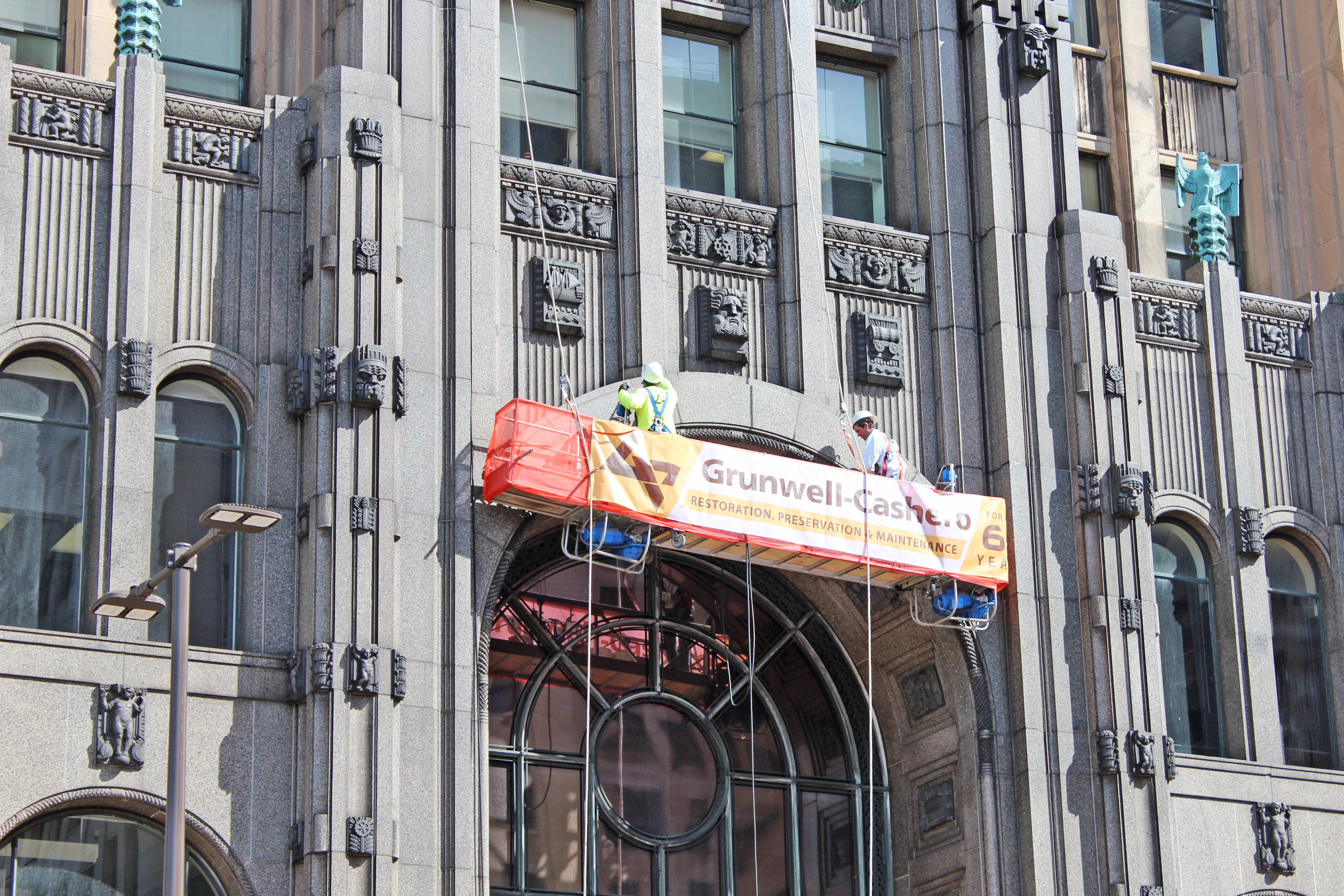 WORKING ON A SCAFFOLD above the ornate West Grand Boulevard entrance of the Fisher Building in Detroit are Bricklayers and Allied Craftworkers Local 2 masons Don Windham and Dave Smith. The masons "are stopping leaks," said Joe Dapkus, project manager for mason contractor Grunwell Cashero. "There's a significant amount of work going on inside, and they have water issues. We're taking care of that." Dapkus said the masons have been working on scaffolding in recent weeks, repairing joints on the Fisher Building's marble and granite exterior. Sometimes marble panels need to be removed and reset (or replaced), and the supporting steel behind it needs to be fixed. "It's a big building, a lot of places where leaks can occur," Dapkus said. "Our company has been working on it for 65 years. It's my favorite building in the city. I think it's the most beautiful."