ANN ARBOR - Things are looking up in the city's South University District.
Traditionally known for its low-rise buildings, Ann Arborites and University of Michigan students are watching as 12- and 14-story towers and a six-story building are joining other new mid-rise buildings that are changing the look of the city. One of the towers going up - "Six 11 Elevated Student Living" - will include apartments aimed at housing U-M students.


Spence Brothers is managing construction of the 14-story project, which is being erected at a remarkably tight site at South University and East University Streets. Work began in February 2017 and is expected to wrap in August, in time for use in the fall academic semester. Between 120-130 unionized building trades workers are employed on the project, a number which should jump in the warmer months as the interior finishes start to go in.


"The site logistics are a full-time job," said Spence Brothers Project Manager Matt McSweeney. "It's a constant juggling of site access, deliveries, people. But we knew all that going in, and so far, so good. We coordinate everything as much as we can, and really we've seen nothing out of the ordinary, it's a fairly typical project."
The Six 11 project will feature 92 units, from studio-size to six bedroom units. The building will have ground-floor retail on the east and west frontage, parking on three levels above, then apartments, and on the 13th floor, a 24-hour fitness center, lounge and rooftop terrace.


The Collegiate Development Group owners call it "Ann Arbor's newest off-campus student community," as residents "will enjoy fully furnished, modern apartments along with a full amenity package that's designed to support healthy living, socialization, and academic success - all just steps from campus."


Units will include fully furnished apartments with granite countertops, patios and balconies in select apartments, stainless steel appliances, hardwood floors, in-unit washers and dryers, and cable and high-speed internet.


Residential and single-story commercial structures were demolished to make way for the new 137,278 square-foot tower. McSweeney said aside from the ongoing logical issues, the foundation work, due to the building's proximity to its neighbors, was the biggest challenge.


"We have excellent tradespeople here," McSweeney said. "We've had the normal struggles finding enough people, but the people we have been great to work with. They've made things very easy."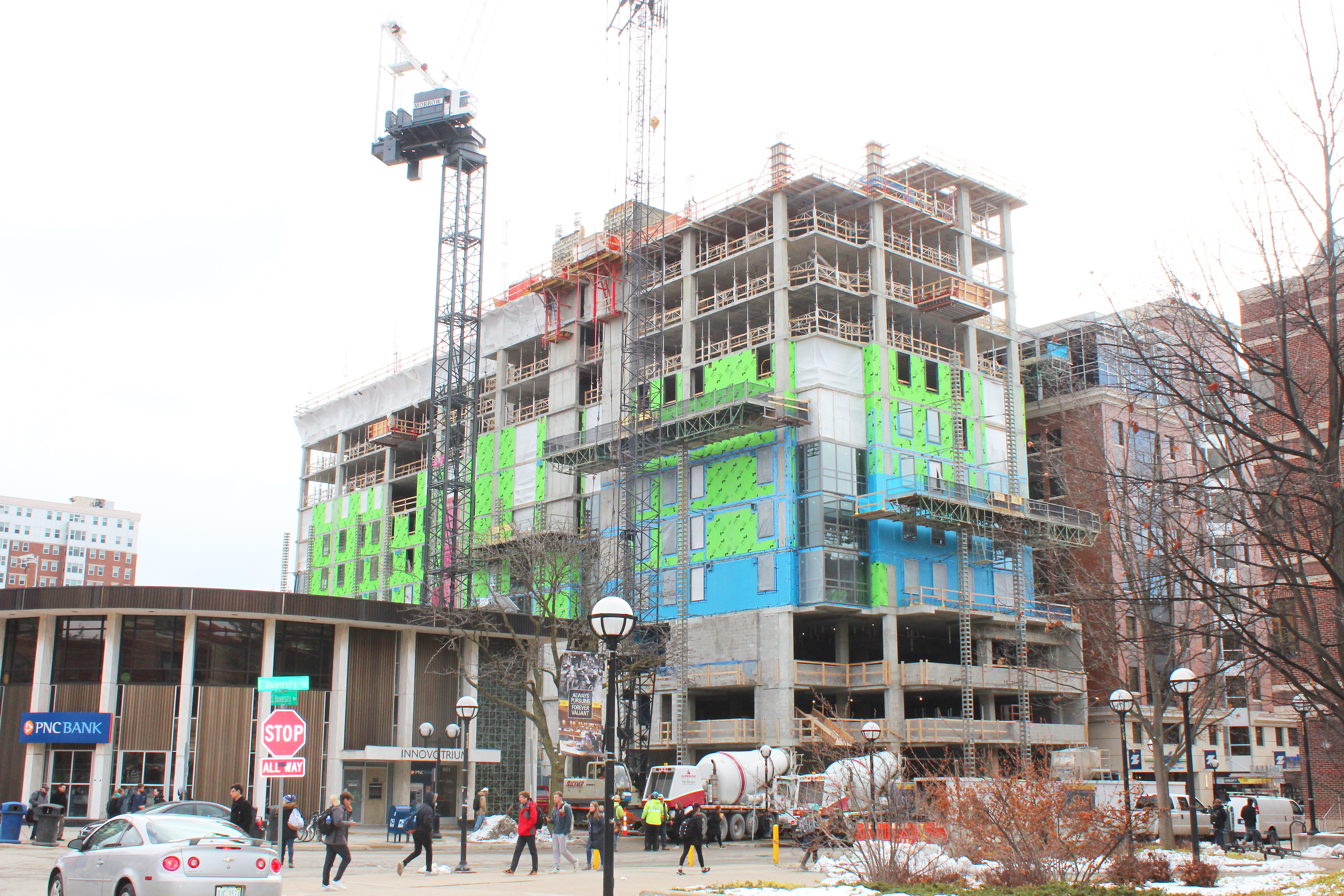 THE "SIX 11 Elevated Student Living" project at East University and South University streets is adding more student housing to Ann Arbor – and height to its modest skylin
e.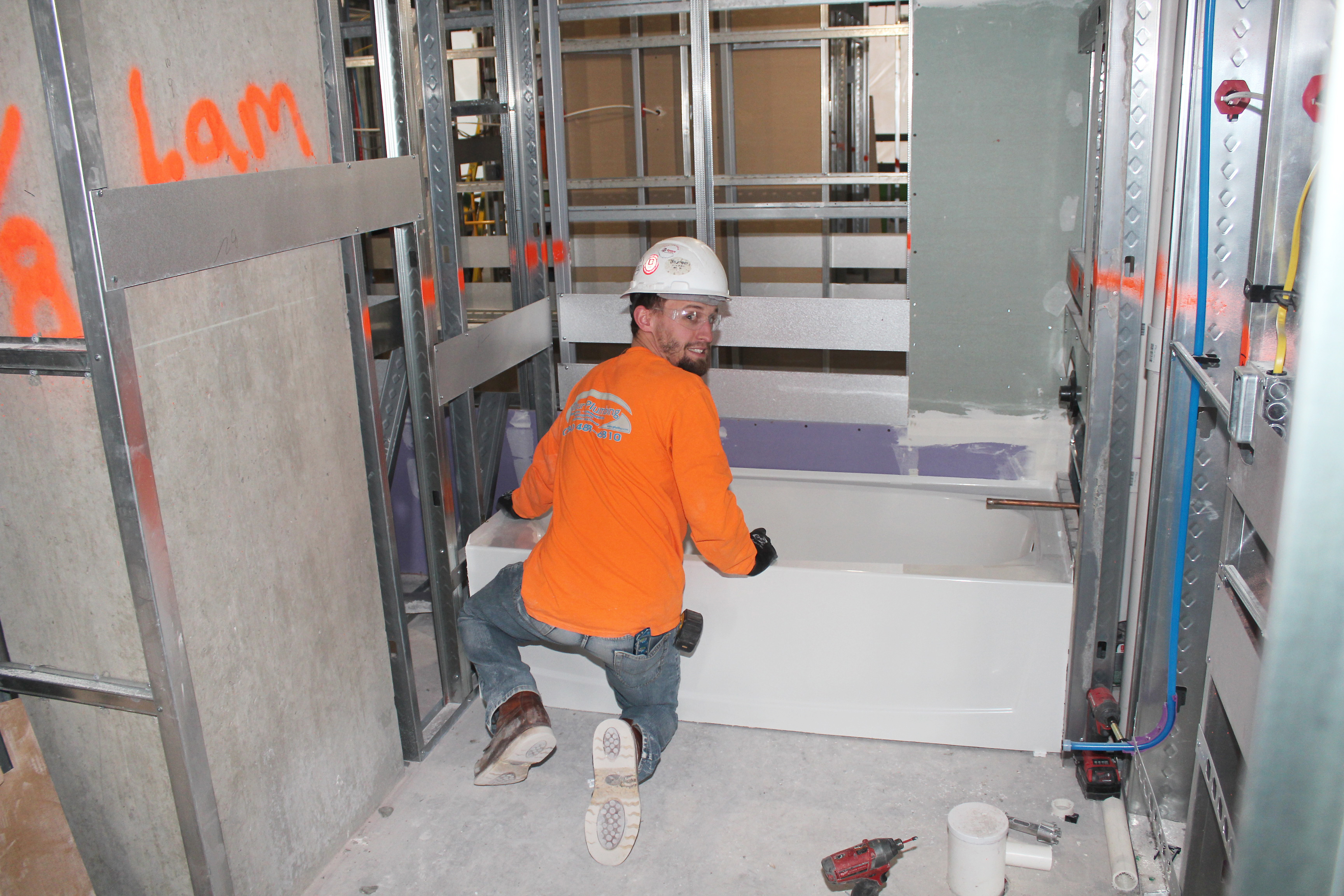 RUB A DUB DUB – Allen O'Koney of Plumbers and Pipe Fitters Local 190 installs a bathtub in what will be a student apartment on the fourth floor of the Six 11 residential tower in Ann Arbor. He's employed by Wilbur Plumbing.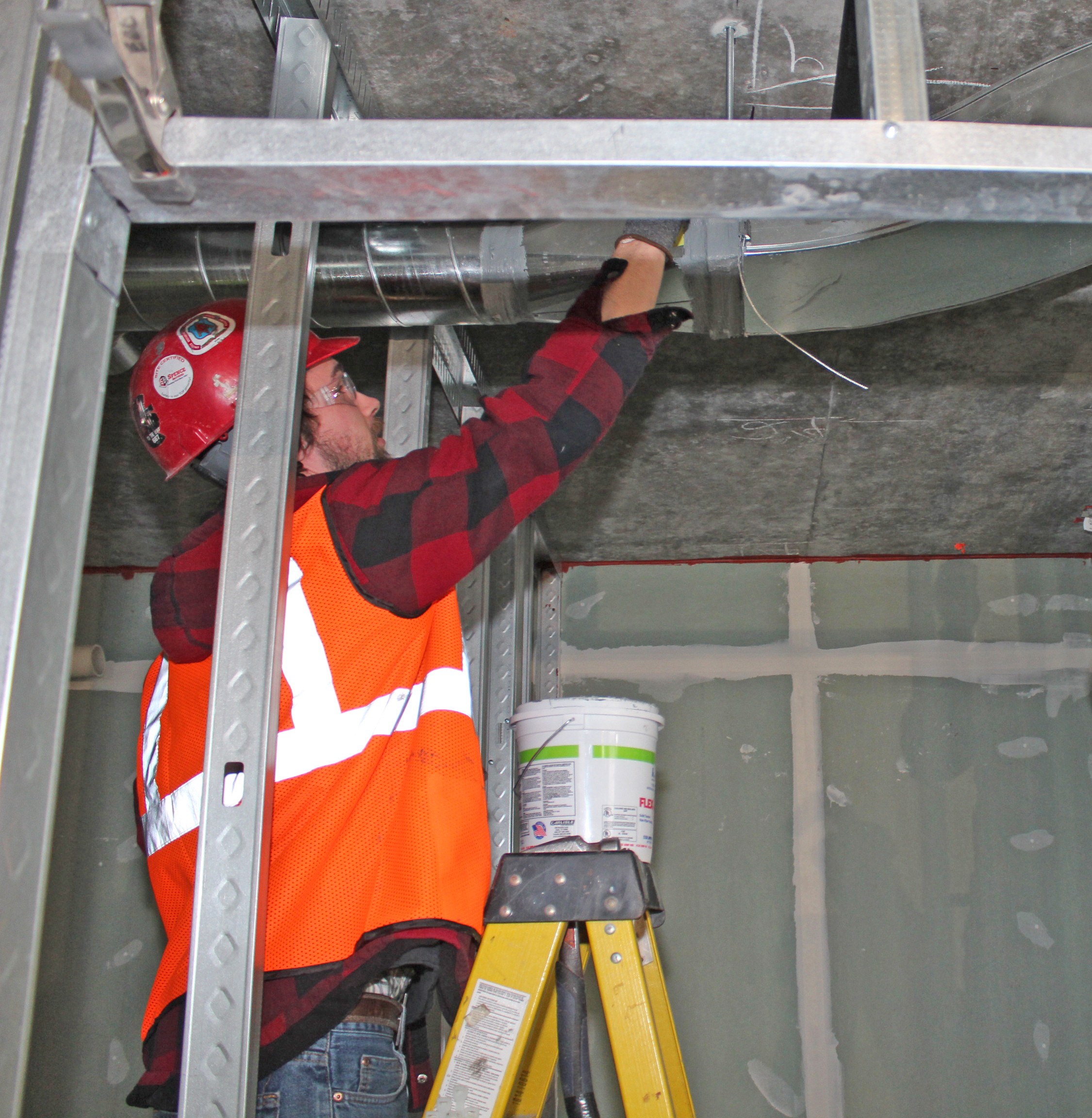 SEALING A DUCT on the sixth floor of the tower is Don Fisher of Sheet Metal Workers Local 80. He's employed by R.W. Mead.