FLINT – Sometimes, advances in new medical technology also requires adaptations in medical construction infrastructure.
A case in point: McLaren Regional Medical Center is on track to become the first health care provider in Michigan to offer proton therapy – one of the most advanced techniques in cancer treatment. Now it's up to a joint venture of Barton Malow/Christman, their subcontractors, and the building trades to build a home for the high-tech cancer treatment equipment.
"This is a case where the equipment for the building costs more than the building itself," said Daniel Medrano, design and construction project director for the McLaren Proton Therapy Center. "But we have also placed a lot of requirements on how this building is constructed."
The $65 million proton therapy center isn't your typical medical office building or surgical center. The building's center of attention will be three concrete-encased treatment rooms that will accept the new proton beam equipment. Each of the three rooms will have an "isocentric" gantry and a modulated pencil beam scanning radiation delivery system with an accuracy of 0.5 mm.
Proton therapy, McLaren says, "is the most technologically advanced method of treating solid, non-metastasized tumors. Many radiation oncologists and medical physicists believe that proton therapy represents the ideal treatment for solid cancer tumors because proton therapy can more effectively control localized cancer while decreasing treatment related side effects and morbidity."
Further, McLaren says, "unlike conventional radiation therapy, and even image guided radiation therapy, proton therapy can deliver a highly precise and direct dose of radiation energy to the target tissue (tumor), without damaging the surrounding healthy tissue."
Proton therapy has been available in the U.S. since 1990, and since 2000, several "first generation" proton treatment centers have opened. Subsequent improvements in the system have led to smaller proton therapy facilities and lower construction costs. There are currently only nine proton therapy centers in the nation.
The McLaren project brings to Michigan some unique construction. The size and exterior appearance of the proton building itself will blend in with its surroundings: it includes 42,093-square-feet of space in new construction, plus another 10,341-square-feet of fit-out and renovation space in the nearby McLaren Great Lakes Cancer Institute, which is on the main hospital's campus.
But the new building sits upon more than 70 concrete caissons intended to eliminate vibration and provide the heavy structure with a solid foundation. Above ground, in order to contain the proton beams, concrete walls have an average thickness of five feet – and in some areas walls are as thick as 12 feet. And it isn't typical concrete: a desirable aggregate was shipped in from an island in Lake Superior, and the high-density mix contained a very high water ratio.
Barton Malow/Christman General Supt. Don Smith said more than 10,000 yards of concrete were poured from March to May of this year, in conditions that ranged from very cold, to very wet. All told, he said the concrete work will amount to about 25 percent of the entire cost of the building.
"It has been a very aggressive schedule, and there were very strict specifications and quality controls with the concrete," he said.
After smoothly answering questions about the project along with Medrano and Smith, Barton Malow/Christman Project Manager Teresa Miller laughed when asked if the construction team had to be brought up to speed on a subject they had likely never heard of before with the state's first proton therapy construction project. "Oh, can you tell?" she said. "We have definitely had our lessons in proton technology. I will say, it's been an interesting project."
Smith added, "this is an alpha site in Michigan, putting this building up has been a first for everyone."
McLaren opted to employ a project labor agreement on the project, using all-union trades. Barton Malow and Christman, as well as their subcontractors, also made extensive use of computer-aided building information modeling (BIM). For example, making errors cutting holes for conduit through five-foot-thick concrete walls would obviously create a problem, and likely, a chain of problems, including creating potential paths for particle beam leaks.
"We screened our subcontractors for their BIM-related abilities and to make sure they're sufficiently skilled, and that definitely added to the success of the project," Miller said. Added Smith: "The trades have been great; there are some really good people out here. They've had to work through a brutal spring, the rain has been endless."
Construction began in July 2010. Once the building is ready, installation of the proton equipment will be handed by ProTom International, which has a license on the technology. The complete building is scheduled to be handed over to McLaren on Jan. 1, 2012. Medrano said it would take up to a year after McLaren gets the keys to the new proton center before patients would be admitted.
"For a lot of cancers, proton therapy is going to be a better treatment alternative, especially because of its ability to save healthy tissue," Medrano said. "McLaren is on the cutting edge of making this lifesaving treatment available to the people of Michigan and surrounding areas."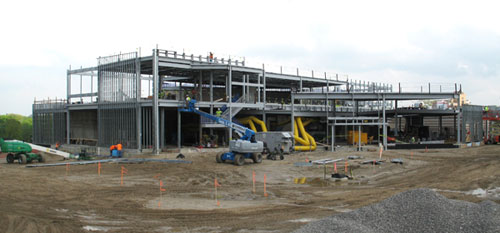 THE MCLAREN PROTON Therapy Center in Flint will look like a normal medical building on the exterior, but it will have a purpose unlike any other in Michigan.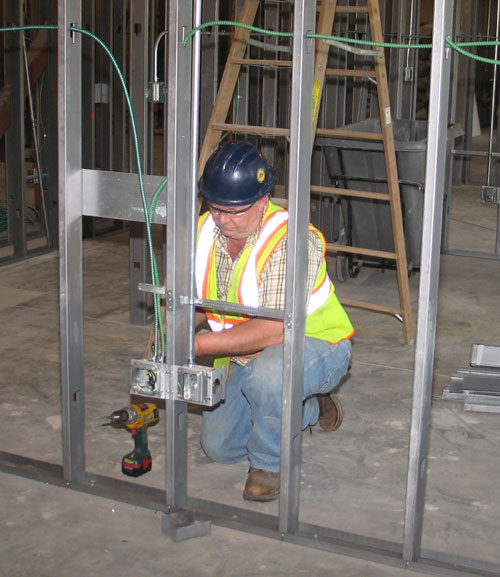 SETTING UP AN OUTLET in the staff office area is Phil Arbaugh of IBEW Local 948, working for Shaw Electric.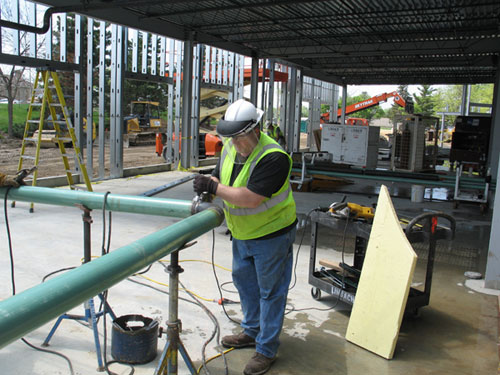 GRINDING A STEEL gas line at the McLaren Proton Therapy Center is Bryan Beckelic of Plumbers and Pipe Fitters Local 370, working for Limbach.