FLINT – The growing roster of natural ingredients that can be turned into energy in Michigan now includes matter for which there is a virtually inexhaustible supply: human waste.Swedish Biogas International, the City of Flint and Kettering University have teamed up to build a 2 million-gallon capacity waste-to-energy biogas plant at Flint's wastewater treatment facility. The plant joins other energy-related facilities in Michigan constructed in recent years that process corn stalks and other green matter to create ethanol, facilities that capture landfill methane gas, and others that have been talked about, but not constructed, that would turn waste wood pulp into energy.
The Flint plant's construction began in early August and will wrap up this month. Construction employment at the plant will peak at about 30 Hardhats.
"We're doing well," said Chad Antle of Swedish Biogas, the company's director of operations. "There has been good cooperation among the trades and contractors and we're seeing good quality of work. It's a tight time frame for the contractors and they're helping us meet our milestones."
This is the first U.S. project for Swedish Biogas, although they have seven such plants in Sweden. They came to Michigan, Antle said, primarily because of an economic lobbying visit to Sweden by former Gov. Jennifer Granholm – and the availability of government grants to help pay for the project. The King of Sweden reciprocated by visiting Flint in 2008.
Antle said although the Flint wastewater treatment facility was originally built in the 1920s with several upgrades over the years, it was considered ideal for the placement of the waste-to-energy works because it has space and unused infrastructure available. The plant has an average daily flow of 18 million gallons, with peak capacity set at 50 million gallons.
The waste-to-energy process at the plant will start with sewage sludge. It is first processed by a gravity belt thickener and is kept in the form of sludge in an anaerobic digester for 30 days. During the digestion of the sludge, biogas – a combination of 65 percent methane and 35 percent carbon dioxide, is created and is stored in the top of two 80-foot digester tanks and a third 42-foot diameter digester tank. The biogas will be used to generate electricity and create biomethane, a burnable pipeline quality fuel that's equivalent to natural gas. The system is expected to create 3.3 megawatts of energy.
The first phase of the project will cost approximately $5 million, the second phase, which will commence in the summer of 2011, will include $7 million to $8 million in work to upgrade the plant so it can accept other forms of wate and generate higher biogas volumes. Swedish Biogas and the City of Flint are in a 50-50 partnership on the development and operation of the project, with all capital expenses being provided by Swedish Biogas.
Much of the wastewater treatment plant's infrastructure is old but is in very good shape with few modifications being necessary. Although the plant can be fragrant, and the process makes less-than-pleasant dinnertime conversation, that hasn't stopped Antle's enthusiasm for the ongoing work. "It's a cool project, and it's been a pleasure being involved with it," he said. "We're reducing waste and at the same time taking potential energy that's lost and turning it into electricity."
Currently most of the processed sludge from the plant is incinerated on site. The new anaerobic digestion process has the added benefit of reducing that end-sludge by about a third.
"If you can convert that sustainable resource into fuel, you are not using coal, foreign oil and other resources," said Brenda Lemke to Mlive. She's a lecturer on fuel cells and renewable energy in Kettering's mechanical engineering department. "It's been done elsewhere – Ann Arbor, Detroit, California – but it's new to our area. We see this as a bright spot for Flint's future and are happy Kettering could be a partner."
A $951,500 grant from the U.S. Department of Energy will fund applied research and development activities conducted by Kettering University in coordination with Swedish Biogas International and the City of Flint to improve the availability and quality of biogas at the facility and explore opportunities for using biogas in transportation and power generation applications in Michigan.
"To me it's really interesting," said foreman Phil Isaguirre of Plumbers and Pipefitters Local 370, working for William Walter Mechanical. "I've never worked on a system like this before, but it's simple and it makes a lot of sense."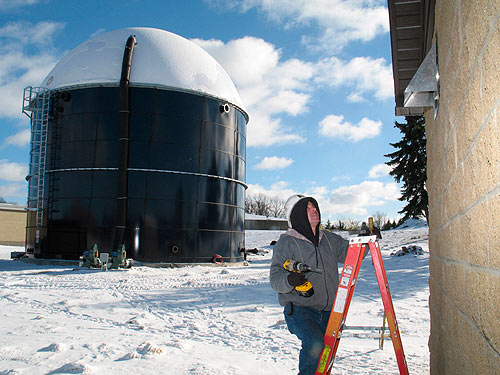 INSTALLING AN EXHAUST VENT in a pump station on the grounds of the Flint Wastewater Treatment Plant is Frank McGeary of Sheet Metal Workers Local 7. Behind him is Swedish Biogas' newly constructed 260,000-gallon digestate tank, which will store digested sludge and biogas.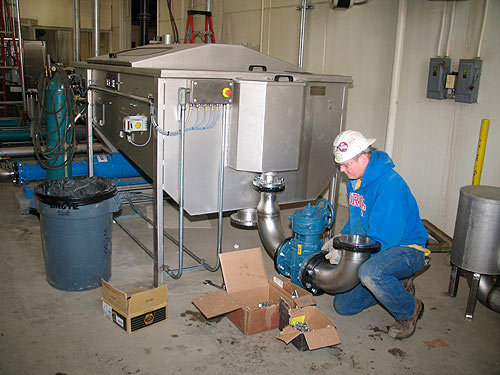 INSTALLING A 6-INCH sludge line connected to a thickener is Roger Wendling of Plumbers and Pipe Fitters 370, working for William Walter Mechanical.