BATTLE CREEK – The transformation of the Lane Thomas Building on the Kellogg Community College campus is nearly complete.
Constructed in 1961, the 30,000-square-foot building has been expanded with about 10 percent more room, renovated and re-purposed into a newly relocated campus bookstore. The building will also house a relocated Emergency Medical Service program, as well as remodeled academic and student service space.
In the space occupied by the existing bookstore, KCC will locate the Enrollment Services, Support Services and a "One Stop," allowing students to enroll for classes quickly and conveniently. A new student information station will be located adjacent to this area for student and visitor convenience.
The work on the Lane-Thomas building has included major exterior remodeling (brick repair and replacement, exterior window replacement and re-roofing) as well as an expansion to house a new lobby space, new elevator, new enclosed stair, new bathrooms, and new storage space.
The $6.5 million renovation project was approved by the KCC Board of Trustees in December 2010 and work started in February 2011. The work included demolition of an old exterior stairwell and walking bridge that frequently became coated with dangerous ice. The college built an indoor stairwell and elevator.
Skanska has acted as construction manager on the project.
"The work has gone very well," said KCC's Director of Institutional Facilities & Public Safety John Dipierro. "We like the fact that the majority of tradespeople we employed were local, which puts tax money back in the community. They did well."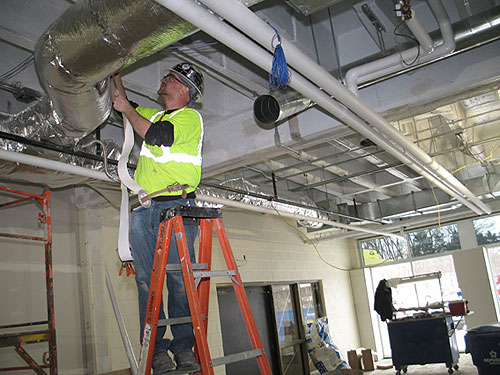 TAPING DUCT INSULATION in the upper reaches of the new bookstore at Kellogg Community College is Matt Hatch of Heat and Frost Insulators Local 47, working for 3MI.