KINGSFORD – Built just above the Wisconsin border, construction was wrapping up late last month on the Oldenburg Group's new Technology Center.
Oldenburg is a worldwide supplier of performance-engineered products used in the defense, mining, energy, and architectural lighting industries. It constructed the 30,000-square-foot, $5 million facility over the past 15 months. The building will replace the company's current engineering building in the city, located about two miles away.
"It was a 1950s-era building, and it was getting old," said Brent Hiatt, project superintendent for Boldt, which is the general contractor on the new building. "They're going to like this, it's a nice building. It hasn't always been easy to construct, but it's a nice building."
Hiatt said the number of radial walls on the building added to the amount of work it took to build the structure – but it also made it look nicer. "All along the back there's all this glass and they're going to have nice views of the Menominee River," he said. "And there are a number of LEED Leadership in Environmental Energy and Design) aspects that will help the energy efficiency. In terms of the heating and cooling, we're really not sure how everything is going to work until the building opens in the next two weeks and everything is calibrated."
The building includes automatic window shades, low voltage lights, and sensors that detect solar heat gain in various parts of the building. The system will automatically cool areas of the building, such as on the south and west exposures, that get more sunlight.
While about 38 construction workers were employed on the project at peak, the building had only a handful of tradespeople late last month. "The trades have been good, they have really worked well," Hiatt said.
The new building will provide space for Oldenburg's engineering, project management and accounting concerns. "People were afraid that we would move the headquarters to Milwaukee, but we didn't," said Wayne Oldenburg, president and chief executive, to the Iron Mountain Daily News. "We bring our businesses to where people want to live." The company says this and other expansions are creating 100 new jobs in Oldenburg facilities in Rhinelander, Wisconsin, and Iron River and Kingsford, Michigan.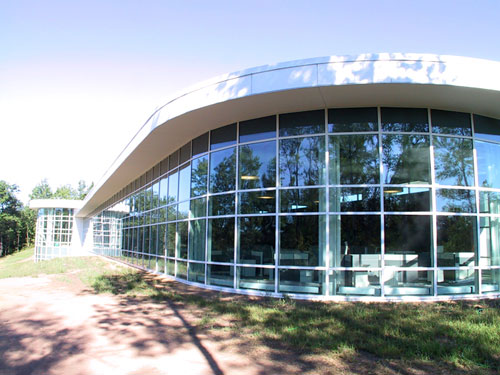 THE CURVY, GLASS-WALLED back of the new Oldenburg Technology Center in Kingsford. At the bottom of the sloping ground to the left is the Menominee River, and the Wisconsin state line.