MIDLAND – A major development in the works will link the home of the city's minor league baseball team, Dow Diamond, with city's downtown core.
It's called the East End District Mixed Use Project at State and Main Streets – and what it will bring is a mix of ground floor retail shops, and upper floors for commercial tenants, tying together the ballpark for the Great Lakes Loons with the east end of existing downtown establishments.
Built on the site of the demolished McKay Press building, the new four-story L-shaped structure will have 225,000 square-feet of space. The building will represent a $49 million investment and is expected to create up to 150 full-time jobs.
"We think this is a critical next step for downtown Midland," said Pete Kramer of Kramer Management Group, "that will change the face of downtown." The project is being developed by the Gillespie Group, Caddis Development Group along with owner's representative Kramer Management Group.
Spence Brothers is acting as construction manager on the project. About 100 Hardhats were working on the project late last month, which is a little shy of peak employment. "Everything has gone really well," said Spence Brothers Project Supt. Bob Saunders. "The trades have done very well for us, there have been no issues at all."
The project began last November, and work proceeded through a bitter winter. To work around the old foundations at the site, new 30-foot-deep foundation piers made of vibrated stone were injected into the soil to support the new structure. The exterior of the new building will have a multitude of exterior finishes, including brick, stone, granite and curtain wall. "Architecturally, there's a multitude of finishes, and that makes it a bit of a challenge to fit everything together," said Saunders.
The East End project is directly across the street from Dow Diamond, which opened in 2007 as home of the Great Lakes Loons, a Single-A (Low A) baseball team in the Midwest League and partner of the Los Angeles Dodgers.
Tenants are expected to start moving in this fall, with the project complete in early 2014. "We're moving at a great pace, and we're on track with the schedule," Kramer said. "Spence Brothers has done a great job of coordinating the project and the trades."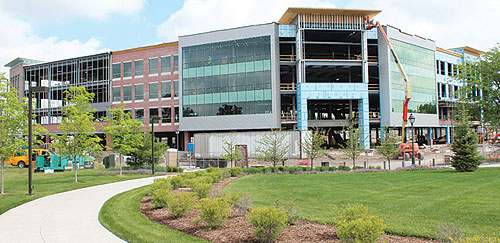 MIDLAND'S NEW East End development is expected to fill in a key spot between the city's minor league ballpark and the downtown area.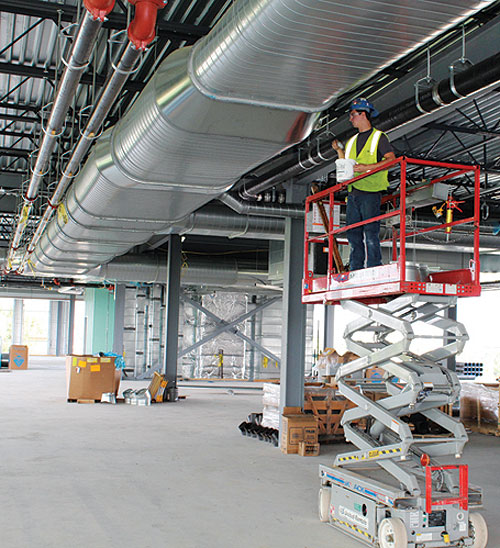 SEALING A DUCT on the 4th floor of the East End development in Midland is Dustin Lemaire of Sheet Metal Workers Local 7, working for Dee Cramer.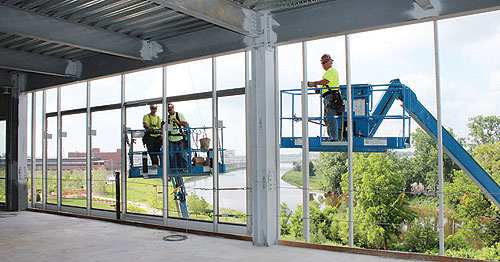 SETTING UP A CURTAIN WALL at East End project in Midland are James Mattson, Luke Campbell and Floyd Lee of Iron Workers Local 25. They're working for C.L. Rieckoff. Behind and below them flows the Tittabawassee River.