HOLLAND - Ongoing construction of the city's "Holland Energy Park" combines two major trends in power production: the move away from coal as an energy source, and the move toward making power plants a more attractive part of the landscape.
Construction of the plant began in earnest in March. The 145-megawatt natural-gas fired plant will sit on 26.2 acres on the northeast side of the city. Owned by the City of Holland, the $240 million facility will replace and double the output of the aging coal-fired James DeYoung Plant, which began operations in 1939.
Barton Malow is the engineering/procurement/construction manager on the project. There are currently 160 Hardhats employed at the site, a number that will ramp up to 220 at peak. Work on the project is expected to wrap up by February 2017.
"This is a fairly simple, smaller gas plant design," said Mike Wolski, site manager for Barton Malow. "The project has a typical tight schedule, and we've made nice progress so far, but we're also looking at dealing with a typical Michigan winter coming up, and that's always a bit of a concern."
City leaders in Holland debated for a number of years how to replace the DeYoung plant, which serves about 28,000 customers. Ultimately, the lower cost of natural gas - as well as its lower carbon footprint compared to coal - were factors in the fuel choice for the plant. The city also decided on erecting an attractive plant that expands an existing greenway and park trail system.
"The important conversation about energy that has taken place in our community for most of a decade has brought us to today," said David Koster, general manager of the Holland Board of Public Works at the official groundbreaking in April. "This is an exceptional community that undertook an exceptional process. Now our task is to carry out the will of the community with the creation of an exceptional facility."
The trades will be installing two gas-fired 50-megawatt combustion turbines and recovery steam generators, and one 45-megawatt heat recovery steam turbine. With the combined cycle design of the plant, air is drawn in through turbine blades and combusts with natural gas to spin the generators, creating electricity. The exhaust heat from the turbine is captured in the heat recovery steam generator, where it converts water to steam. The steam then powers a third turbine creating additional electricity.
Maximum efficiency is achieved during the winter, when excess heat in the plant's cooling system will be diverted to run the city's existing snowmelt system under downtown sidewalks.
Located not far from a business and residential area, it was important for the city to make sure the plant operates quietly, and offer environmentally friendly features that makes it a good fit in the neighborhood. The plant is not like your father or grandfather's power plant, it has an attractive glass, concrete and insulated metal panel skin that is designed to look good and retain sound. It will be placed in a park-like setting as a sort of gateway to the city, with nearby ponds, a waterfall, and walking and bike paths. "It won't be like your typical power plant, for sure," Wolski said.
Conceptually, it's similar to the Lansing Board of Water and Light's REO Town plant, completed in 2013. The beautiful brick plant encloses a natural gas power plant and fits into an historic neighborhood.
Natural gas will be brought into the Holland site via a seven-mile-long pipe. Utilizing natural gas as a fuel source will reduce carbon dioxide emissions compared to the DeYoung plant by 50 percent. The plant will also bring about a 66 percent reduction in nitrous oxide emissions and a 99 percent reduction in sulphur dioxide compared to the existing plant.
Work so far has included extensive foundation installation, including about 5,000 yards of concrete, as well as underground piping, including some 20,000 lineal feet of buried conduit. Cooling tower assembly has started, both combustion turbines have been set, and all three generators have been set, among numerous other tasks. "We've seen very good progress, we're very pleased with the West Michigan group of trades," Wolski said.
Not far from Lake Michigan, the site rests on sandy soil, which complicates foundation work a bit, but has been great for not having to deal with mud puddles after a hard rain.
The plant is being built under a MIOSHA safety partnership, a commitment to a goal of zero worker injuries and accidents between Barton Malow, its subcontractors, the owner and the building trades. So far, so good, Wolski said: there have been about 110,000 man-hours worked with zero recordable injuries.
"We understand working in the great State of Michigan, we understand the local community, and we are committed to the city and community of Holland," said Barton Malow Senior Vice President Chuck Binkowski. "Our number one goal on the Holland Energy Park project is safety. We want everyone on the jobsite to return home the same way they arrived to the jobsite. Along with keeping our people safe, we understand the importance of a positive community impact and providing a good experience for the people that live and work in the community that surrounds the project."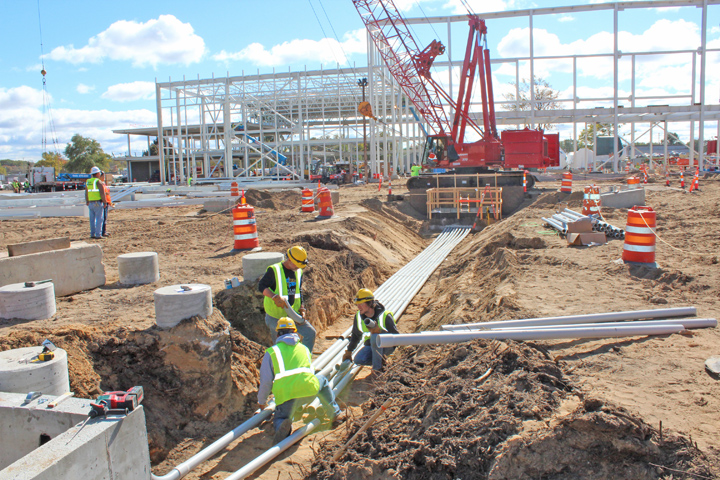 INSTALLING THREE-INCH conduit at the Holland Energy Park project are Rani Vitaly, Dave Snoap Jr. and Jeff Vendewater of IBEW Local 275. They're employed by MJ Electric.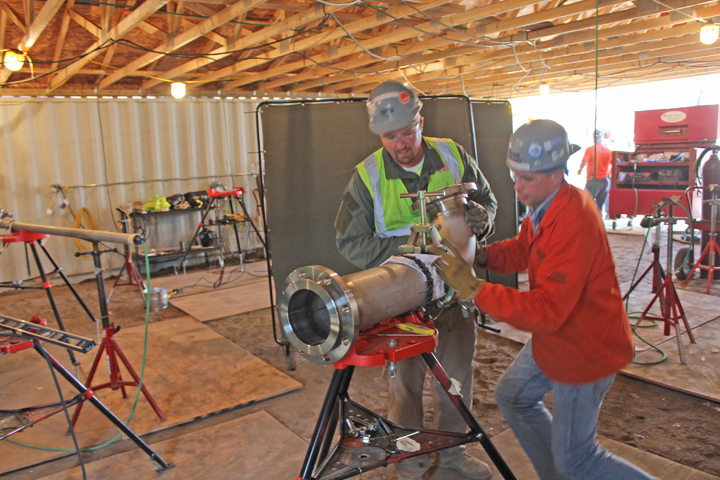 WORKING ON A SECTION of stainless pipe at the Holland Energy Park project are Micah Perkins and Pete Beitema of Plumbers and Pipefitters Local 174. They're working for Andy J. Egan.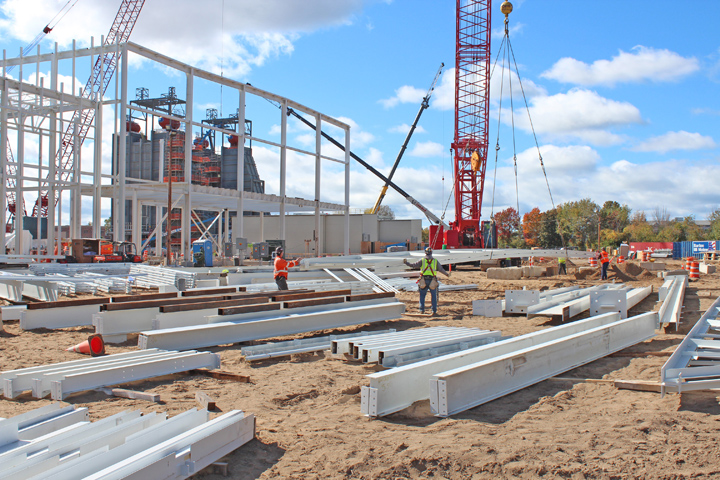 A 45-FOOT TRUSS is placed in a lay-down area by Iron Workers Local 25 members Ed Sawyer, Terri Patterson, Scott Bucchanon and Johnny Trevino. They're employed by Ideal Contracting.