MARQUETTE - Not even a brutal Upper Peninsula winter is stopping construction progress on the expansion of the Keweenaw Bay Indian Community's Ojibwa Casino.
Construction manager Gundlach Champion is managing the $35 million project, which involves doubling the casino's space with a 60,000 square-foot addition to the west side of the gaming hall at 105 Acre Trail. The bulk of the expansion will be devoted to adding space for more gaming machines, as well as the addition of a 1,200-seat auditorium/events center that will provide space for concerts, conventions, exhibits, trade shows and the like. Space will also be created for two restaurants.
"It is winter and it is the U.P.," said Gundlach Champion's Peter Dupuis. "But we've been going at it hard and our tradespeople have been doing a good job." Approximately 40 Hardhats are employed on the project.
Work on the expansion began in July 2018 and is expected to be complete in December. The project will allow the casino to offer 500 slot machines, nearly double what they have now. A 76-room hotel at the site is planned in a second phase.
"We'll have twice the gaming that we have now," said the casino's General Manager, Donald Wren, to ABC 10. "The food and beverage offering will be really unique for us, there are two really great restaurants that will be part of it. And then we're looking at a very eclectic entertainment experience that will appeal to a diverse group of people here in the Marquette area."
Dupuis said the project is proceeding as expected. The casino remains in operation, and no walls have yet been opened to connect the buildings. As for the addition, he said "we're not closed in, but we've tented everything with Visqueen so we're able to comfortably work in the winter and focus on above-ceiling work, and doing MEP rough-ins. It's a pretty typical job, we're just trying to keep everybody working comfortable for the next few months."
Aside from the new construction above ground, the project has also involved a $3 million sanitary sewer expansion, with the installation of five miles of new sewage pipe to tap into the municipal system. The casino's existing septic system is too small to handle the expansion.
"Every leader that I've talked to within the community here spoke about the lack of convention space," Wren told the Mining Journal. "So now we're giving them a place to come and stay, we're giving them a place for conventions, we're giving them a place for entertainment, and we're giving them a spectacular casino."
The tribe's Baraga location is getting $6.5 million to fund a facelift of the property, expansion of the gaming facility and upgrades to other areas of the facility's infrastructure.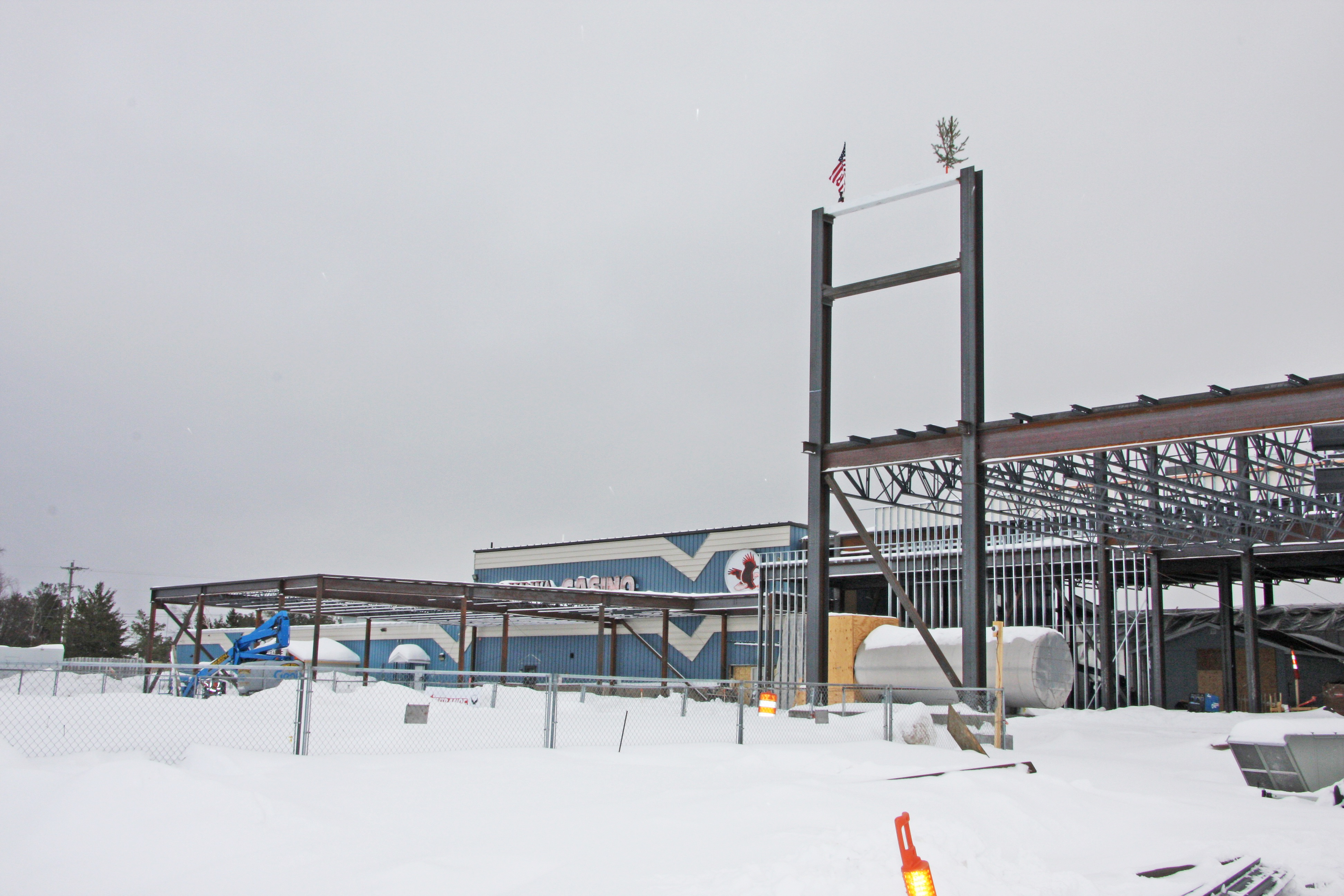 A COLD AND SNOWY 2019 winter has slowed, but hardly stopped, progress on the $35 million expansion of the Keweenaw Bay Indian Community's Ojibwa Casino. Gundlach Champion, their subcontractors and building trades union members have worked through a winter that had dumped 202.2 inches of snow on Marquette late last month – 55 inches more than a normal season – with plenty of winter to go. Photos by Jack Deo

THUMBS UP to you, too, Randy Goldsworthy - the Plumbers and Pipe Fitters Local 111 member is working at the Objibwa Casino expansion in Marquette. He's employed by Tweet-Garot.

IRON WORKERS Adam Pindrai and Patrick Murphy get a lift working on framework at the front of the Ojibwa Casino addition. The Local 8 members are employed by Gundlach Champion.