Water and 113-year-old ornamental plaster don't mix.
Proof of that can be found at Bay City City Hall, where an Oct. 12 roof fire led to a 20,000-gallon deluge of sprinkler water that poured down the walls of the four-story building, ruining plaster and more at the historic building.
Most of the damage from the fire on the southwest side of the building was water-related, and was confined to the fourth-floor Commission Chambers. It took weeks and the use of many fans to dry out the building. Part of the reconstruction task was handed over to Russell Plastering, a firm with vast experience performing repair and replacement of old architectural plaster. They began their reconstruction work four weeks ago.
"The commission chambers is beautiful and that's where we're doing most of the work," said Russell Plastering owner Dave Russell. "We didn't have blueprints to work off of, but we took photos and salvaged some samples of the old plaster to work off of so we can replicate it. It's a good-size restoration project, and it will look great once again when we're done."
Russell said his crew is also doing some miscellaneous repair work in the Treasurer's Office, the Mayor's office and around the first floor. All told, he estimates that a crew of 10 will work on the restoration, and they will install about 3,000 linear feet of molding.
The City Hall building is expected to be closed about six months for the plaster work and other renovations that are going on at the building.
Last week, Russell plasterers Chris Richardson and Tim Coleman were making new plaster cornices to replicate the ones that were ruined by the water. The molds they made were made of all things, plaster, which were coated with varnish and vegetable oil so that the new plaster wouldn't stick.
"It's always fun to do this kind of work, and I know others like to do it because they don't get a chance to do it very often," said Richardson, a veteran of the trade who has worked on numerous restoration projects, including the massive restoration of the Detroit Opera House.
Added Coleman: "I love doing this. "Chris does a lot of this, but I only get to do the old work restoration a couple times a year. It's especially fun seeing it all come together."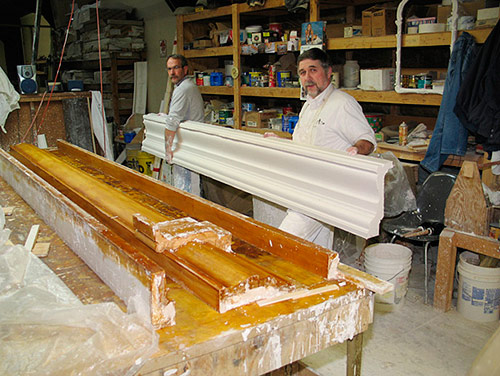 PLASTERERS Tim Coleman and Chris Richardson from Russell Plastering heft a 10-foot section of plaster cornice. It will be installed at the Commission Chambers of Bay City City Hall.