FLUSHING - The Michigan AFL-CIO delivered its endorsement of Democratic gubernatorial candidate Gretchen Whitmer here on April 11 at the Plumbers and Pipe Fitters Local 370 Training Center - a site that symbolically exhibits the utter failure of state government to deliver clean water to the nearby City of Flint.
In addition to the slow process of repairing Flint's water system, Whitmer pointed out, ruling Republican state lawmakers also aren't doing much to fix the state's awful roads, save the state's prevailing wage law, or give any type of break to the state's working people.
"We can elect a governor this year who has the right priorities," AFL-CIO President Ron Bieber told a group of assembled media, union leaders
and
Local 370 apprentices. "Someone who has a real plan to finally fix the damn roads, improve our health care system, and create more good-paying jobs for working people. And that's why, after lots of careful consideration – including three town halls – the Michigan AFL-CIO is proud to endorse Gretchen Whitmer to be our next governor."
The Michigan AFL-CIO's endorsement was approved by a unanimous vote of its executive council following an extensive candidate screening process, which included three town hall forums in Warren, Detroit, and Saginaw, featuring all four Democratic candidates for governor. The labor federation represents more than 1 million active and retired members of 42 unions in Michigan.
At its convention last August, the Michigan Building and Construction Trades Council became the first major labor organization in the state to endorse Whitmer.
A six-year member of the state House of Representatives and a former Senate minority leader in Lansing, Whitmer, 46, will be on the Aug. 6 Democratic primary ballot, and try to earn the right to take on the Republican candidate, either Brian Calley or William Schuette, on the November general election ballot to replace term-limited Gov. Rick Snyder.
"Working people are the backbone of Michigan, and that's why I'm so proud to have the support of so many
hardworking
union members in this race," said Whitmer. "Michiganders have been working harder and harder, but working people aren't getting any more money in their pockets. When I'm governor, we're going to make smart investments to fix the roads, expand access to quality, affordable health care, and create jobs so that every hardworking Michigander gets a paycheck that can actually support a family."
The choice of the Local 370 union hall/training center to make the AFL-CIO's endorsement of Whitmer highlighted the awful
response
of the state to the lead poisoning of the water system in Flint - and the incredible volunteer response made by Local 370 plumbers and pipe fitters as well as other pipe trades union members in Michigan. On Saturday, Jan. 30, 2016, some 470 plumbers and pipe fitters from around Michigan's Lower Peninsula used the Local 370 union hall as a base to coordinate and deliver bottled water, install tap-mounted filters, and perform and schedule repairs to the plumbing of low-income residents of Flint. The local volunteer work continued long after that statewide response.
"Our local has a proud tradition of providing highly skilled and trained plumbers, pipefitters, and service technicians to Flint for over 110 years," Local 370 Business Manager Harold Harrington told the Whitmer assembly. "Our members are the ones who helped build this great city. And that's why
we we're
the first ones out of the gate to step up and recruit over 300 volunteers after the Flint Water Crisis hit. For us, it was about giving something back to our community, helping our neighbors, and fixing the damage that was done. Our members are committed to rebuilding our state.
'That's why it's so important that we elect a governor this year who's gonna be in our corner for a change. Fighting to protect prevailing wage. Getting more kids into careers in the skilled trades. And putting people to work now to fix our crumbling infrastructure. That's what today is all about."
The state AFL-CIO's Bieber said while in the state Legislature, Whitmer led the fight against Snyder's cuts to education, attacks
on
workers' rights, including the state's right-to-work law, and tax breaks
given
to corporations.
"She fought Republicans when they were wrong," Bieber said, "But more importantly, she wasn't afraid to work with them to get important things done.
Like when she helped raise the minimum wage. And when she helped pass the Healthy Michigan law to expand Medicaid and cover over 680,000 more Michiganders.
"As governor, Gretchen will work to expand access to health care and make it more affordable for families. That's the kind of leadership we need in Lansing."
Among the speakers was Queandric Thornton, a Flint native who enrolled in the UA's Veterans in Piping program while he was stationed at Ft. Campbell, Kentucky. Now he's a first-year apprentice at Local 370. "I know that if I work hard and put in the time, I can make a good living for my wife and our seven-month-old daughter right here in Michigan," Thornton said. "But my fellow apprentices and
me
can't do it alone. We need to elect a governor this year who gets it. Someone who's gonna
have
our backs… and be in our corner for a change.
"We need to elect a governor who will fight to protect prevailing
wage,
and make sure skilled tradesmen and women can earn a fair wage for the work we do. And more importantly, we need to elect a governor who's gonna fix the damn roads… and fix the damn pipes!"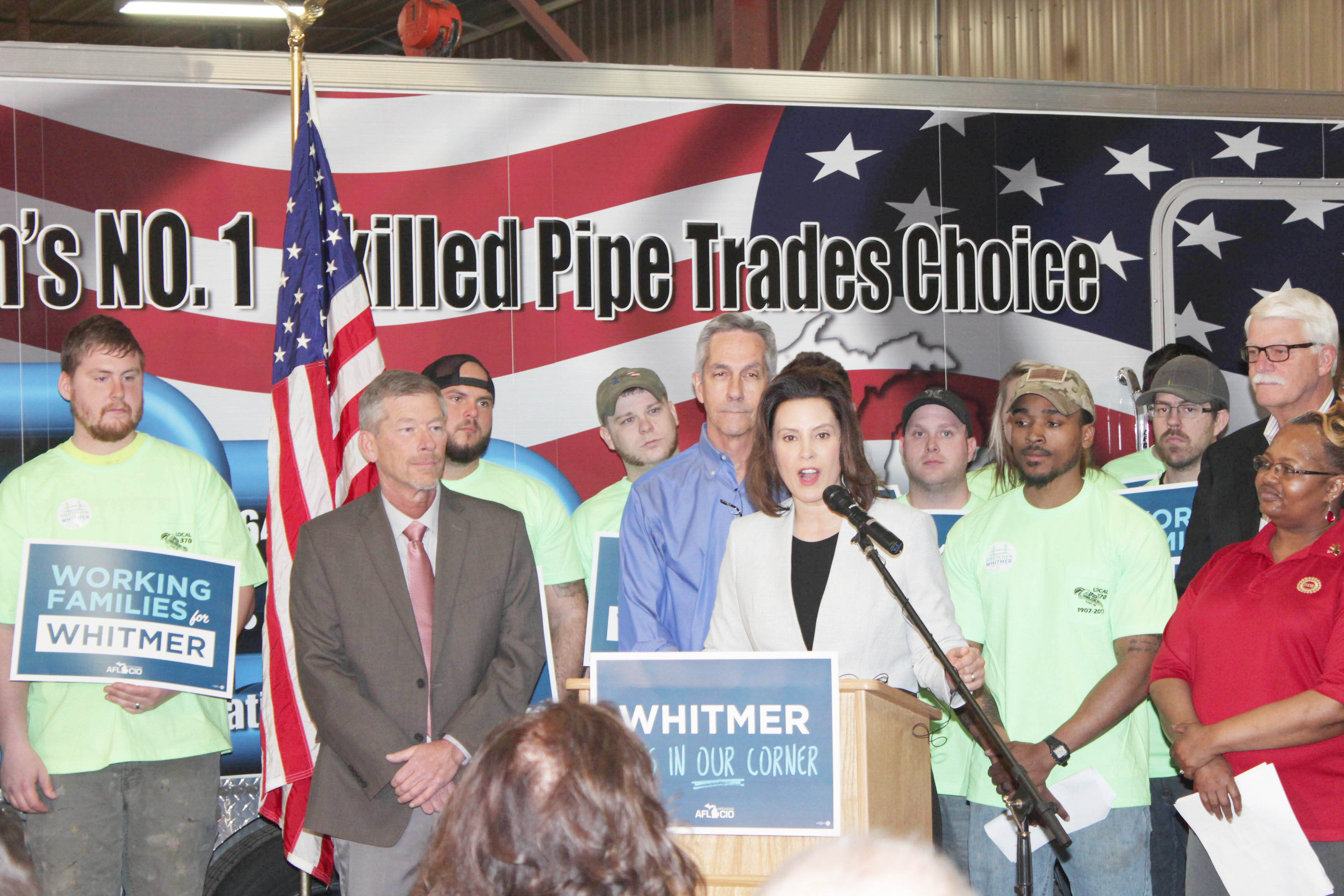 MICHIGAN Democratic gubernatorial candidate Gretchen Whitmer acknowledges the endorsement of the Michigan AFL-CIO on April 11. With her are host Local 370 Business Manager Harold Harrington (in the tie and jacket), state AFL-CIO President Ron Bieber (in the blue shirt behind her), and a host of apprentices.