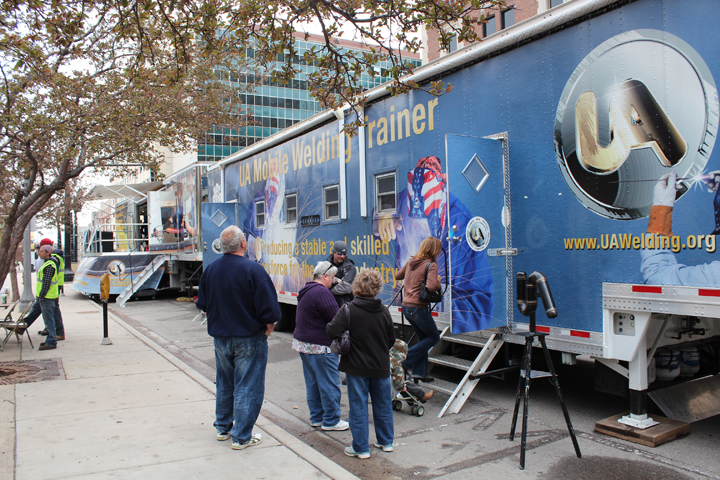 LANSING – "We know it's a challenge to bring our legislators to our training centers. So we figured we would try taking our training centers to our legislators."
That was the motivation, according to Plumbers and Pipe Fitters Local 333 Business Manager Judd Van Coppenolle, behind sponsoring "UA Day" in front of the Michigan Capitol Building on May 7.
The Michigan State Pipe Trades Association obtained a permit and brought in training trailers that are used around the country to allow tours and demonstrations of various pipe trades industry applications, including cut-aways of pipes, working plumbing mockups, welding displays and other systems.
The five United Association of Pipe Trades trailers filled up half the parking lane on Capitol Avenue in front of the Capitol Building. They were staffed with plumbers, pipe fitters and service trades men and women showing off their craft.
"This is something a little different, but this is an effort to show our lawmakers what we do, and I guess you'd say we're getting in their face a little," said Van Coppenolle, whose local union is headquartered in Lansing. "We're letting them know we do a lot of great things, we're second to none in training, we're self-funded, we're big supporters of hiring military veterans. And plus they can see things like the internal workings of plumbing equipment and everything else we do."
As a further inducement to get legislators and staff outside, lunch was served in a tent on the Capitol lawn. In brief remarks, United Association International Rep. Gary Young urged them to "take a look at our trailers and see our investment in training, see what we're all about. Without plumbing, we'd all be using porta-johns. What is in those trailers is what we represent. We're the highest trained labor force in the country, but we also represent the middle class."
Representatives from pipe trades local unions from around Michigan came to support the effort. Van Coppenolle expressed his thanks to Local 333's Assistant Business Manager Price Dobernick and Director of Training and Instructor Trent Mauk from Local 333 for spearheading the event. Among the politicos touring the trailers were Lt. Gov. Brian Calley and Senate Majority Leader Randy Richardville (R-Monroe).
"I also sit on the Energy Committee, so it's valuable seeing what you guys are all about," Richardville said. "I hear over and over that Michigan has the best education workforce in the country."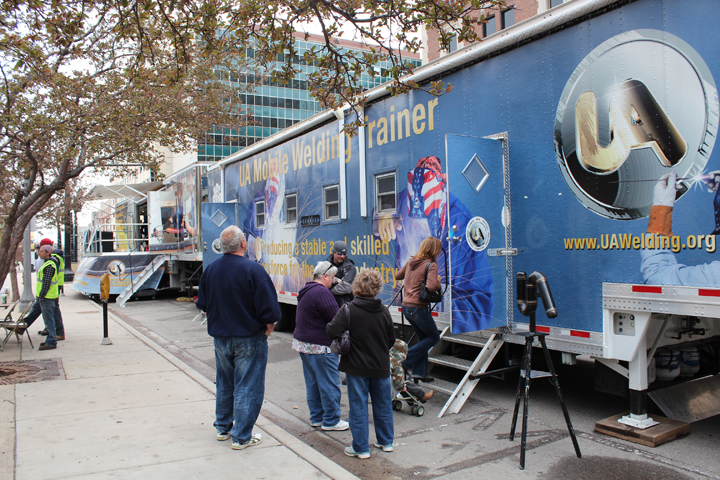 BUILDING TRADES unions have been attempting a number of outside-the-box strategies in order to get labor's brand and point of view in front of the public and state lawmakers. On May 7, the Michigan State Pipe Trades Association hosted "UA Day" in front of the state Capitol Building in Lansing, complete with trailers that display all aspects of the pipe trades. It was a subtle "in your face" effort to show lawmakers and their staff what the United Association of Pipe Trades do.

UNITED ASSOCIATION of Pipe Trades trailers parked curbside on Capitol Avenue in Lansing welcome visitors.