DEARBORN – Structural steel is now in place that continues the process of building a new hot dip coating line for galvanizing steel at Severstal in Dearborn.
Iron Workers Local 25 members working for Ideal Contracting performed the topping out of the structure on Feb. 25. Setting the final 45-foot beam were connectors Dennis (the Cobra) Douglas and Matt (Chickenhawk) Kriebel.
There were 57,000 man-hours and a peak crew of about 55 iron workers and 12 operators who worked on steel erection with no lost-time accidents. Some 3,000 tons of steel went into the structure, including the final white beam with a flag, banners and a pine tree that completed the top of the plant's APC (After Pot Cooling) Tower.
Mark Brackevelt, project manager for Ideal, said structural work started in August. He said there will be a few more months worth of iron work putting up interior steel. "It's been a terrific job; it's a great bunch of guys out here," he said.
The new line, according to Severstal, will allow for the production of automotive exposed hot dip galvanize and galvanneal coatings. Construction activity on this building and at a nearby pickle line and cold mill resumed last year after stalling in late 2008 because of the fall in steel demand. When all the work is complete Severstal will be able to expand its steel product lines for the automobile industry and other sectors.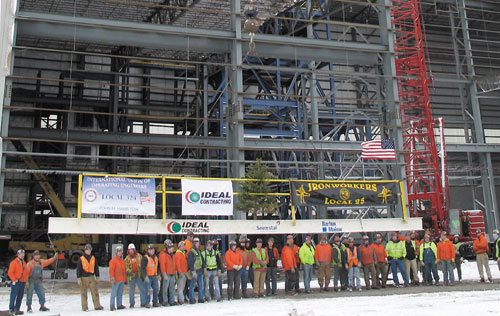 IRON WORKERS Local 25 members working for Ideal Contracting lifted this final 45-foot beam into place on Feb. 25 at Severstal's galvanizing line under construction in Dearborn. For more on the topping out, see Page 2. Other photos of the project can be found throughout this edition.