LANSING – Union members and their supporters, led by a large building trades contingent, once again took to the front steps and lawn of the State Capitol Building on April 13, in a rally intended to show state Republicans that labor isn't taking their anti-worker brand of government sitting down.

"I know that most on the Republican side would rather you would just go away," Michigan Building and Construction Trades Council Secretary-Treasurer Patrick Devlin told the crowd. "In fact, they're helping the process along by sponsoring more than three dozen anti-worker, anti-union bills that will try to put the building trades and the rest of organized labor out of business. Are we going to let that happen? Hell no we're not."

Protests were held in Lansing and Marquette on April 13 as part of an AFL-CIO-sponsored "National Day of Protest." In Lansing, the building trades joined with protesters that included other unions like AFSCME, teachers, United Food and Commercial Workers, SEIU, cops, firefighters, and others.

Media estimates had the crowd at 5,000, but rally participation was easily a third larger than a similar event estimated to have 5,000 participants that was held in front of the State Capitol on March 16. It was easily the largest rally this reporter has seen at the Capitol Building.

"This is what democracy looks like!" was one of the chants delivered by Herb Sanders, administrative director of AFSCME Local 25. "There are a litany of approximately 40 bills that have been introduced in the last 75 days that are designed to eliminate 75 years of progress for Michigan workers. You and I know that union employees didn't create the financial mess that Michigan and other states are in."

Sanders and other speakers pointed out that it was Wall Street greed that tanked the U.S. economy. But he said financial reforms in the effort to bring the country back on track are being done disproportionately on the backs of the middle class, rather than on the rich or the business community.

The 2011 state budget submitted by Michigan Gov. Snyder shifts about $1.7 billion in taxation from businesses to individuals. The shift will be paid for by a combination of taxing state residents' pensions, ending the Earned Income Tax Credit (which helps poor people), and reducing state aid to local communities.

Dozens of Michigan communities are in financial straits, and that reduced state aid could shove them over the edge. The Republican response? It came last month with the passage of an emergency financial manager bill, which will eventually target organized labor. Under the new emergency financial manager law, Snyder has new powers to appoint what many have termed a dictator to take over financially troubled school districts, cities and townships.

The appointed manager could abrogate union contracts, hire and fire employees at will, and make whatever financial decisions he or she deems necessary. Complete local control would be taken out of the hands of elected officials and placed in the hands of the financial manager. Two dozen Michigan communities, maybe more, are considered to be potential candidates for such a manager.

"We refuse to give up on our collective bargaining and be subject to dictators, when dictators are falling all over the world," Sanders said.

As we have pointed out, Michigan Republicans – in complete control of the state Legislature – have introduced this year proposals for right-to-work zones, to eliminate prevailing wage, outlaw project labor agreements, eliminate MIOSHA, and halt any union business on state property.

And last month, the state's Republicans voted to make Michigan the first state in history to lower unemployment compensation from 26 weeks to 20 weeks in an effort to save money for employers.

"We're here to say this is government for and by the people, not for and by the rich," Lansing Mayor Virg Bernero told the crowd. Democrat Bernero lost to Snyder in the election for governor last year. "The other side thinks that if you keep giving to the super rich, maybe, just maybe some of that will trickle down. I don't know about you, but I'm tired of being trickled on."

At the rally one speaker protested a new state rule which prevents the state from deducting union dues from thousands of people who provide child care at home. A teacher told the crowd that education cuts are likely going to increase class sizes and result in reductions to remedial, special education and enrichment programs.

Union members, Devlin said, helped put the Tea Party-fueled hard-right legislators into power last November by not voting, or by not voting in their own economic interests. "Democrats can't do much to help our cause," Devlin told the crowd. "Tonight or tomorrow, everyone of us needs to commit to finding out who your state lawmaker is, and contacting him or her.

"Doesn't matter how you make the contact: A phone call, an e-mail, or a personally written letter. Let them know you support prevailing wage. Let them know you support project labor agreements. Let them know you support Unemployment Benefits. Let them know you support MIOSHA. Do you support union rights in Michigan? Then you need to tell that to the people who work here."

Added Sanders: "It's time to fight. This time union busting has brought us solidarity like never before."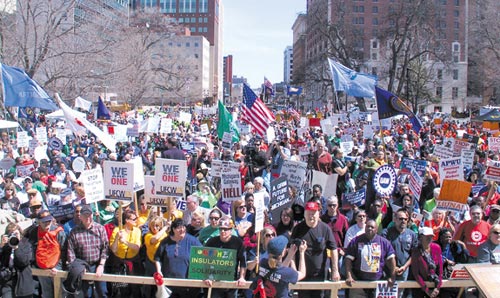 A RALLY ON THE STATE CAPITOL steps on April 13 attracted thousands of building trades and other union members and supporters.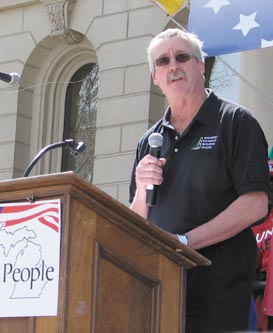 "HOW DID WE GET in this mess?" said Michigan Building and Construction Trades Council Secretary-Treasurer Patrick Devlin. "As the old saying goes, bad lawmakers get put into office by good people who don't vote. Too many of us stayed home from the polls last November. Too many of us weren't paying attention when the Tea Party, pushed by some big-money donors, pushed Republicans farther to the right than they've been in recent memory."