MARQUETTE – The building trades have taken up residence on the city's Lake Superior waterfront, building a new hotel at Founders Landing.
Under construction is a new 84-room Hampton Inn, which is being built adjacent to the city's abandoned ore dock, at Lakeshore Blvd. at W. Baraga. Gundlach-Champion is the general contractor on the hotel, which was coming out of the ground this fall.
Construction on the $7 million, three-story hotel had been slowed by – surprise – a high water table at the site, which is only a stone's throw from Lake Superior. The brownfield soil at the site, a former landfill and a dumping ground after Marquette's fire of 1868, didn't help with the foundation work, either.
"We're on track, we have about a dozen guys out here and they're doing a good job," said Gundlach-Champion Project Supt. Rob Berg. "At this point we have no issues, and it's a typical job." The hotel is expected to be complete in March.
What put the project on track was the sinking of some 300 foundation concrete pile caps plunging 30 feet to 60 feet in depth to reach bedrock. Concrete grade beams atop the pile caps will support the hotel.
The lowest part of the hotel, the pool, will sit only five feet about the level of Lake Superior. A month-long pumping process around the pool earlier this year finally removed enough water for construction to commence.
The hotel will have suites, a pool, a fitness center and a small meeting facility. It will employ about 30.
"We obviously hope it will become a destination point for the city of Marquette; downtown is very busy and vibrant because of businesses invested downtown," said Tim Larson, partner in hotel development to Fox TV 6. " We hope we'll be a part of it with our investments on the waterfront."
Near the hotel there are plans in the Founders Landing area for condos, retail shops, and restaurants. "This is a nice area, a nice location for a hotel," Berg said. "It's going to be a great place when we're done."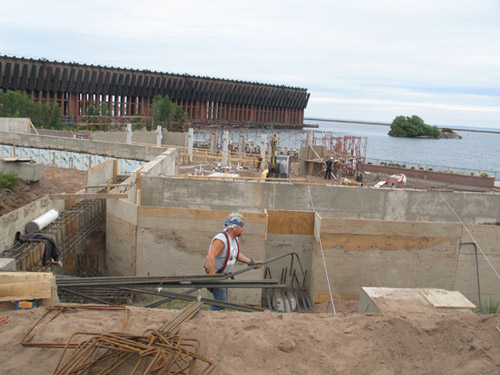 PLACING REINFORCING rod at the new Hampton Inn-Waterfront in Marquette is Rob Pascoe of Iron Workers Local 8, working for Wisconsin Re-Bar. Behind him is the Lower Harbor ore dock, completed in 1932 and abandoned in 1971.