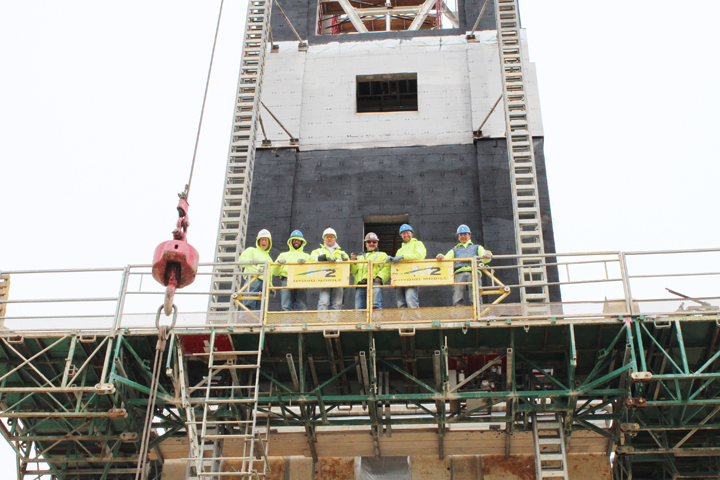 ROCHESTER – Oakland University's campus has been getting a major makeover, with more than $250 million in construction projects built over the past four years.Among those projects, the most prominent feature is a new151-foot-tall carillon bell tower, whose titanium cap was lifted and set into place by the building trades last week. The tower, constructed in an area between the Oakland Center, O'Dowd Hall and Kresge Library. is intended to be a focal point of campus activities.
"Everybody has done a really nice job out here, it's looking great," said Oakland University Associate Vice President for Facilities Management Terry Stollsteimer. "It's been a very good project."
The project is scheduled to be complete in September . Construction of the Elliott Carillon Tower was made possible by a $6.5 million gift from longtime Oakland University supporters Hugh and Nancy Elliott. The tower will be complemented by a water fountain, garden and landscaping. The Elliotts also donated 10 percent of the total design and construction costs to establish an endowment for operations and maintenance.
"We wanted this bell tower to make a statement, and to be a focus and meeting place on the campus," said Nancy Elliott.
According to Oakland University, the structure will become the 14th carillon tower in Michigan, and one of the tallest bell towers on a U.S. college campus. Its 49 bells will be designed and cast by The Verdin Co. of Cincinnati and the Royal Bellfoundry Petit & Fritsen of the Netherlands.
There will be a regular live playing schedule in addition to the traditional quarter chimes. The largest bell weighs around 5,000 pounds and is five feet in diameter. The total weight of all bells is more than 30,000 pounds.
On the job last week was construction manager Barton Malow and about 20 Hardhats. Work started last July, and aside from the challenges of the harsh winter, "it has otherwise just been standard construction," said Barton Malow Project Supt. Jerry Slusarski. "The only thing here is, since it's a tower, everybody is on top of each other and everybody wants to be in the same piece of real estate. But we're doing fine, it's a great group of guys here."
The tower will also have a clock on all four sides. The fascia will have limestone up to 36 feet, and then brick and cast stone the rest of the way up. The site will be nicely landscaped, and include pavers and a water feature.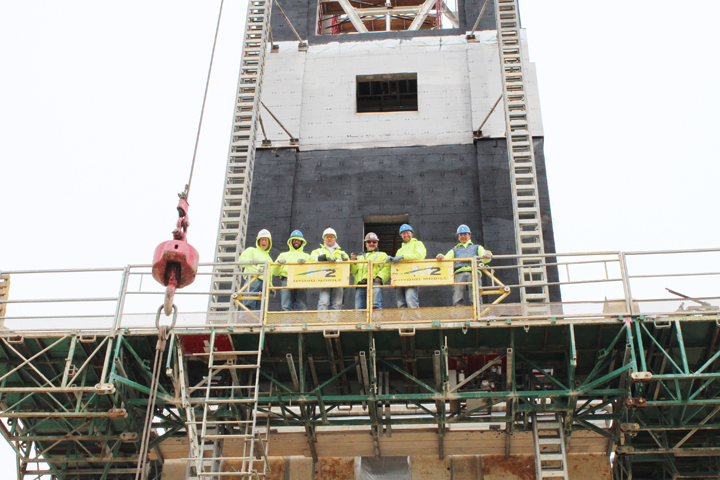 PART OF THE CREW OF BAC LOCAL 2 MASONS building the exterior of the new carillon bell tower at the Oakland University campus in Rochester pause for a photo atop scaffolding surrounding the tower. They include (l-r) Joe Berens, Joe Wojdowicz, Joe Kalhorn, Trevor McClintock (Laborers 1076), Brad Maurer and Jeremy Hardwick. They're employed by Leidal and Hart.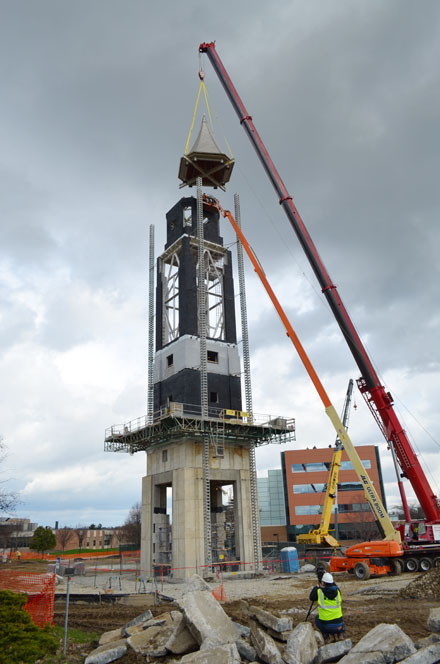 THE TITANIUM-covered cap of the Oakland University bell tower is lifted into place on April 30. Photo by Chuck Kukawka/BAC Local 2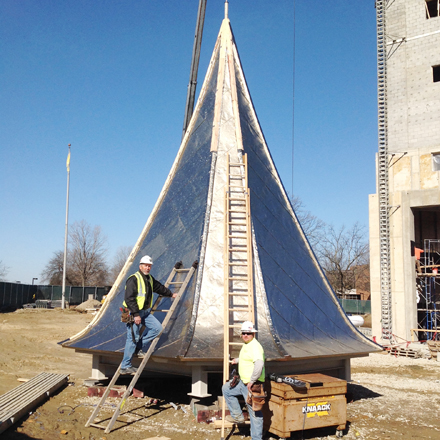 SHEETS OF TITANIUM over structural steel and plywood make up the "witch's cap" which will cap the Oakland University bell tower. Building it here are Terry Fisher and Mark Allen of Sheet Metal Workers Local 80, employed by Cass Sheetmetal. Photo by Chuck Taormina/SMW Local 80