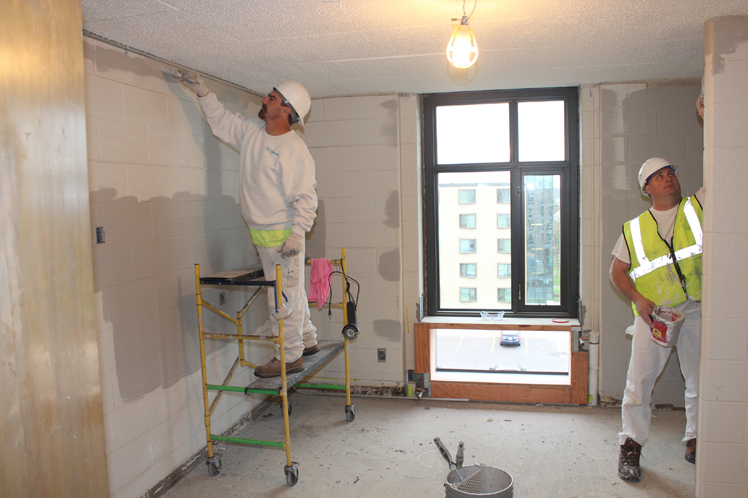 YPSILANTI - A modernized version of Wise Hall, the largest residence hall on the campus of Eastern Michigan University - will be ready for students this fall.
Construction manager Miller-Davis, their subcontractors and the building trades have been working at the residence hall on the northeastern section of the campus since December, providing the dorm its first major renovation since it opened in 1964.
The trades are tasked with window and curtain wall replacement, exterior facade improvements, room air conditioning, complete new and primary electrical service, and new finishes and furniture. The fourth and final phase of the project will take place in the summer of 2017, with the addition of common-area air conditioning and an upgrade for the elevators.
"The project is on schedule and we are even a bit ahead of schedule in some areas," said EMU Project Engineer Chris Longerbeam. "We are very happy with the quality and productivity of our tradespeople."
Eastern Michigan is spending $11.2 million on the upgrades to Wise Hall, which has a student residential capacity of 322. The five-story, 72,338-square-foot Wise Hall is one of 12 residence halls on the EMU campus, and recent enhancements have helped the university average about 90 percent occupancy of its on-campus housing over the past three years.
Upgrading the electrical service and distribution within the building is one of the major aspects of the project. Moore Electrical Services and its crew of 14 IBEW Local 252 members are making that happen. "The project is fairly typical, one of the constant challenges we face is running into obstacles we didn't know existed after the walls have been opened up," said foreman Eric Tasker. "But things are moving along well." The electricians are bringing in upgraded 3,000 amp service to the building, which will make the new air conditioning system possible.
EMU had capacity to place Wise Hall students in other residential halls during this renovation.
"We realize it is important to provide attractive and innovative facilities to attract, retain and help foster the university's mission of 'Education First,'" Longerbeam said.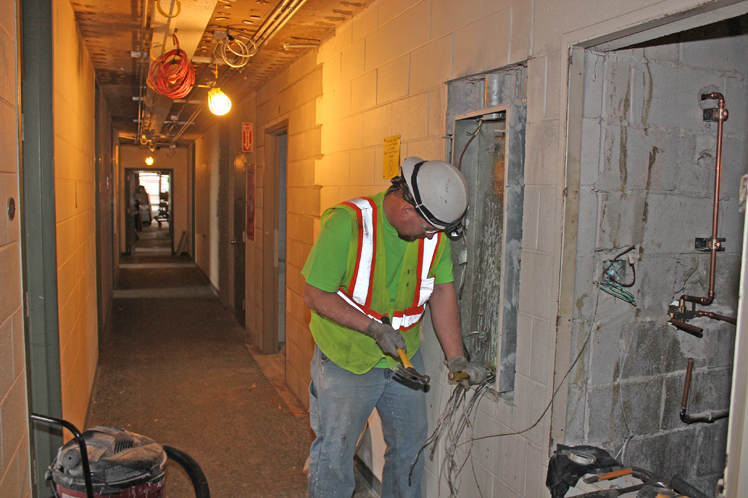 USING A LITTLE persuasion to loosen a locknut on a first floor hallway electrical panel at Wise Hall is John Hall of IBEW Local 252. He's employed by Moore Electrical Services.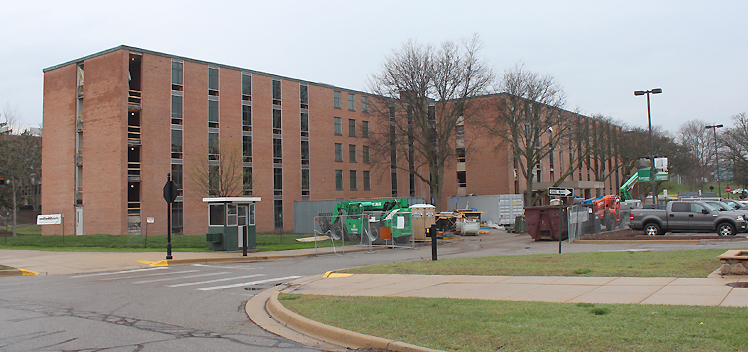 THE WISE HALL upgrade maintains Eastern Michigan University's focus on improving the quality of student housing. Such enhancements have helped EMU average roughly 90 percent occupancy of its on-campus housing over the last three years, which is also an element in EMU's long-term strategy of improving student retention.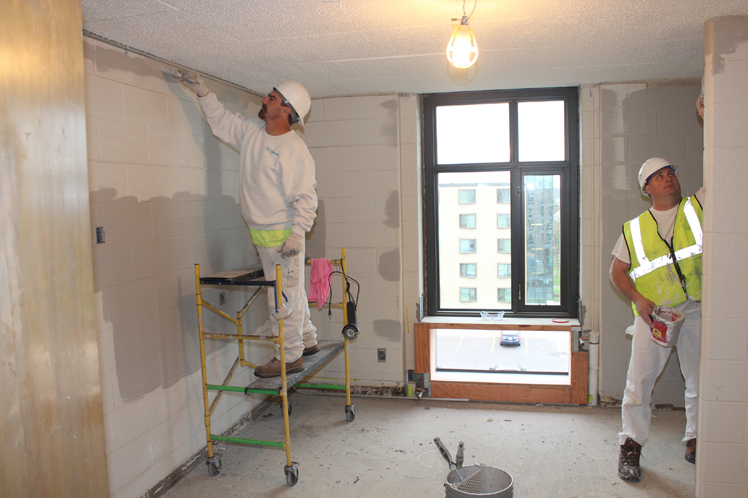 APPLYING A COAT of taupe-colored paint to a dorm room at Eastern Michigan University's Wise Hall are Shaine Brewer and Charlie Brooks of Painters Local 514/Michigan District Council 1M. They're employed by BC Painting Contractors.