COOPERSVILLE – Seven tractor-trailers chock full of materials that represent the gamut of modern pipe trades knowledge were on display May 3-7 in the parking lot of Plumbers, Pipe Fitters and Service Trades Local 174.
The seven "mobile classrooms" plus a rigging exhibition showed visitors what union pipe trades workers do every day in areas such as welding, medical gas, residential and commercial plumbing devices, green construction, and heating, ventilation and air conditioning technologies.
"There are a lot of people who don't have any idea what a plumber or pipe fitter does," said Local 174 Training Coordinator Jerry Hines. "These (trailers) are a quick picture of all of our training, and help people understand all the diverse things that we've been doing, in terms of training and all the technology we deal with. The United Association spends about $300 million a year on training, and it's money that we take out of our own pockets to train and make our ourselves better."
Many of the trailers (union built, of course) have been introduced during the last decade or so, but Coopersville was the first stop for the UA's new HVACR (heating, ventilation, air conditioning and refrigeration) training trailer. It cost about $800,000, and includes spaces for everything related to the field: equipment, demonstrators, tools, books, and power hookups.
"Just start on the outside, with the graphics on the trailer," said Bill Debone, a part-time instructor with Local 174. "It's beautiful art work, and it provides a timeline for the history of our trade over the last 100 years. And on the inside it has everything you need to teach HVACR. It's very well designed. Our guys are encouraged to tear things apart and put them back together. It's definitely hands-on."
Each trailer demonstrates and helps teach a specific area of the trade, including welding, medical gas and green technology. The trailers are driven around the country on various missions. If certification for a specific welding application is required on a job site, a welding trailer can be brought in and made available for worker testing.
Some local unions might need short-term use of a trailer for a specific area of training. And in the case of the week-long event at Local 174, the trailers can be used as public relations welcome wagons.
Here, hundreds of students, contractors, interested parties and the general public walked through the trailers and learned about the trade. "I look at all the information that's available and I think it's nice for students to see the extent of all we do," said John Rogers, a 4th-year apprentice with Local 174.
Hines said while "modern" plumbing goes back a century, "half of our trades is 10 years old." He cited the introduction in the last few years of fixtures like energy-saving boilers and valves, heat pumps, low-flow toilets and shower heads, and variable frequency drives that help save energy.
The displays in the trailers showed many of those features, with cut-out examples, color-coded valves and gauges, and plexiglass in some areas to show what's going on behind the wall.
"I think the week went really well," said Local 174 Business Manager Mark Mangione. "We had a lot of people walk through, from the architects, construction managers and engineers, but for us I think the real prize was with our contractors bringing through some of the end customers. They're the ones who decide whether to build union or not.
"And I think it can only help us that they have a heightened awareness of how committed we are to training our membership. We received a lot of positive comments about what we had to show them."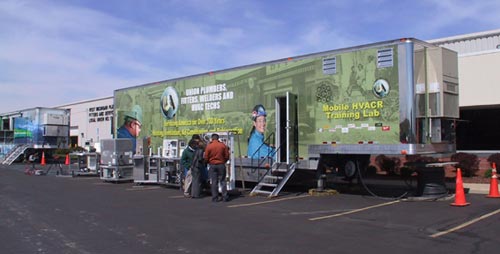 THE NEW HEATING, ventilation, air conditioning and refrigeration training trailer on display in Local 174's parking lot earlier this month.