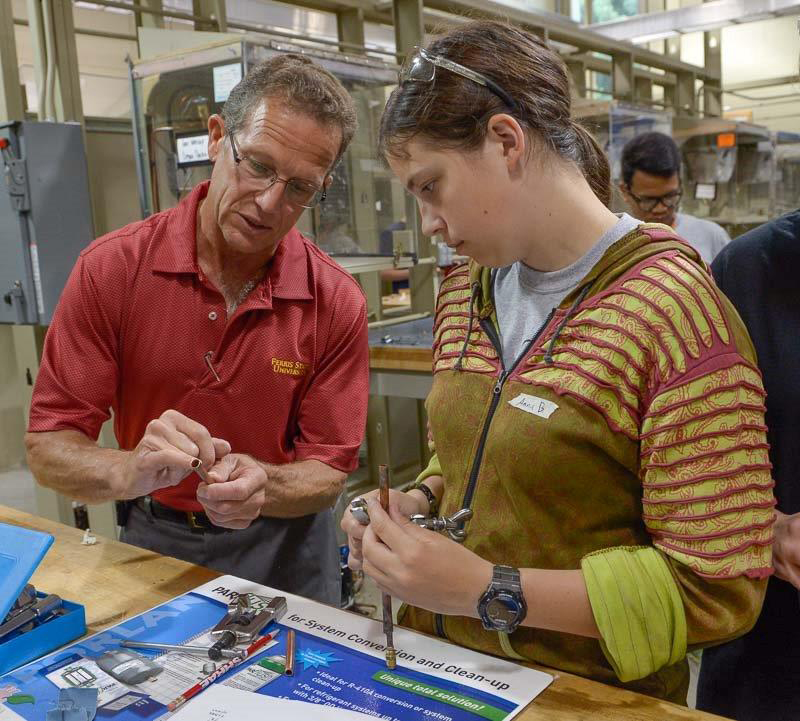 BIG RAPIDS - It was a summer well-spent for a group of Ferris State University students who took part in the school's HVACR Summer Academy.
This academy provides an innovative approach to addressing future workforce demands in the HVACR areas, and the need to develop academic pathways through STEM: Science, Technology, Engineering, and Math curricula.
"Students are not receiving the experiences in high school to learn about such career paths as the Heating, Ventilation, Air Conditioning and Refrigeration (HVACR) profession," said Ferris State HVACR Coordinator Doug Zentz. "In fact, students know little of what this profession is about. This program's success is a direct result of many years of team work and collaboration between education and industry partners to recruit and train students in HVACR. Pursuing this degree path will enable students to have a better future."
Among those industry partners are union contractors affiliated with the West Michigan Mechanical Contractors Association. In July, top students from across the State of Michigan were awarded $250 scholarships to attend the summer academy. Local labor-affiliated industry and educational sponsors included Hurst Mechanical (Belmont), Hussman Corp. (Grand Rapids), and the Newaygo Career Technical Center (Newaygo Intermediate School District).
The camp encourages junior or senior students to experience hands on elements of the HVACR industry at Ferris State, and exposes them to what could be a potential career in the industry.
"I am thankful to Ferris HVACR and Hurst for this sponsorship," said student Theodore Proctor. "The HVACR program grabbed my attention when I went through the Granger Center for a tour last fall. This camp allows me to experience the hands on curriculum and laboratories and meet faculty."
This year's summer camp took place July 12-17.
Plumbers, Pipe Fitters & Service Trades Local 174 Business Manager Mark Mangione said his union has had a long-standing connection with Ferris State's HVACR program, which he termed "an enhancement to our apprenticeship."
"The Mechanical Service Contractors of America (MSCA) and the United Association are partnered in the organized HVAC service industry," he said. "Local 174 as well as all of the UA locals in Michigan support the Ferris HVAC program as it is one of the best in the country."
Mangione, who also serves as Michigan State Pipe Trades Association secretary-treasurer and president of the West Michigan Building and Construction Trades Council, said Local 174 has two members who are Ferris State professors. He noted that the school has a student MSCA chapter as well. He said the union's apprenticeship program evaluates and provides credit for apprentices who are educated at the university, and actually gets most of its HVAC apprentices from Ferris State.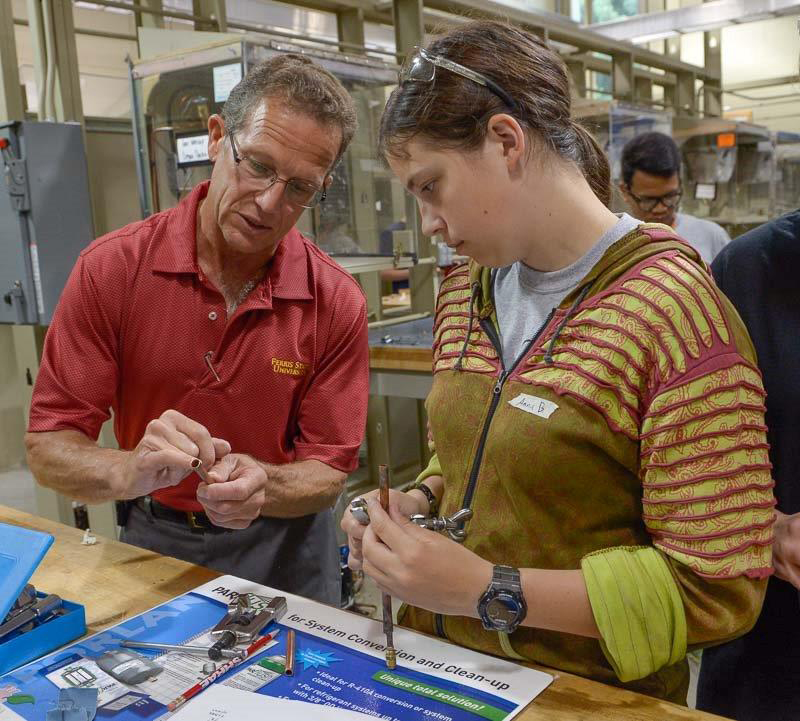 THE FINER POINTS of a section of copper pipe and its HVACR application is explained to a student at Ferris State by Brian Holton, a Plumbers and Pipe Fitters Local 174 member and the advisor for the Mechanical Service Contractors of America student chapter.