DETROIT - The pipe trades industry has changed a bit since the Plumbers Association of Detroit was granted a charter by the United Association, creating Plumbers Local 98 in December 1893.
A century and a quarter later, many of the tools and piping applications and processes have changed, but the spirit of solidarity among the union members has continued. To celebrate, Local 98 threw a party with 700 members and guests on Saturday, Sept. 8 at a banquet at the Motor City Casino.


"It is with great honor and pride that Local 98 has been a chartered member of the UA for 125 years," said Local 98 Business Manager Dan Nixon. "We look forward to the next 125 years as well. Tonight we celebrate our courageous charter members for their efforts, and we salute each and every member since, who have proudly represented Local 98 so very well over the years."


Detroit Mayor Mike Duggan told attendees that the original plumbers seeking to organize in the 1890s wanted what today's plumbers want: "they wanted to get their fair share of the wages." He said he hoped today's plumbers enjoy the continuing boom in construction activity. "Let's hope we see a whole lot more of it, of plumbers and the City of Detroit working together."


Sander Levin, the retiring congressman from Southfield, told attendees that as a young attorney in the 1960s, the highlight of his legal career was helping to pioneer the formation of fringe benefit funds that form the basis of today's union pension and health and welfare plans in Michigan. "This local union has always been at the forefront of representing workers," Levin said. "The plumbers and the rest of the building trades unions helped to build the middle class."


A host of United Association of Pipe Trades officers were on hand for the celebration. General Secretary Treasurer Pat Kellett told the audience that "Local 98 members are doing it right. To be here for 125 years is a great accomplishment. Tonight's celebration is all about our membership and our contractors who have made a successful journey together."


In his remarks, U.A. Assistant General President Mike Pleasant said: "What a great celebration, 125 years is pretty amazing. 1889 is when the UA was formed. Three short years later a group of Detroit plumbers got together and in 1892 they decided to join the United Association.


"In the next 63 years, up through 1955 we gained 761 locals. So in that short time, that was a hot time. The point I want to make is that you guys have been doing it right, doing a lot of great things around the country and around your area here. But I don't have to tell you that, you already know how good you are, being here after 125 years."


The United Association gifted a plaque to Local 98, recognizing the milestone. The final speaker was International Representative Kevin Carden, who hails from another hometown UA local, Pipe Fitters Local 636. "It's special for me to be here tonight on this monumental occasion for Local 98," Carden said. "Being that my home Local is 636, I have had the opportunity to work side by side with many Local 98 members. I have made some life-long friends and I see many of them here tonight. With the highly skilled and dedicated membership, and strong leadership over 125 years, Plumbers Local 98 has successfully taken on the challenges of our changing industry."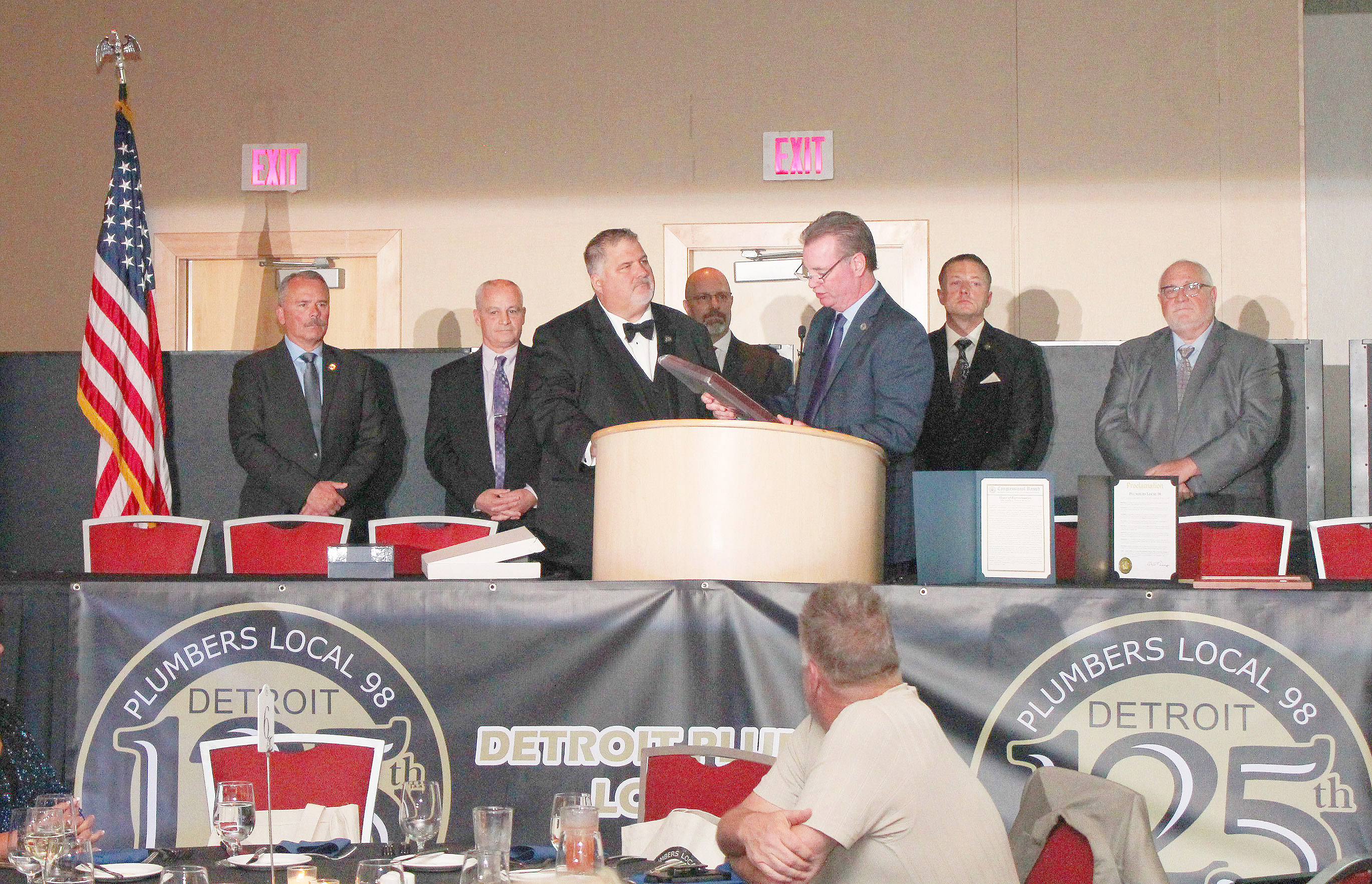 UNITED ASSOCIATION of Pipe Trades International representatives bestowed a plaque on Plumbers Local 98, congratulating officers and members on the local's 125th anniversary at the Sept. 8th celebration at Motor City Casino. In the background (l-r) are UA International Representative Kevin Carden, UA Director of Plumbing Services Tom Bigley, UA Assistant General President Mike Pleasant, Local 98 President Gary Glaser, and UA Administrative Assistant to the General President Brad Karbowsky. At the front (l-r) are Local 98 Business Manager Dan Nixon and UA General Secretary Treasurer Pat Kellett.