STERLING HEIGHTS – The Chrysler Sterling Heights Assembly Plant's 6,000- ton steel body shop skeleton is now complete.
On July 16, Iron Workers Local 25 members from Bristol Steel finished erecting structural steel for the SHAP's new body shop, covering a former parking lot with 1.3 million square-feet of new, white steel. The existing Chrysler plant, not long ago given up for dead along with its nearly dead corporate owner, has been given new life with the completion of construction of an adjacent 500,000 square-foot paint plant, and the ongoing work on the new body shop.
"Bristol Steel fabricated and erected the steel, and size-wise, it was right up there, one of our biggest projects," said Bristol Supt. Dan Foco of Local 25. "It went fantastic. Not even one problem. Everything fit well, and I give credit to our gang for doing a great job."
Foco also lauded the work of Bristol Steel's Project Manager Brent Irrer and shop Foreman Vick Moody for making the project come together. As a safety incentive – "we didn't even hand out a Band Aid," Foco said, Bristol owner Ray Oliver gave away a four-wheeler, won by an operator.
The vehicles that are built at the plant are the Chrysler 200 and Dodge Avenger. Chrysler's total investment in upgrading the Sterling Heights plant is more than $1 billion. Walbridge has managed construction of both the paint shop and the body shop.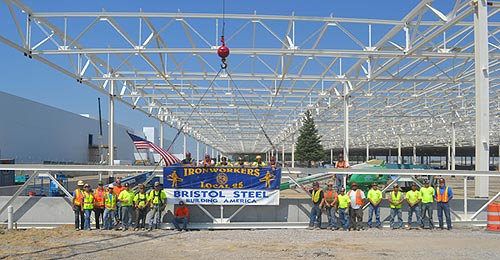 THE CREW of Iron Workers Local 25 members working for Bristol Steel topped out the SHAP's new body shop.