There are a growing number of cautionary signals for the future of the U.S. construction industry and the overall economy, but at present, the good news continues to speak louder than the bad.
The latest economic numbers released Sept. 3 by the federal Bureau of Labor Statistics (BLS) showed that the nation's unemployment rate held steady for the third straight month at 3.7 percent - not much above the historic low - but with total non-farm U.S. employment rising by middling 130,000 jobs. During the course of this year, job growth has averaged 158,000 per month, below the average monthly gain of 223,000 in 2018.
"The report was not all bleak - wages rose at a healthy clip, and people who had not been looking for work returned to the job market - but the signs of a slowdown were unmistakable," said the New York Times. "We've lost steam — there's no question we are slowing," Diane Swonk, chief economist at Grant Thornton, told the Times upon release of the jobs report. "We are losing momentum."
While the pessimism was also fueled by President Trump's ongoing trade war with China and a slowing world economy, both Federal Reserve Chairman Jerome Powell and Trump suggested that fears of a recession are overblown. "We see the most likely case for the U.S. and for the world, too, as continued moderate growth," Powell said. "We're going to continue to act as appropriate to sustain this expansion."
Following is a snapshot of various facets of the U.S. economy:
Construction jobs: Job growth in construction has "moderated" so far in 2019 compared to 2018, the BLS report said. The U.S. construction industry saw employment drop by 93,000 jobs between August 2018 and August 2019, indeed a moderate drop of a half percent.
Construction spending:
U.S. construction spending inched up less than 0.1 percent in July from June but slipped from year-ago levels, the Associated General Contractors said Sept. 3. Spending dipped 2.7 percent from July 2018 to July 2019, and by 2.1 percent since the start of 2019.
"Overall spending totals have been fluctuating for more than two years, with divergent patterns for residential, private nonresidential and public construction," said Ken Simonson, the association's chief economist. "Although year-to-date construction spending in the first seven months of 2019 combined was less than in the same period last year, most nonresidential and multifamily contractors remain busy and optimistic about future work."
Construction momentum:
The Dodge Momentum Index for U.S. construction dropped 1.3 percent from July to August to 137.8 (2000=100) from the revised August reading of 139.6. The Momentum Index, issued by Dodge Data and Analytics, is a monthly measure of the initial report for nonresidential building projects in planning.
"On a year-over-year basis, the overall Momentum Index is 10.3 percent below August 2018, suggesting that construction spending will be settling back as the year progresses," Dodge reported. "However, most of the decline occurred in 2018 – the Momentum Index has lost only 1.8 percent since the beginning of 2019, indicating that while construction activity will ease, it is not in a free-fall."
Income growth:
Average hourly earnings are showing some signs of life, increasing by 0.4 percent, in August and up from a gain of 0.3 percent in July.
But the Census Bureau reported on Sept. 10 that median U.S. household income stood at about $63,200 last year, essentially flat compared to 2017. Remarkably, for a typical family, median household income has increased just 2.7 percent since 1999, despite two long periods of growth (interrupted by the Great Recession).
Based on the Census Bureau's release of its Report On Income, Poverty and Health Insurance, the labor-backed Economic Policy Institute issued a report under the headline, "Income growth slows significantly again in 2018."
"Household income growth significantly slowed again in 2018, following a marked deceleration in 2017," said the EPI's Sept. 10 report by Senior Economist Elise Gould. "While any reduction in poverty or increase in income is a step in the right direction, most families have just barely made up the ground lost over the past decade. After correcting for a discontinuity in the income data to make years before and after 2013 comparable, median household income remains just below where it was back in 2000."
Median household incomes rose only 0.9 percent in 2018, compared with 1.8 percent in 2017. In 2016 and 2015, median household incomes grew much faster, at 3.1 percent and 5.1 percent, respectively, the EPI said. The poverty rate, meanwhile, dropped 0.5 percentage points to 11.8 percent in 2018.
Makes Census: The BLS reported that in August, employment in the federal government increased by 28,000. The gain was mostly due to the hiring of 25,000 temporary workers to prepare for the 2020 Census.
Categorically speaking:
Among the major worker groups, the August unemployment rates for adult men (3.4 percent), adult women (3.3 percent), teenagers (12.6 percent), Whites (3.4 percent), Blacks (5.5 percent), Asians (2.8 percent), and Hispanics (4.2 percent) showed little or no change.
Long-term jobless: The number of long-term unemployed (those jobless for 27 weeks or more) was little changed at 1.2 million in August and accounted for 20.6 percent of the unemployed.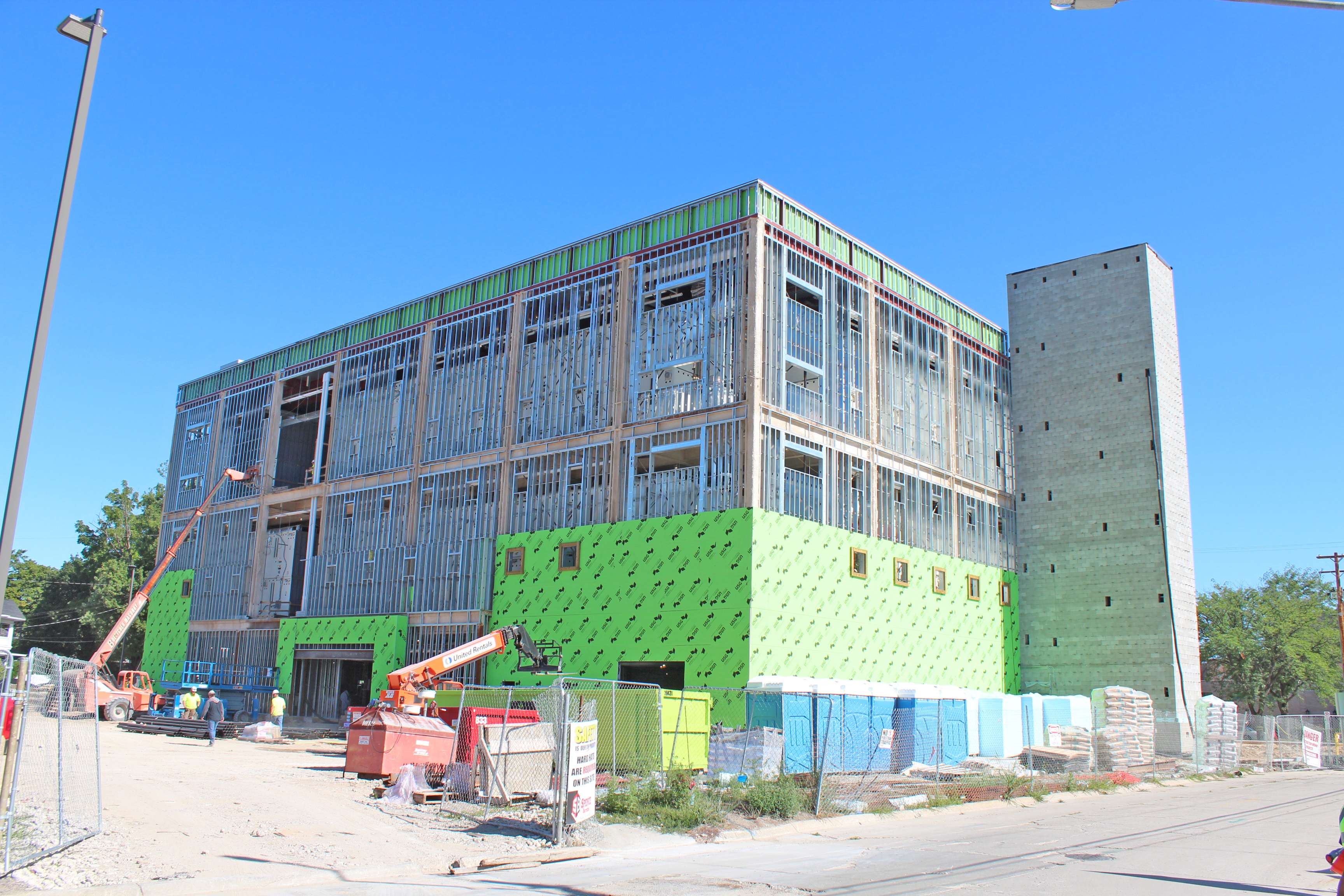 UNDER CONSTRUCTION across from the existing Saginaw County Jail, the new lockup promises to be a safer and more efficient facility for staff and a long-term cost-saver for the county. Spence Brothers is managing the project.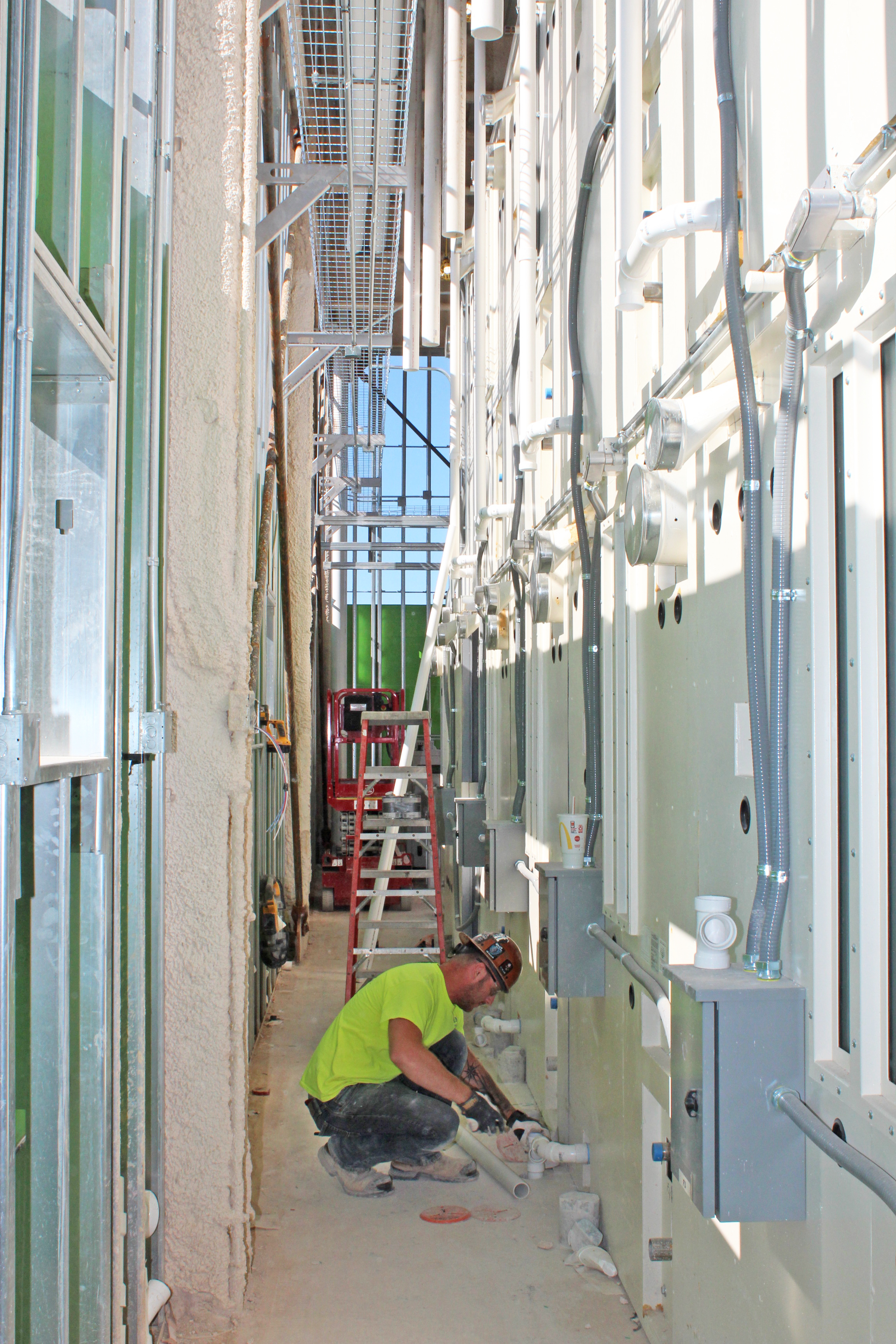 TYING-IN SANITARY lines in the back of rows and stacks of jail cells at the new Saginaw County Adult Detention Center is Randy Shuck of Plumbers and Steamfitters Local 85. He's employed by Remer Plumbing.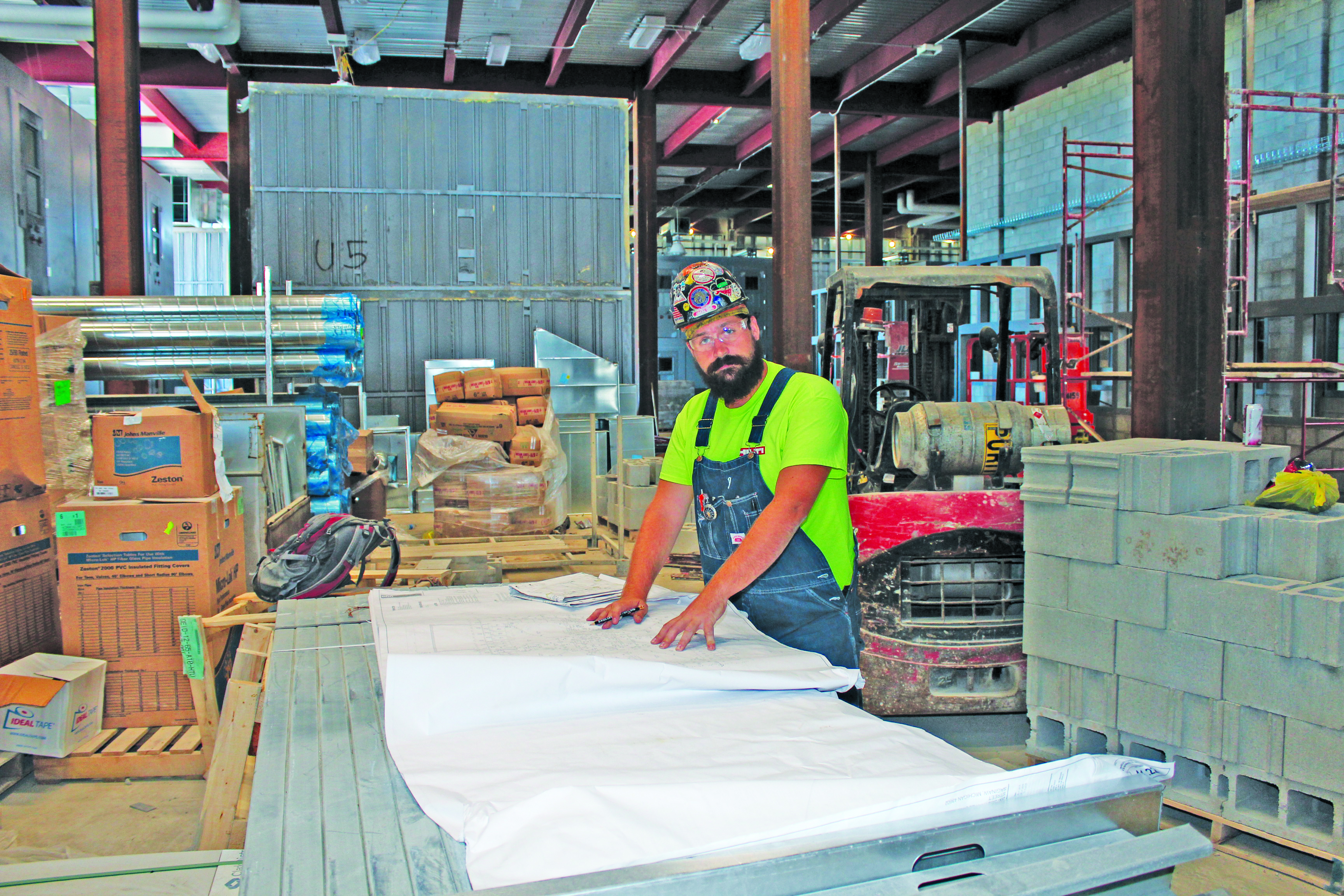 PLANNING ELECTRICAL WORK on the third floor of the Saginaw County Adult Detention Center is Ben Small of IBEW Local 557. He's employed by Thiel Electric.