KALAMAZOO – The city is getting a substantial new development any central business district would love: a $70 million, 290,000 square-foot building that will provide a mixed use for residential and business tenants. The seven-story building will include two levels for residential use, as well as commercial space that already has occupancy commitments from some key businesses and organizations in the city.
The project, which consists of two attached buildings and includes a 300-spot parking deck, began in early July 2018 with foundation pile-testing and a groundbreaking ceremony on a former parking lot at the southwest corner of North Edwards and Water St. Managing the project is CSM Group, led by Project Director Brian Beaver and Project Manager Rob Colyer.
Beaver said the angular building, with its irregular floor plans and beefed-up, cast-in-place concrete foundations and structure, "is not a simple building to put up. But we're working with an owner, an architectural firm, subcontractors and tradespeople who are collaborative, supportive and willing to roll with the punches. That's huge."
The project has typically been employing 70-80 tradespeople this summer, a number that's expected to ramp up quickly. "The trades have been fantastic," Beaver said. "Manpower has been hard to get, but we've had a lot of core journeymen working with apprentices, and it's been a good exposure for them; that coordinated training benefits everybody."
Beaver and Colyer said the project, like nearly every other construction job around Michigan, was hampered by wet springtime weather. The building's design and the tight parameters of the site have also created their share of challenges, from the care that needs to be taken deciding where to cut holes in the structural concrete to coordinating and scheduling deliveries and reserving "hook time" with the project's tower crane. "The site itself is tight and difficult," Colyer said. "But the tower crane has really helped."
The project will include 45 residential units, including a mix of studio, and one- and two-bedroom apartments. Community and commercial entities set to have occupancy in the building include the Kalamazoo Promise Institute, Communities in Schools, the law firm Warner Norcross and Judd, LLP, the Stryker Johnston Foundation and Southwest Michigan First.
"There is a lot to like about this latest Catalyst project. It will include creative and office space for organizations like The Kalamazoo Promise that are working to move our community forward," said Kalamazoo Mayor Bobby Hopewell. "It will provide new housing units for people at different income levels, and it makes better use of our land downtown, replacing a parking lot while still adding more parking spaces. This is the type of thoughtful development that we want to continue to see, not just downtown, but throughout the city."
Project owner Catalyst Development Co. noted that the project will allow for the expansion of the office space and staff of the Kalamazoo Promise, which administers the program that offers free college scholarships to resident graduates of Kalamazoo public schools.
"We are excited about the opportunity to create a unique space with innovative tenants in the central core of downtown Kalamazoo," said Bill Johnston, owner of Catalyst Development Co. "Catalyst has been working for over two years to meet the programming needs of these collaborative organizations while simultaneously searching for design and application strategies that will enhance our downtown business district. The sense of community within the design and space is terrific.
"Collaboration, connectedness and community are all important elements of what this project brings to this important location. Commercial development companies don't get many opportunities to combine all of these essentials, Catalyst intends to be a great steward of those opportunities."
And the architecturally interesting building they're putting all that in promises to be a nice asset to the downtown's mix of new and old structures. The building was planned by the architecture and engineering firm, TowerPinkster. "Catalyst isn't cutting corners with this building, it is a robust building that will have very nice finishes," Colyer said. "This is not being built as a 20- to 30-year throwaway, it is a 100-year building."
Before that 100-year building is ready for occupancy, there's quite a bit on the to-do list. CSM Group is looking to compress the schedule wherever possible to make up for the lost time during the rainy season, but cutting corners on safety is never an option, Beaver said, who said safety-centered meetings are held every two weeks. "We want people here to do things the right way, every time, even when no one is looking," he said. "There are a lot of new tradespeople out here, and if they see a neat, safe, coordinated site, then they see that is part of the culture, and hopefully they want to be a part of keeping that momentum going."
The project is expected to be complete in the fall of 2020.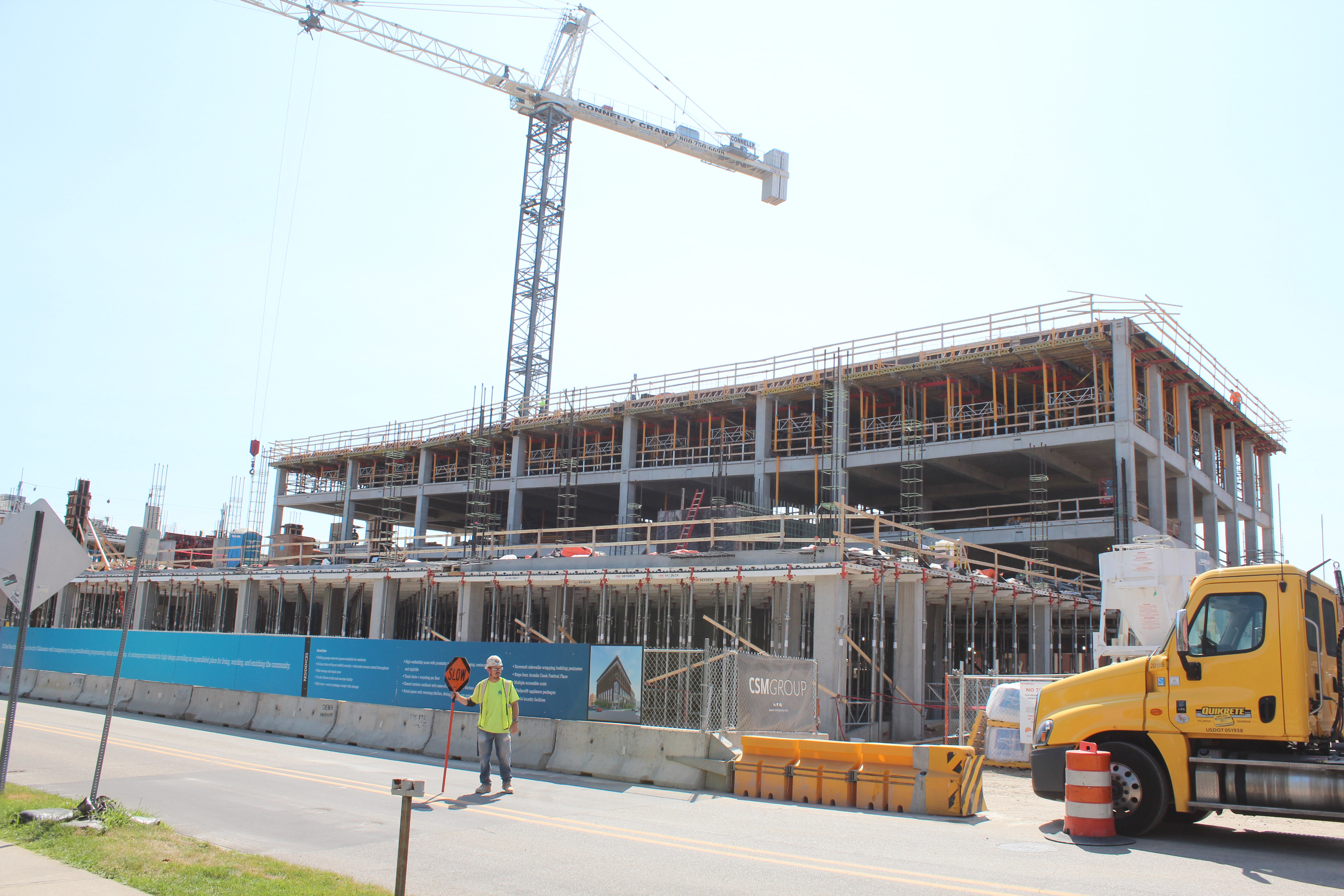 CATALYST DEVELOPMENT CO. is undertaking construction of a 290,000- square-foot mixed-use development in downtown Kalamazoo. CSM Group is managing the project.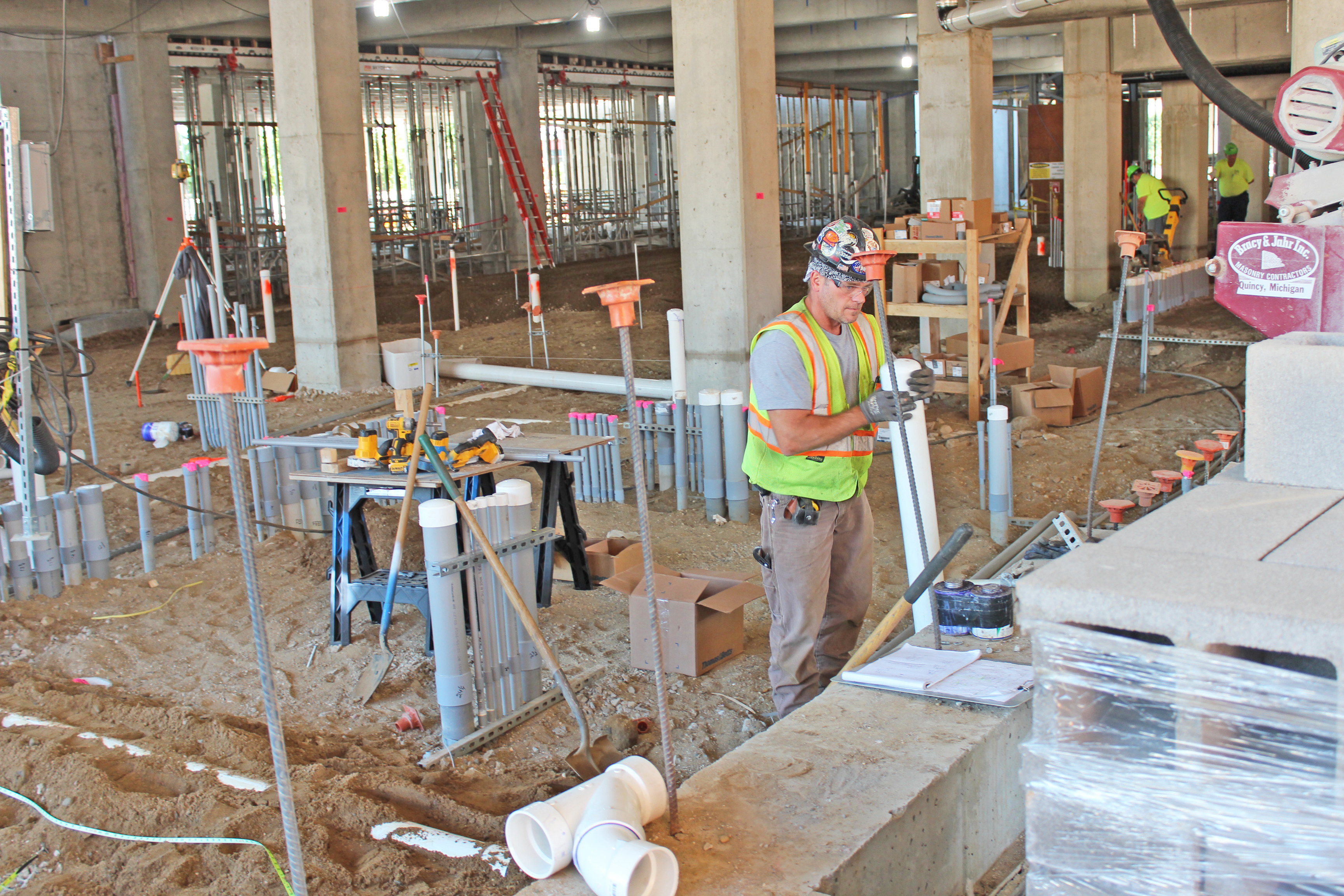 SETTING A SANITARY PIPE at the Kalamazoo Catalyst Development project is Jay Winne of Plumbers and Pipe Fitters Local 357. He's employed by R.W. LaPine.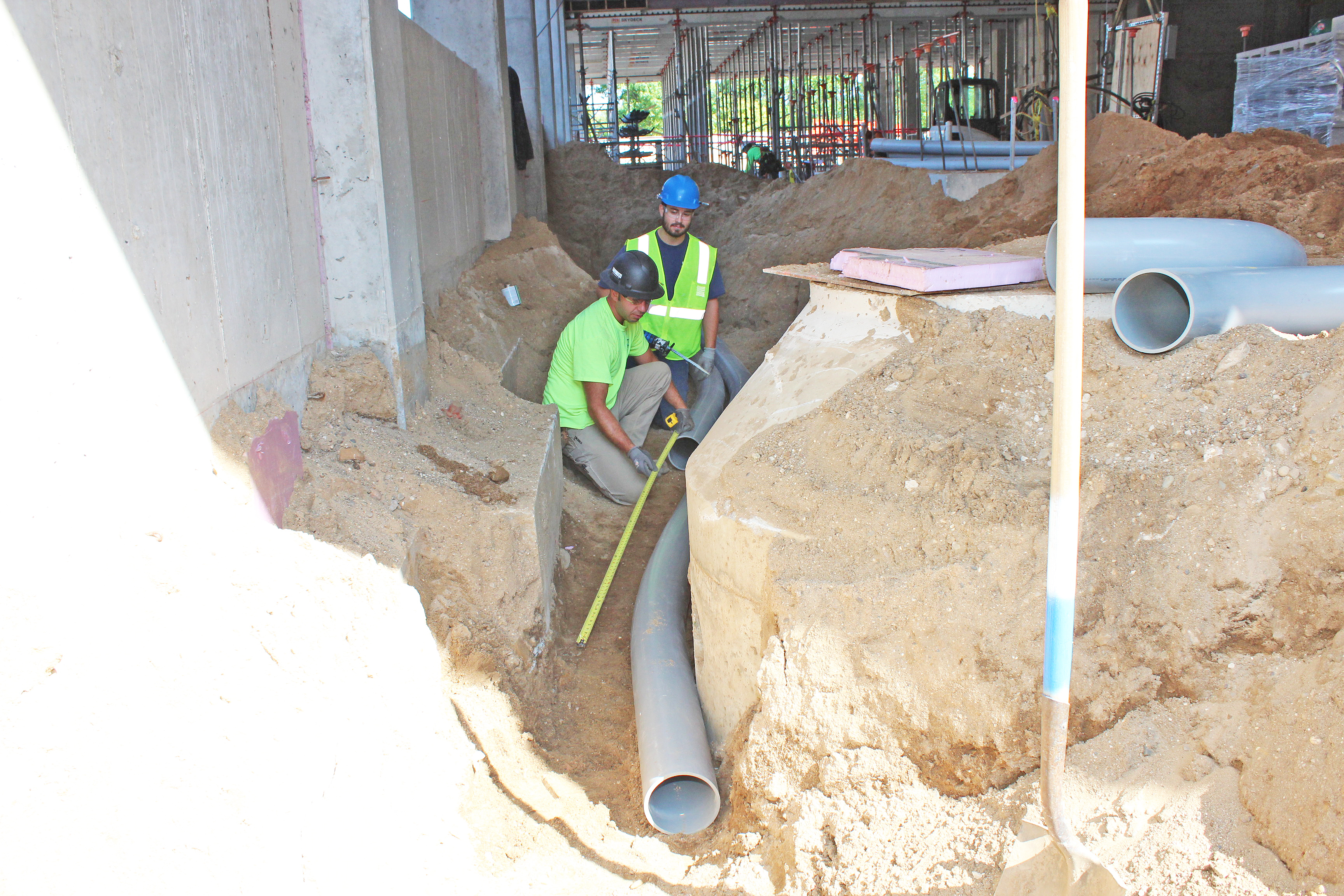 ELECTRICIANS Eric Luedecking and Micah Meulman of IBEW Local 131 set a section of six-inch PVC conduit, while working at the Kalamazoo Catalyst development. They're employed by Moore Electric.