WEST BLOOMFIELD – It has the look and feel of Northern Michigan lodge, with natural construction components like stone and wood, and an interior courtyard that includes trees and wood chips.
With plenty of glass and nice views, it's bright, airy, and offers wide corridors and many open spaces. The floor plan includes a coffee shop, a pharmacy, a gift shop, a kitchen area for healthy cooking classes, a cafeteria, as well as interior storefronts on "Market Street" offering goods aimed at helping people, especially women, to maintain a healthy lifestyle
Oh, and it's going to be a modern, full-service hospital, too.
Construction Manager Turner Construction and the building trades are winding down the major portion of building the $310 million Henry Ford West Bloomfield Hospital, and moving toward having the facility ready for patients in mid-March. The new 730,000 square-foot hospital will be attached to the existing Henry Ford Medical Center, which opened in 1975 on 15 Mile Rd. west of Drake. Combined, the facility will encompass nearly 1 million square feet, occupying the northern 80 acres of a 160-acre site.
"We had about 500 tradespeople out here at peak employment, and now we're down to about 200," said Cliff Kazmierczak, Turner vice president and project director for health care. "They have worked long hours and have done a very good job. "
The facility will open with 192 beds. When work on the campus is complete in 2011, the facility will be approved for 300 beds. Still to be built this year, Kazmierczak said, are additional operating rooms, diagnostic treatment areas, and catheterization labs.
Henry Ford Health System, like any other organization building or remodeling a hospital these days, conducted the usual due diligence of consulting with patients and looking at other facilities to get ideas for their building. Architectural work was performed by Albert Kahn Associates
"Henry Ford West Bloomfield hospital will provide Oakland County residents the kind of care experience they have told us they want," said Nancy Schlichting, president and chief executive officer for Henry Ford Health System, at the building's groundbreaking. "The hospital will offer the best and latest in medical care and technology for patients in an environmentally friendly surrounding."
Kazmierczak said: "It's been well designed, with natural, high-quality materials, and it's a jewel of a hospital. From my perspective it's going to be one of the best hospitals in Michigan or the Midwest."
Right from the start of project, Kazmierczak said contractors and tradespeople were faced with one of their biggest challenges: the energy center serving the existing health care facility was sitting right where the new atrium was going to be built. So a new energy center had to quickly be built off of the footprint of the new construction, and when it was complete, all services had to be transferred seamlessly to it.
One design phase that worked very well, Kazmierczak said, was use of BIM, Building Informational Modeling. It's a computer program that's especially helpful on a hospital project, allowing the routing of the myriad of ducts, conduit, pipes and cables through the ceilings of the building. Most conflicts showed up in the virtual world, not the real world, "and helped show us if everything would fit," he said.
The building trades and their contractors made sure everything did fit in the new hospital:
All 300 beds will be in private rooms, with some windows overlooking a pond and landscaped courtyards.
All rooms will have a bed for a family member to spend the night.
Called "smart rooms," each patient room will be fitted with a flat panel television where patients can access patient education shows related to their particular illness. All patients will have Internet access. Computerized patient information systems will be located by each bedside, at each staff station outside patient rooms and at a central control station located on each unit.
Noise will be reduced by eliminating overhead paging. All health care professionals will carry special cellular phones to communicate.
Upon arrival at the hospital, patients go directly to their pre-assigned room.
Patients will be able to order meals and beverages of their choice at any time.
Each floor of the four-story hospital will have family-oriented rooms (beds, tables, kitchen facilities) for those families who need to stay for extended periods of times.
Total staffing on the West Bloomfield campus will increase from the current 700 employees to approximately 2,300, creating 1,600 new jobs.
The hospital will offer full-service medical and surgical services that include specialties like orthopedics, obstetrics and gynecology, neurosurgery and back surgery, cardiovascular services, women's health, cancer services and emergency care. In addition, a new emergency department will be constructed.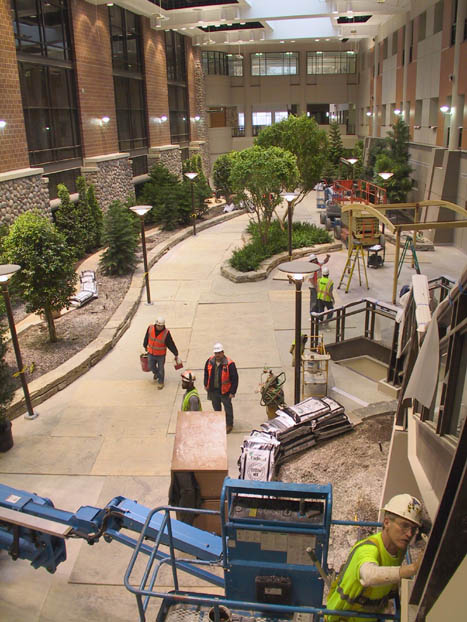 PAINTING A BEAM inside the atrium at the Henry Ford West Bloomfield Hospital is Frank Cleere of Painters Local 42 and Madias Painting.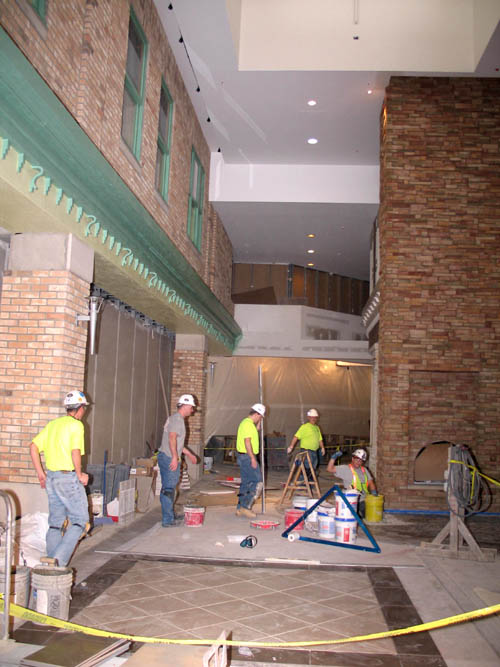 WORKING ON the tile floor of "Market Street" at the Henry Ford-West Bloomfield Hospital are Chris Ferber, Noel Meredith, Doug Gardiner, Hank Smithand Artan Gjergji. They're members of Bricklayers and Allied Craftworkers Local 1, employed by Eldorado Tile and Marble.