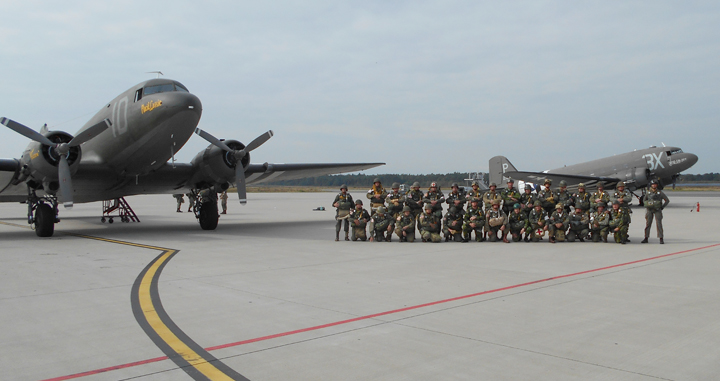 The twin-engine transport plane nicknamed "Placid Lassie" participated in the D-Day invasion on June 6, 1944, dropping paratroopers over France. In the weeks afterward, the C-47A Skytrain and its crew supplied Patton's Third Army as it traveled across Europe, including hauling gasoline and other materiel during the Battle of the Bulge. The plane later towed British Horsa gliders into Eindhoven, Holland during Operation Market Garden.
The transport plane's radioman during those missions, Ed Tunison, later became an electrician and the proud owner of a 65-year IBEW pin, originally working out of Detroit's IBEW Local 58. Now a one-day-a-week docent at the Palm Springs Air Museum in California, Ed sometimes thought about his crewmates through the years, but never gave much consideration to seeing that C-47 again.
Then in January 2014, he received a letter from a Dutch historian, Hans Debrok, who was investigating the history of the Placid Lassie, which had most recently been in a field for 13 years in Connecticut. Ed, now 92, learned that nearly 70 years after D-Day, he was the lone survivor among the crew members who served on the C-47 during World War II, and that his plane had been refurbished and was airworthy.
"To tell you the truth, I thought it would be scrap by now," he said. "Of course there are a lot of C-47s still flying, but to hear this one was still around and able to fly, that was kind of amazing." Ed earned a medal in the military, and that helped lead the historian to him.
Thus began the start of an incredible nine-day trip last September for Ed and his son Claude – himself a retired IBEW Local 58 member. Ed and Claude Tunison were invited by the restored plane's new owner to be his guest and participate in the annual Goodwood Revival in England last September , featuring a number of historic planes, plus events in Holland marking the 70th anniversary of Operation Market Garden, an airborne invasion that was a failed attempt to liberate the Dutch from Nazi Germany's rule.
"I ran into so many people over there who wanted to meet my dad," said Claude Tunison, 66. "I mean, they were asking him for his autograph. These are people who still appreciate what our country did to try and help liberate Holland. It really put in perspective what my dad and other guys did during that war, and how it's still meaningful today."
Ed Tunison, who flew with the 9th Air Force, 434th Troop Carrier Command, 74th Troop Carrier squadron, enlisted in the Army Air Corps at age 19, and was all of 21 years old when he and the other five members of the Lassie's crew received their orders for D-Day, the Allied invasion of Normandy, France. Ed was a radioman on the C-47, but he said the pilot insisted that all the crew members perform each other's functions, including piloting the plane.
What was the significance of the plane's nickname "Placid Lassie?" "It was such a sweet-running aircraft," Tunison said. "The engines never backfired. It was very easy to fly."
D-Day for the Placid Lassie crew, he said, began at 3:30 a.m., when the poor weather that delayed the largest amphibious invasion in history improved somewhat. "We all shook hands and said we were proud to be part of it," he said. Their first assignment that day was to drop a dozen paratroopers beyond the French coast.
"A lot of ground fire," Tunison said of the journey over occupied France. "The sky was filled with planes, some of the other groups didn't make it. Our group lost a lot of gliders. There was a lot of anti-aircraft fire, most of it from German 50-millimeter flak towers.
"The paratroopers couldn't wait to get the hell out of the plane. We dropped them at a low altitude, maybe 800 feet. At a low altitude like that – two or three swings and they were on the ground."
Ed said their C-47's were not armed, and the only protection that the crew had from German ground fire was a flak helmet and vest. Crew members carried a .45 and a carbine rifle to use in case they survived a crash landing.
Having survived D-Day, the Placid Lassie and her crew spent the remainder of the war supplying Patton's Third Army and the 9th Air Force. Sometimes they landed with food, ammunition and fuel, sometimes they pushed the goods out of the door and let parachutes do the work. They also towed gliders into Holland, part of a failed attempt to land about 35,000 troops to finish off what the Allies assumed was an all-but-defeated German army. Tunison said they also supplied U.S. troops during the Battle of Bulge. They ferried German prisoners, "who didn't seem like they wanted to be in the war any more than we did," Tunison said. During its service in the war the Lassie was hit by enemy fire, "but nothing that affected our plane or our mobility. We were very fortunate," Tunison said.
There was never a loss of life aboard the Lassie, Tunison said, but a co-pilot in their crew was killed while serving on another aircraft. Tunison last saw the Placid Lassie after the crew flew the plane to Florida at the conclusion of the war in 1945.
After the war the crew went their separate ways. Ed returned to Michigan and together with wife Eileen had three children. Ed earned his IBEW card through Local 58, and worked as a journeyman in Detroit for 10 years, before moving out to California and working under IBEW Local 11. A back injury cut his wireman career short in 1963, and he went into real estate. "I just got my 65-year IBEW pin, the union and my career in the trade treated me very well," he said.
Ed's second wife, of 48 years, Sherry, declined to make the trip to Europe, so Claude was her stand-in on the September adventure. Historian DeBrok put Ed Tunison in contact with the plane's owner, James Lyle of Great Britain, who invited Ed and Claude to go across the pond and fly in the restored Placed Lassie.
While aloft, somewhere over England's Cliffs of Dover, on their way to an airfield near the German/Holland border, the pilot asked Ed if he would like to take the controls of the plane. The plane had been refitted with comfortable seats, but was still mostly empty in the back, with plenty of room for paratrooper re-enactors who would jump from the plane over Holland in a couple of days. "I said, sure!" Ed responded. "I had the man who owned the plane sitting next to me, so I wasn't nervous." He then piloted the C-47 for more than an hour. He flew it for a while on the return trip as well.
"In my lifetime I have been through a lot of things, but I have to say it was one of the nicest experiences of my life," Ed Tunison said.
He said as a docent at the Palm Springs Air Museum he gets asked all the time whether he was scared during his time in the war. "Of course you're afraid," he said. "My biggest fear was flying at night, in formation, with gliders being towed behind us. That was treacherous. But we were there to do a job. And you know, I've always said, no one suffered like those poor guys who died on the beach at Normandy."
Claude Tunison called the journey with his dad "the trip of a lifetime.
"You know," he added, "ten years ago, on the 60th anniversary of the Normandy invasion, I told my dad he was a real hero for what he did during the war. There was at least a 30-second pause, and my dad responded with a crackle in his voice, 'the real heroes are over there underneath the white crosses.'"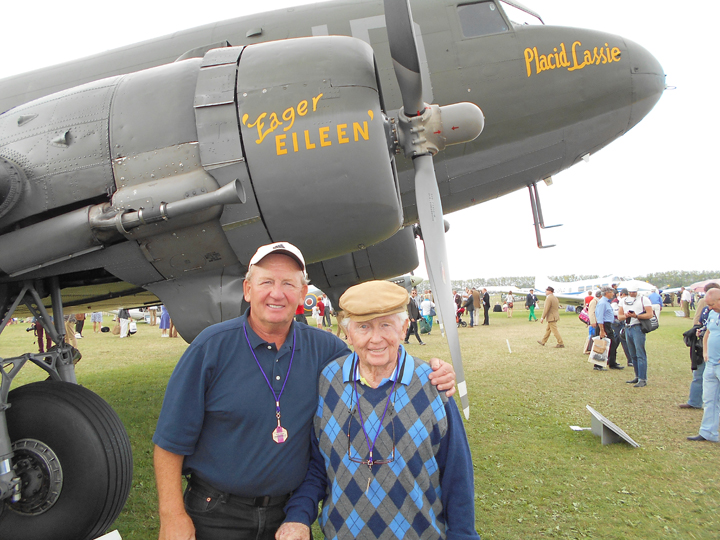 RETIRED IBEW members Claude Tunison and his 92-year-old dad, Ed, stand by the recovered and restored C-47 transport plane that carried Ed on wartime missions in Europe, on D-Day and beyond. The plane's owner repainted the aircraft with the plane's nickname on the nose, "Placid Lassie." Also repainted was the name originally on the right engine, "Eager Eileen," named for Ed's first wife.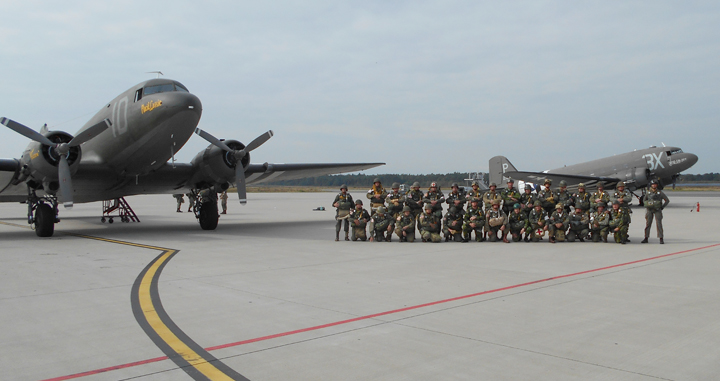 PARATROOPERS pose on an airfield next to the Placid Lassie last September , just before the C-47 went up and re-enacted a drop at the same location over Holland in World War II. Another C-47, the "Drag'Em Oot," is at right.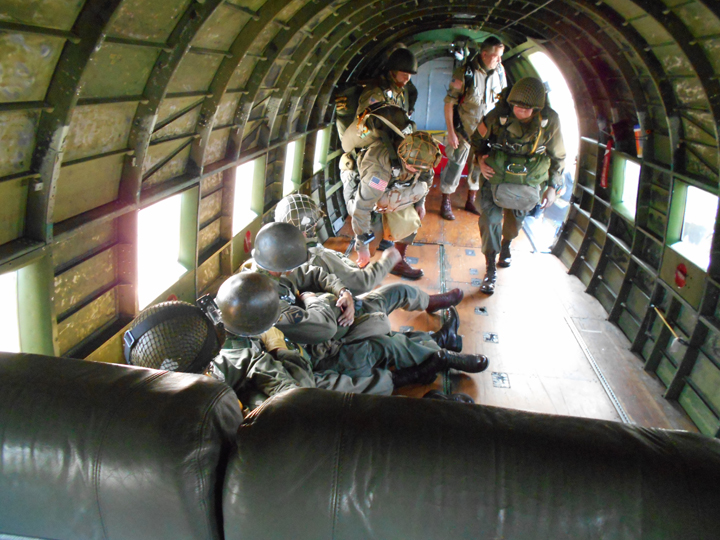 PARATROOPERS in the belly of the "Placid Lassie" await the drop zone in Holland last summer during a re-enactment of events in September 1944 in World War II. During the war, C-47s transported drums of gasoline, food, ammunition, and had room for Jeeps. It could hold up to 6,000 lbs.