All of the structural steel is up – the last of about 10,000 tons – creating the framework for the massive new GM Flint Assembly Paint Shop.
Iron Workers from Local 25 and Midwest Steel used two cranes to lift the two final pieces simultaneously, topping out the 596,000 square-foot structure on Nov. 14. Two separate iron worker raising gangs did the work on the project, "so we set two pieces at the end simultaneously," said Midwest Steel Field Supt. John Runyan. "Why should one gang get all the glory?"
The traditional U.S. flag and an evergreen went along for the ride. The final steel sections were bolted into place by (l-r) iron workers Bret Shannon, Dominic Zoccoli, Aaron Bobo and John Tonkovich. Much more iron will be placed inside the building through next summer, as part of the structure for the paint shop proceses.
The $600 million project will allow General Motors to introduce new paint process technology that will allow for faster movement of vehicles through the plant, better paint characteristics, as well as reduced sludge and greater energy savings at the plant.
"No recordable injuries, on schedule, on budget," Runyan said. "This job has gone very well."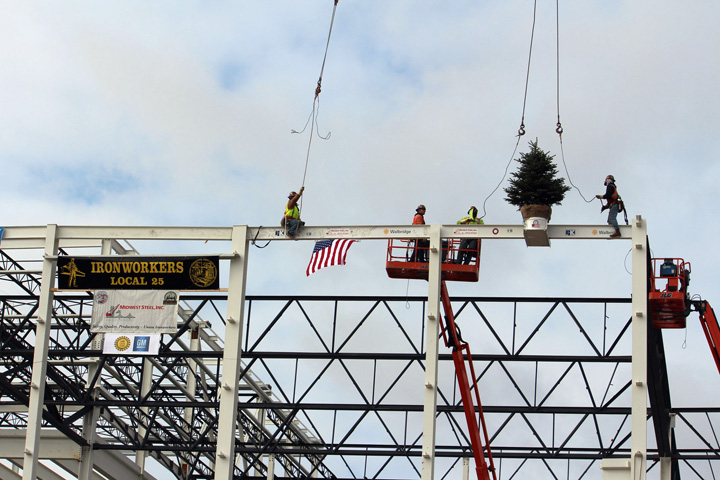 TOPPING OUT the new Flint GM Assembly Paint Shop are (l-r) Bret Shannon, Dominic Zoccoli, Aaron Bobo and John Tonkovich. All are Iron Workers Local 25 members working for Midwest Steel. (GM photo)