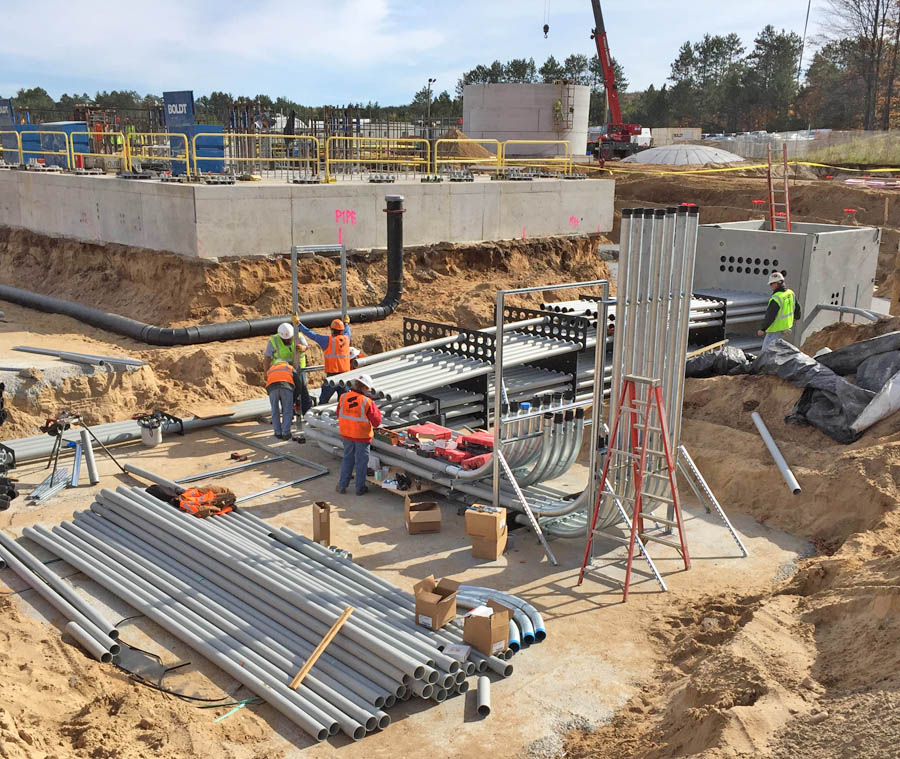 ELMIRA TWP. — More power production for Michigan is on the way, in the form of a new natural gas-fired power plant that is taking shape in this community west of Gaylord.
The $175 million project is sited on the north side of M-32 between Flott Rd. and Camp Ten Rd. The 432-megawatt facility will be well screened by trees and landscaping.
A year ago Wolverine Power Cooperative announced its plans to develop the new gas-fueled electric generating facility called the Alpine Power Plant. Wolverine, a not-for-profit electric cooperative, provides wholesale electric power to six electric cooperatives throughout Michigan. Construction on the plant ramped up this summer, and is expected to continue well into 2016.
"Wolverine is excited about moving forward with a new natural gas peaking plant," said Ken Bradstreet, Wolverine spokesman. "Our Alpine Power Plant will provide a nice balance to Wolverine's existing power supply portfolio, while at the same time increasing electrical reliability in Northern Michigan and complementing the ever increasing amount of renewable energy in Michigan."
The 170-acre site was chosen by Wolverine in part due to the convergence of existing interstate natural gas pipelines and high-voltage electric transmission lines on the property. The Boldt Company is acting as general contractor on the project, and will oversee installation of the concrete substructures, equipment installations, structural steel and equipment enclosures. Boldt will also self-perform the piping installations. Electrical, instrumentation and insulation installations are included in the Boldt scope and will be provided by key subcontractors.
This fall, according to the utility, the foundations for both the Unit 1 and Unit 2 General Electric turbines were poured at the plant. The combined weight this foundation will hold is more than 500 tons. It took about 800 cubic yards of concrete and nine hours to complete and included the installation of 360 auger-cast piles, which will support a five-foot-thick slab of concrete. Boldt also poured the foundations for both units' silencers and the fire water tank.
"The Alpine Power Plant will provide a major boost to the local economy," said Bradstreet. "In addition, the plant will be built with existing funds and have little, if any, rate impact on Wolverine's member-cooperatives and the member consumers they serve throughout rural Michigan."
Wade Trim, headquartered in Detroit, is handling site and civil design of the project. Gaylord contractor J & N Construction is conducting leveling and foundation work. Engineering design contracts were signed with Power Burns and Roe.
Designed to be flexible, Wolverine said the plant complements its power portfolio with its ability to start operating quickly when renewable generation isn't readily available due to lack of wind or sunshine.
Running on clean natural gas, the Alpine Power Plant will produce virtually no mercury and minimal sulfur dioxide. Compared to the Midwest regional average the plant will produce about one-half the amount of carbon dioxide, and six times less nitrogen oxide.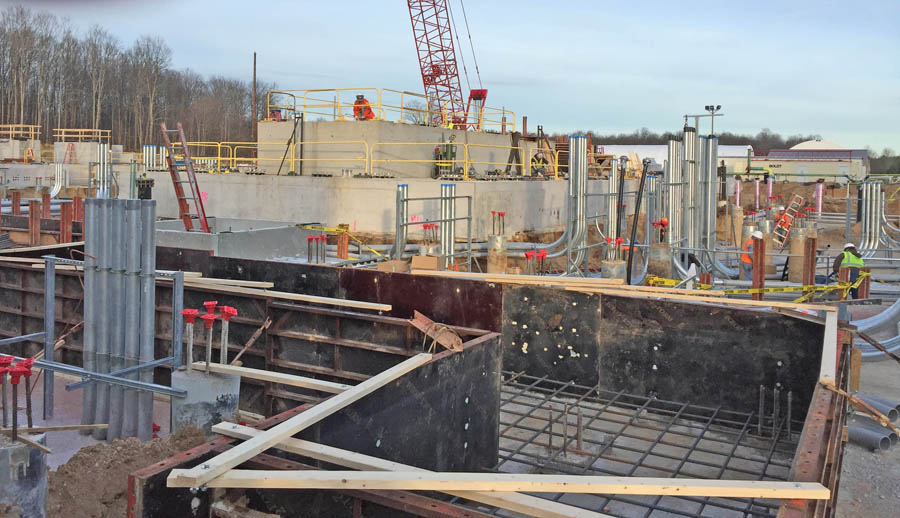 CONSTRUCTION OF A NEW 432-megawatt power plant will proceed through the winter on a site about 15 miles west of Gaylord. Here, IBEW Local 498 electricians working for Swan Electric go about their business.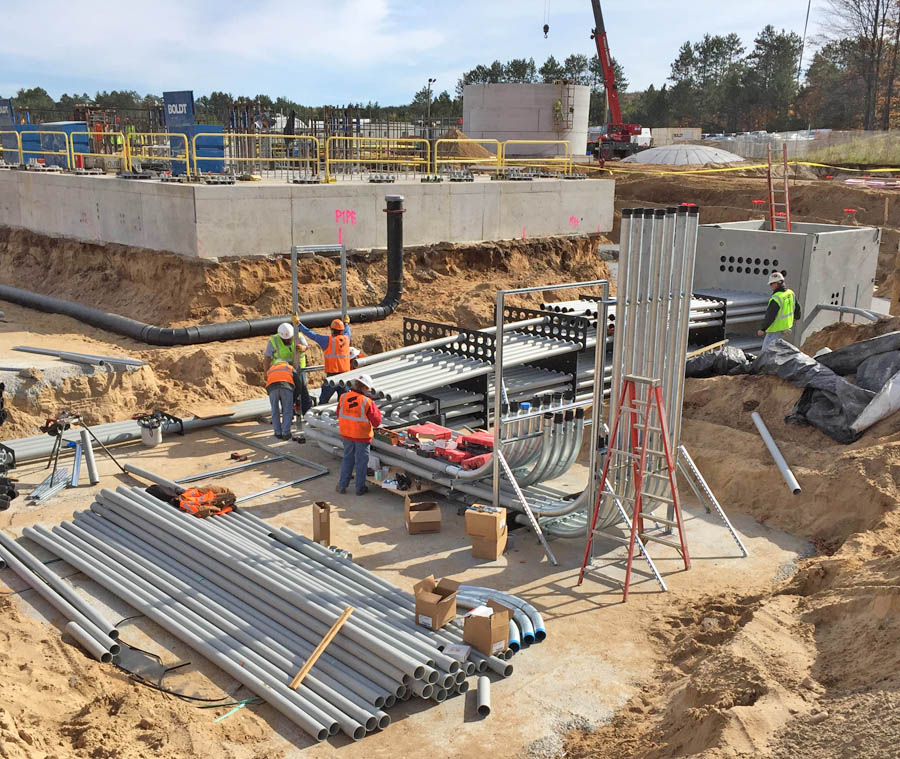 ABOUT 800 CUBIC YARDS of concrete will support two turbines at the Alpine plant.