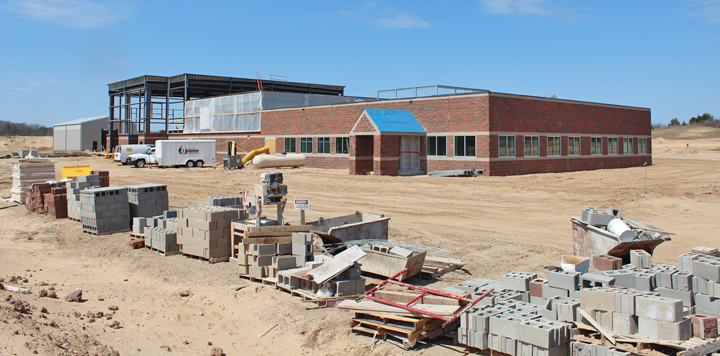 CLARE - Consumers Energy is one of the state's steadiest employers of building trades workers, primarily hiring them to perform maintenance and upgrades at their power plants such as the Karn-Weadock and J.H. Campbell facilities.
But Consumers isn't only sponsoring heavy industrial work - the utility is currently also building a number of new service centers around Michigan. The one under construction here is typical - it will be the utility's local employee headquarters for electric service, maintenance, forestry, meter services, substation operations, fleet and office space. If the center were in an area where Consumers was the natural gas provider, the building would be geared to servicing those customers.
The new 17,600 square-foot service center is going up on a 20-acre site in an industrial park, about 2.5 miles from the current location downtown - a cramped and outmoded building at 108 East Third Street in Clare. Serenus Johnson of Bay City is managing the construction project, and occupancy is expected by July.
"The project is moving along quite well in Clare," said CMS Energy Project Manager David Neil. "With our contractors and tradespeople, we've seen solid workmanship, and I think that's a testament to the apprenticeship process. It's obvious the tradespeople know what they're doing, and they have been very cooperative.""
The permanent Consumers Energy workforce currently toiling at the existing service center will retain their positions in the new $6.5 million building, which serves about 38,000 electric customers.
"This new service center will replace a building that is no longer efficient, allowing us to enhance service and be more responsive to our customers," said Daniel Malone, senior vice president of distribution operations and engineering and transmission for Consumers Energy during the groundbreaking last September. "At the same time Consumers Energy is proud to help fuel Clare County's and our state's economy by employing approximately 80 construction contractors and having about 45 permanent employees working from the new building."
As with other recently constructed Consumers Energy service centers the Clare building will be built to Leadership in Energy and Environmental Design (LEED) specifications. These environmentally friendly characteristics include the building's architectural design, lighting, plumbing, HVAC and electrical system, materials and resources.
The new building will also feature: Open office concept areas, ergonomic work stations, conference rooms, a business center, a locker and wellness room, a pole yard, cold storage building and a fleet garage.
Neil said the utility currently has four service centers under construction, with the others going up this year in Bad Axe, Hamilton (about 15 miles south of Zeeland) and Livonia. In the recent past Consumers Energy has built new service centers in Groveland, Howell and West Branch, and renovated their Alma location. The utility has more than 20 service centers around the state.
The Clare service center is part of a statewide 10-year building improvement plan being implemented by Consumers Energy to enhance customer service. Neil said the new service centers are built off the same basic design template, but "are massaged for the needs of each site." For example, those that service natural gas operations have welding shops, while those on the electric side have areas to work on meters. Some locations are combined gas and electric service.
The major challenges at the Clare site, Neil said, have been the poor soil and the winter weather. "We initially found some unstable soil through borings at the site, so we did a major redesign and completely reconfigured the site, moving the building up a hill," Neil said. "But we got through that, and our contractors and tradespeople have done a good job working through the tough winter we've had."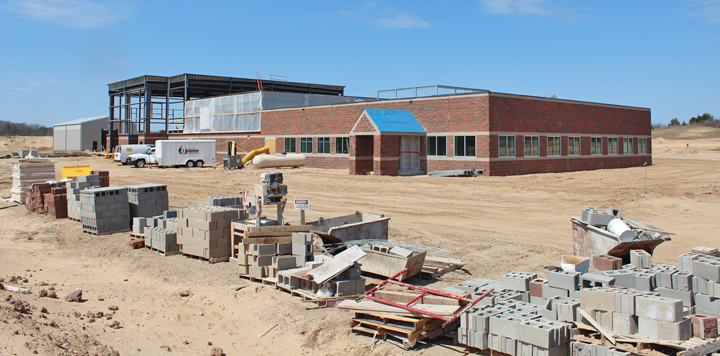 THE CONSUMERS ENERGY Service Center going up in Clare is similar to those being erected around the state. This facility is expected to open in July.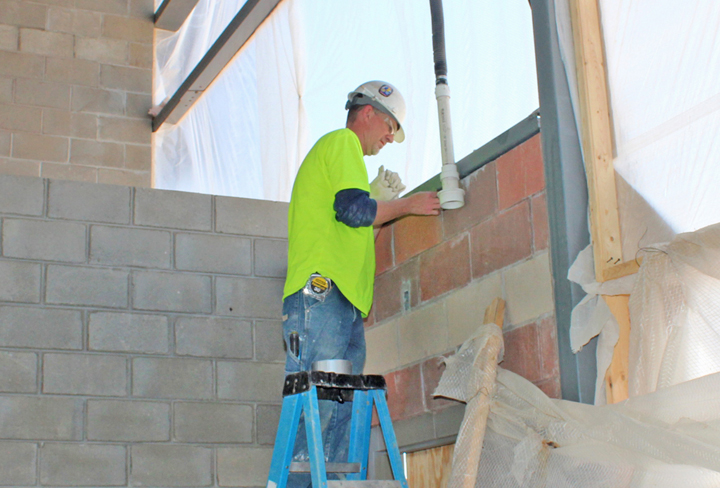 SETTING BUSHINGS on conduit sections atop a wall at the Clare Service Center is Troy Campbell of IBEW Local 692. He's employed by Nelson Electric.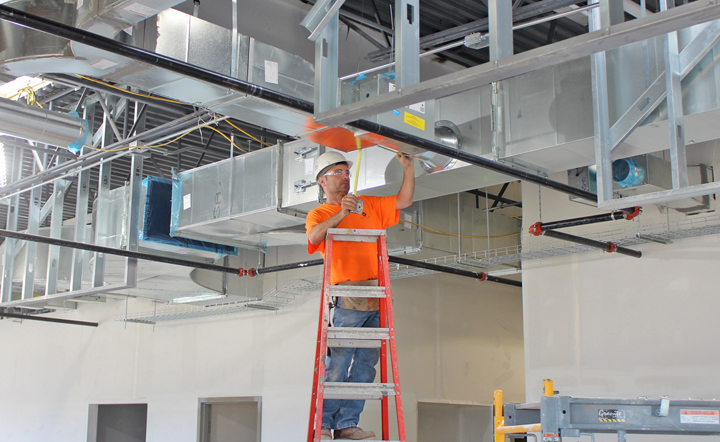 TAKING THE MEASURE of ductwork in a ceiling of the Consumers Energy Clare Service Center is Tony Montpas of Sheet Metal Workers Local 7. He's employed by Dee Cramer.