FARMINGTON HILLS - Located on Grand River Avenue just northwest of Eight Mile Road, much of the healthcare infrastructure at Beaumont Hospital, Farmington Hills has been in need of renovation and expansion work for quite some time.
This year, the 53-year-old campus is getting that modern makeover, in the form of a wide-ranging new construction and renovation plan currently carried out by the team of Beaumont, Barton Malow and AIM Construction Inc., their subcontractors and the building trades.


"In our system, we have eight hospitals, and our Farmington Hills location required some updates," said Kevin Price, vice president of Operations for Beaumont, Farmington Hills. "So, we looked at what are the needs of the facility to meet current demands. Additionally, we considered growth potential, how can we improve service and accessibility for our patients and families as well as enhance the work environment for our staff and physicians. This plan, will improve workflow processes and the overall experience for our patients and their families, as well as our staff and physicians."


Ground was broken on the $150 million project in October 2016. There has been a lengthy to-do list, as work by the building trades has or will create more private patient rooms, a new lobby and reception area, a revamped emergency area, expanded surgical space, a new energy center, and a new four-level, 470-spot parking structure.


Mike Bonner, project manager for Barton Malow/AIM, said there are about 150 tradespeople onsite who have worked more than 300,000 hours to get the project to where it is today. "The building trades have really done a great job," Bonner said. "Projects are done safer, more on schedule and to a higher quality level when you involve professionals like our tradespeople who bring knowledge and passion to the job."


The buildings on the 10.2-acre campus – the former home of Botsford Hospital – were acquired by Beaumont Health in a merger completed in 2014. Surrounded on three sides by residential neighbors, Bonner said very little of the property has been untouched by some sort of development over the years. "It's like building on a postage stamp," he said. "It's a very dense campus."


New construction at the hospital will total more than 193,000 square feet, and renovations will be made to more than 61,500 square feet of existing space. Specifically, the work will involve:


*Expansion and renovation of the hospital's East Pavilion, which will include an expanded emergency and Level II trauma center. The work will yield 58 private treatment and evaluation bays and three trauma rooms while increasing the area's capacity by nearly 40 percent. The Emergency Center currently serves about 65,000 patients per year; the expansion will allow the facility to handle 80,000 patients annually.


*The project will also expand the surgical services department, creating nine larger operating rooms, 27 pre-op and post-op patient rooms and a large family waiting area. The area will also receive a new 20-bed critical care unit.




*In the new five-story tower, Beaumont is undertaking construction of 80 new private rooms, a new lobby and reception area, a 19-bay observation unit, and dedicated units for orthopedic, oncology and respiratory care patients.




*The plan also calls for 65 patient rooms in the existing hospital to be renovated into private rooms. In addition, 45 semi-private rooms will be updated.




*When construction is complete, the hospital will have 165 private rooms and 165 semi-private rooms, for a total 330 beds, which is the same number of beds that existed prior to construction.
The project involves a number of aboveground and underground utility improvements at the site. The trades installed a new energy center on the northwest portion of the campus that features a new 40 KV interconnection with DTE Energy, backup power fed by fuel oil, chilled water and steam lines and 1,000 lineal feet of new duct banks. The campus has long had flooding issues, and to alleviate the problem, the work has involved burying stormwater vaults that will hold rainwater during heavy downpours until the municipal system is better able to handle it.


"All this work is taking place for a number of reasons," Price said. "We're growing and private rooms have become an expectation for patients and families. This project will improve the overall flow of the hospital and the facility will be more energy efficient. The construction process has been a challenge, and it's affected our operations with traffic flow and many employees having to park off-site and be shuttled in. But in the end, it's going to be a tremendous improvement for our patients, their families, and our employees."


New construction is expected to wrap up early next year, with renovation ongoing throughout 2019.


"We're really part of the community, and we've heard over and over from residents about how good it is to have Beaumont here," said Beth Montalvo, senior coordinator, media relations for Beaumont Health. "And now that we're in the midst of this expansion and these improvements, you can see it's a tremendous investment in the community. It's going to be a beautiful facility."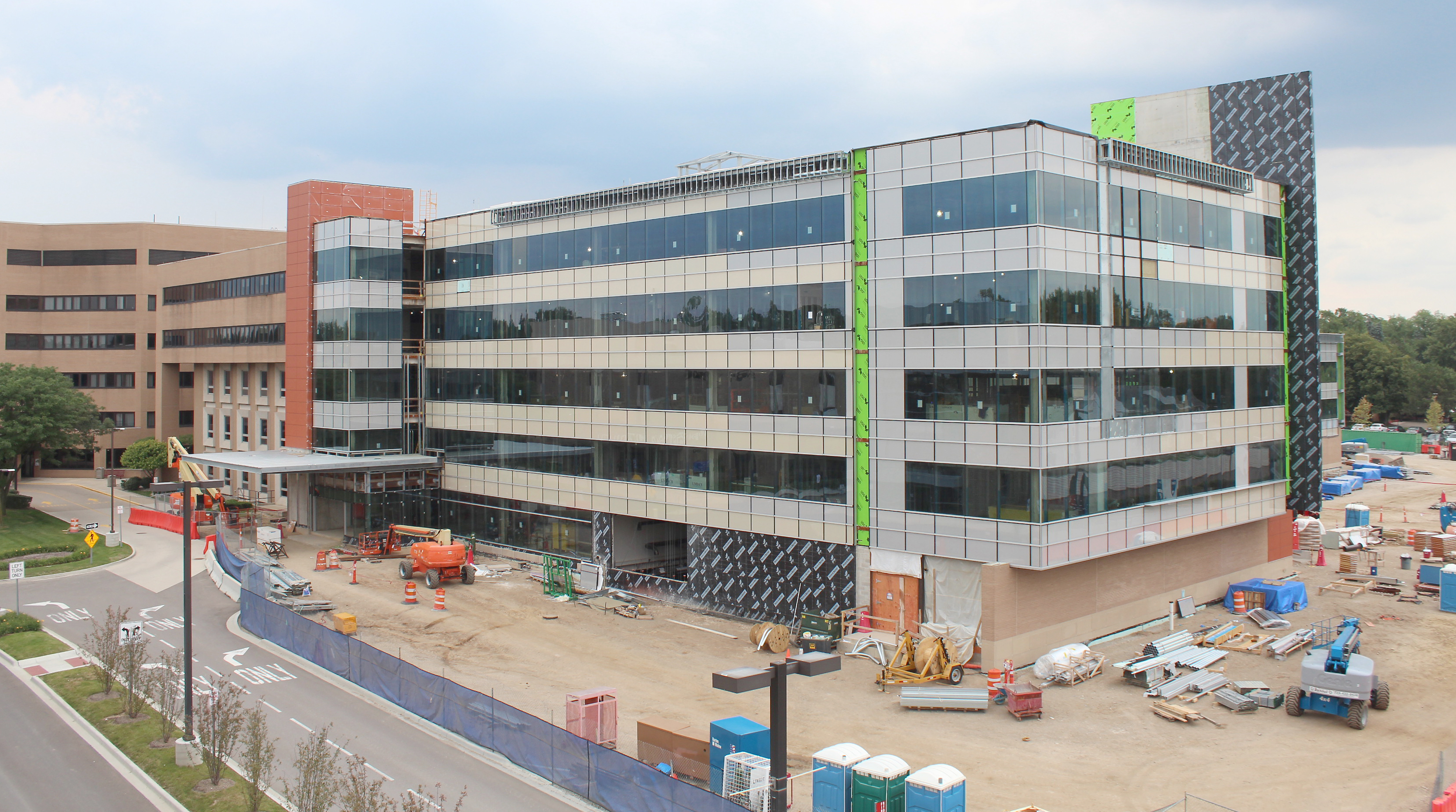 CONSTRUCTION OF A NEW South Tower at Beaumont Hospital, Farmington Hills is part of a $150 million project to expand and renovate the aging facilities at the former Botsford Hospital.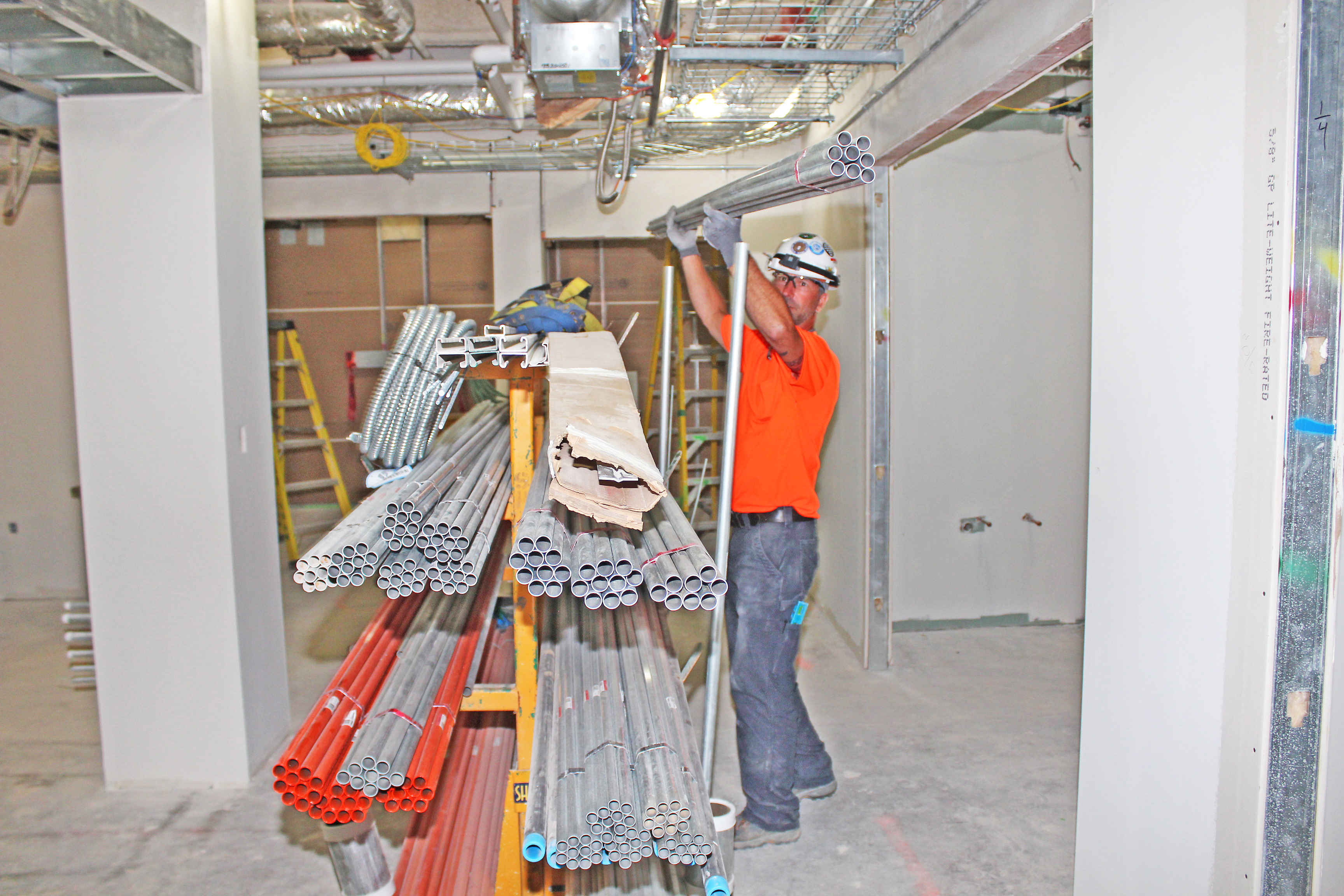 HEFTING A BUNDLE OF at the Beaumont project is William Engel of IBEW Local 58. He's employed by Shaw Electric.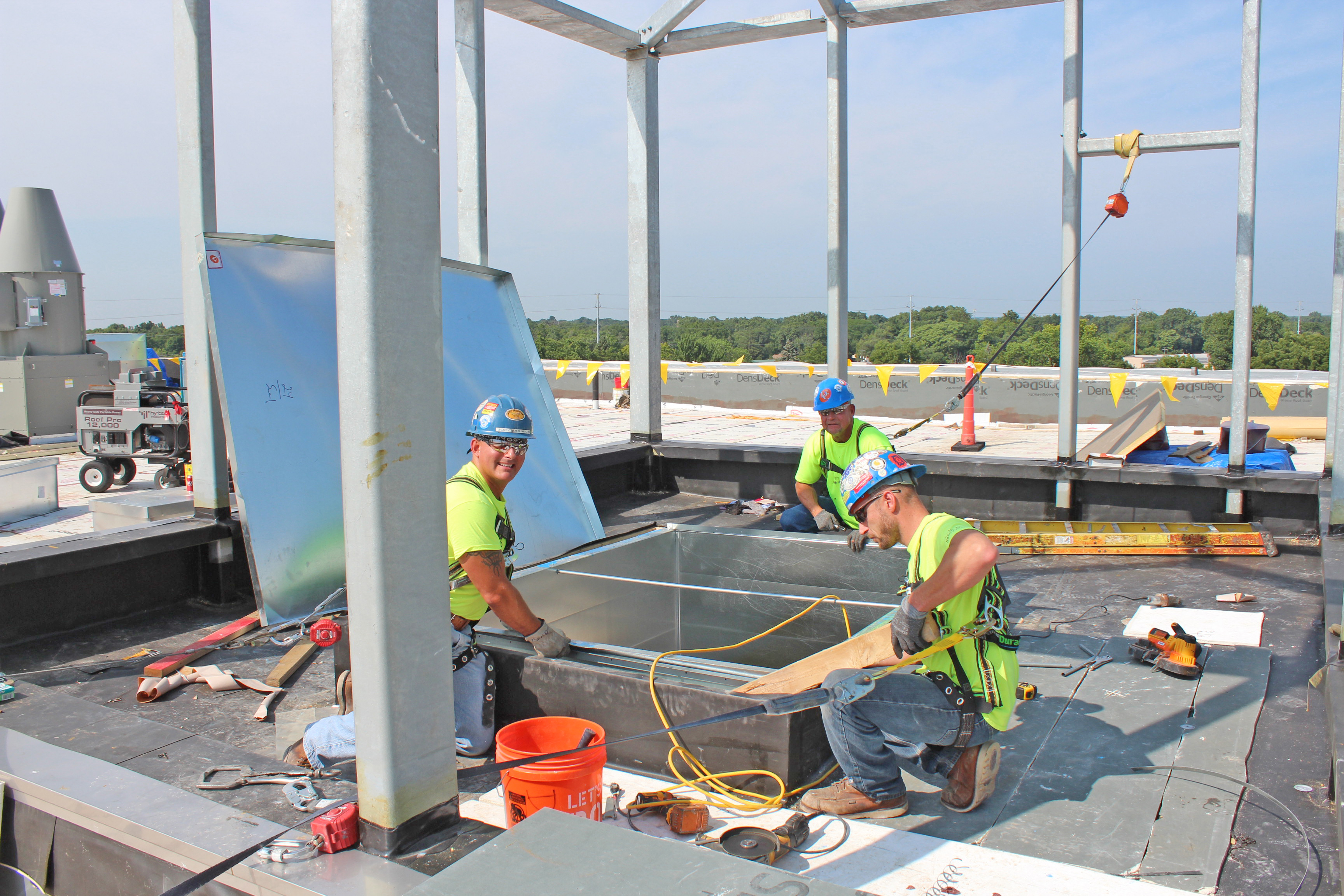 INSTALLING A FRESH AIR intake atop the South Tower at the Beaumont-Farmington Hills project are Sheet Metal Workers Local 80 members Joe Czarnecki, Matt Shuboy and Mike Gwisdalla. They're employed by Dee Cramer.