During his career in the field, Iron Workers Local 340 member Doug Kalnbach placed plenty of reinforcing rod in concrete roads and building foundations, never to be seen again.
Now, he's making things of beauty out of iron that will be seen for years – and he's making a little money, too.
It started more than a decade ago when he was puttering around his Nashville (MI) farm, bending and welding re-rod and other metals into artistic shapes requested by his wife Kim. "She said nothing in the stores was good enough for her, so she'd draw what she wanted and I started making her stuff out of scrap from around the farm. Pretty soon, people would come by and ask if it was for sale."
He makes popular items over and over, and some one-of-a-kind items. Flower-pot-holding frogs "sell like crazy," Kalnbach said. He has also made several hundred iron cup holders, chickens, flamingos, and numerous other special-order items.
Kalnbach, who retired in 2009 as a Local 340 business agent, said 99 percent of the iron he uses in his works is re-bar, purchased from Ambassador Steel in Lansing. He said every piece is unique. "I bend and weld. Kim paints and sells," Doug said. "She doesn't want me near the paint," he laughed.
Wanting to gain a little more exposure for his work, Kalnbach entered Grand Rapids' Art Prize contest in 2010. He had a great location near the Bridgewater Place building downtown, and put on display "Serpie," a yellow-hooded cobra. The location, ironically, was at the steel lay-down area for the Bridge Street Bridge – which he helped build in the summer of 1988.
He also entered the contest last year with "Medusa," a steel-faced structure with eyes made of bicycle wheels that spin in the wind. This year, Kalnbach decided to take a break from Art Prize, and let another artist to have an opportunity to show their work.
Kalnbach said his post-retirement career is now "more than a full-time job. I'm working more hours now than when I was working in the field," he said. Over the years he figured he has used about four tons of re-bar, "but I've really lost count."
His second career took off when he and Kim started selling their work at craft shows around Michigan. In the spring of 2010, they took a pickup load of their work to a craft show in Hastings, "and we did really well. we got a lot of compliments, and invites to other shows. We did the Iron Worker Festival (in Mackinac City). We went to our first show out of state in New York, but we've stayed mainly in Michigan." People have also seen their wares in their open trailer and bought items when they have stopped at gas stations and stores.
The Kalnbachs' art is available for sale through their Facebook page, by searching D.A.K. Farm-n-Arts. Their items generally range from $8 to $45. "That's usually about as much as people are going to spend," he said. "Some shows are good, others aren't. But we've met all kinds of tradespeople from around the state, whose wives drag them to shows. We have a blast with this."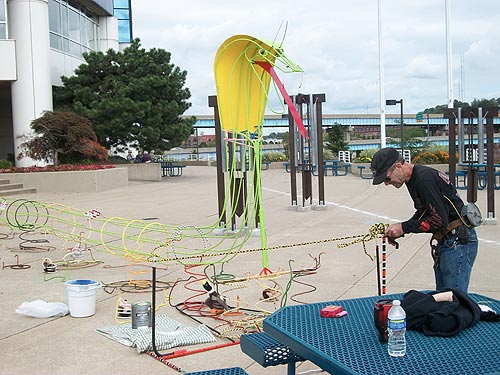 RETIRED IRON WORKERS Local 340 member Doug Kalnbach sets up his steel cobra "Serpie" display at the 2010 Art Prize contest in Grand Rapids.