Among the six people murdered in the shooting spree in Kalamazoo on Feb. 20 were Plumbers and Pipe Fitters Local 357 member Rich Smith, 53, and his 17-year-old son, Tyler. They were killed at 10:30 p.m. while car shopping in a dealer parking lot.
Known to his friends as J.R., Rich was a journeyman pipefitter for over 30 years, primarily at Pfizer (formerly The Upjohn Co.), and for the past four years, as a construction manager for Jacobs Field Services North America.
Richard is survived by his wife, Laurie Sue Smith, and his 19-year-old daughter, Emily Nicole.
According to Richard's obituary, "his passion in life was his family and being a friend to everyone who were blessed to know him. Rich grew up on the Silver Lake Sand Dunes – riding motorcycles, ATVs and dune buggies. He also enjoyed downhill skiing, snowmobiling and jet skiing – anything with a throttle."
Son Tyler was a senior at Mattawan High School. His obituary described him as being "known for his huge heart, infectious laugh and was a friend to everyone. He was loved for his silliness, quick wit and rib-crushing hugs."
Local 357 has set up a charitable trust funding mechanism to help the Smith family.
To make a tax deductible donation, checks can be made payable to The Plumbers and Pipe Fitters Local 357 Community Service Trust Fund, 11847 Shaver Rd., Schoolcraft, MI 49087. All donations will be promptly acknowledged with a tax receipt issued.
"The Smith family can use your thoughts and prayers at this difficult time and any assistance that you may be able to give, in order to help them cope with this tragic loss," said Local 357 Business Manager Mike Corliss.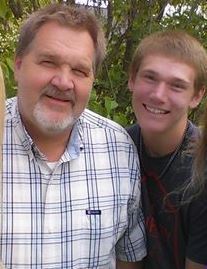 Rich Smith and his son Tyler. Rich had been a Plumbers & Pipe Fitters 357 member.