GRAYLING - The press is on this fall to complete North America's largest continuous particleboard plant, located about five miles south of town along Four Mile Rd. near I-75.
Owned by Chilean-based Arauco, the $400 million project has involved the construction of a campus of buildings and machinery on a 160-acre site that will acquire locally sourced wood, clean it, grind it, add glue, then press it into sheets of particleboard. The project will create North America's largest "continuous" particleboard press, at 170 feet long and 10 feet wide. There are larger particleboard producing plants, but they have multiple lines.
The project is being managed by the Wood Group, and it peaked out at some 800 tradespeople and contractors in July. The plant's 820,000 square-foot main building, is expected to have an annual capacity of 452 million square-feet or particleboard.
"The particleboard plant Arauco is constructing in Grayling, MI, will not only be the largest single-line capacity particleboard plant in North America, but it also represents the first green field particleboard plant constructed on this continent since 2001," Arauco said. "When completed in late 2018, it will bolster our commitment to servicing customers, especially those in the Midwest and eastern Canada." Arauco added that its Grayling particleboard operation "will be the most modern particleboard plant in North America and the largest of its kind globally."
Barton Malow was the second contractor on site, beginning work on March 21, 2017. They managed portions of the concrete, civil work and structural steel.
"It's been a tough schedule, but we've made it happen and we've done really well," said Barton Malow Project Supt. Corey Larson. "Coming to northern Michigan, we figured it would be tough to find people, and last year we did scramble a bit. But we were able to grab enough people, and the trades have been great. Things have worked out well."
IBEW Local 498 Business Manager Dave Fashbaugh, based in Traverse City, echoed those remarks. "It has been a great job," he said earlier this month. "We've had travelers from all four corners of the earth" come to northern Michigan to man the plethora of work at the particleboard plant and elsewhere. The plant's enormous electrical needs led to the employment of some 350 electricians at peak for that craft alone in early September.
"We've never had this many workers in our jurisdiction," Fashbaugh said. "There has been more work in the area than we have electricians, union and nonunion. People are trickling out now, but it's still busy. I just want to express my appreciation to everyone who came and helped us with our work."
The Arauco plant will utilize only 150 acres, or 25 percent of its entire acreage for the plant operations, which will be located on the far west side of the property (near the I-75 exit ramp) in order to optimize the logistics for transporting raw materials and finished panels. The remaining 75 percent of the company's land will remain forested. The plant will create 200 permanent jobs once it's operating.
The particleboard products will be made in thicknesses of one-quarter inch to one and three-quarter inches, widths of 4-6 inches, and lengths of 6-12 feet, with custom lengths available. The plant will produce decorative wood panel products used in home interiors and furniture across North America.
The particleboard won't be made from whole trees or even entire branches - it will be made with residual wood like woodchips brought in from other lumber mills within a 100-mile radius of Grayling.
"It's important to note that Arauco will not manage logging operations directly," the company said. "Instead, we will purchase wood and wood by-products from local sawmills and logging companies. The community can be assured that our wood procurement professionals will be supporting sound and sustainable forest management practices in working with our wood and wood fiber supplies."
The plant complex itself contains all manner of buildings and works that heretofore have been unfamiliar to tradespeople who typically build hotels, office space or modify auto plants. The Arauco Grayling plant includes residual wood and log handling systems, a chip storage facility, a "bark hog" building, wood flakers and screeners, steam works, forming machines and dryers. The plant will also have warehouse and office space.
Arauco said the nearby location of local sawmills, along with the region's abundant wood surplus, as well an ample supply of potential employees, "is among the reasons Arauco found Grayling attractive as the site for its new plant. It is estimated that once operating at full capacity, our plant will utilize only 30 percent of the surplus regional forest resources on an annual growth basis."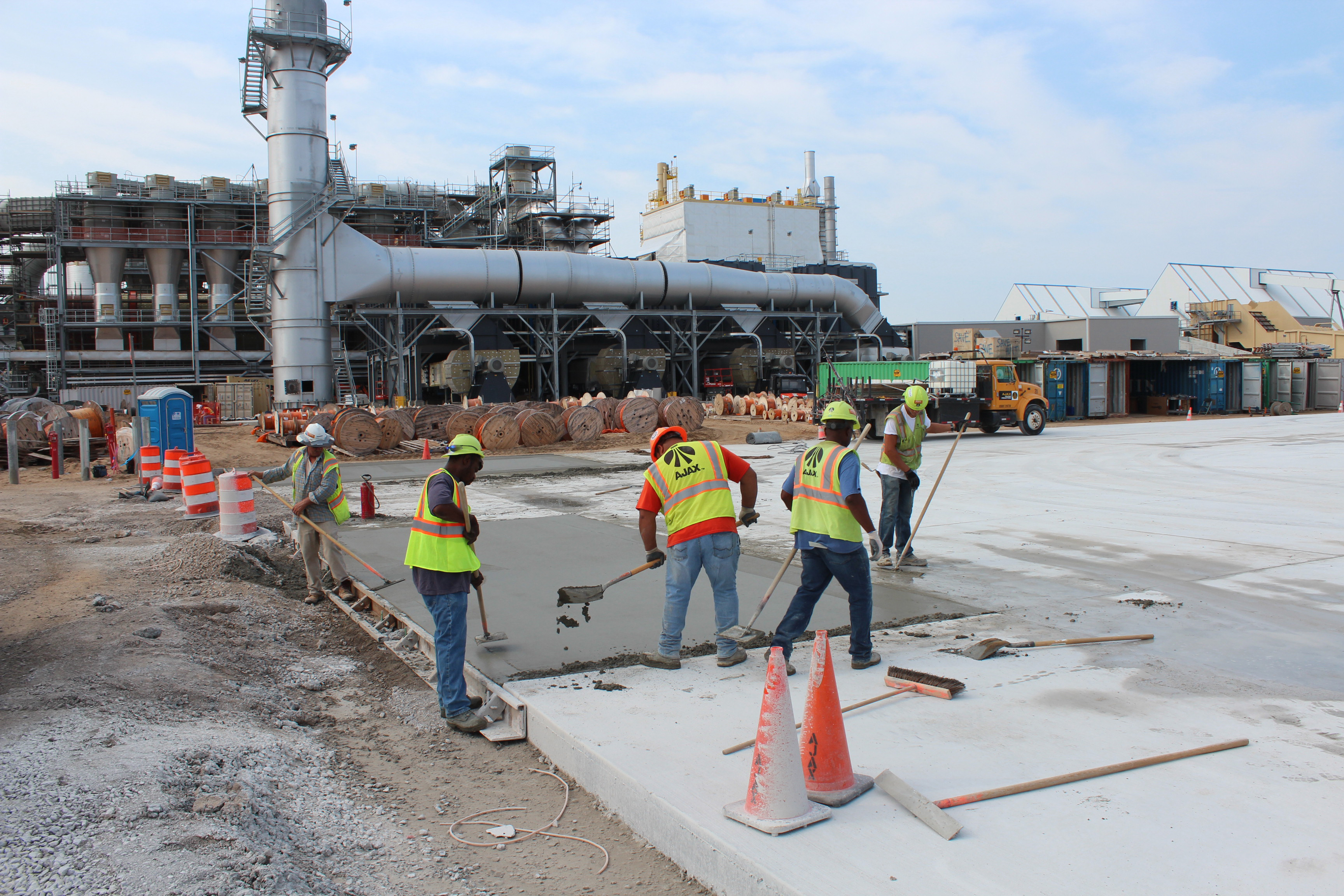 CEMENT MASONS smooth a section of the "Log Yard," a tremendous expanse of concrete that will create space for trucks to drop wood at the Arauco Particleboard Plant in Grayling. Behind them is the RTO Building, part of the site's energy plant. At work are Cement Masons Local 514 members Dennis Kozfkay, Anthony Lewis, George Stokes, Kyle Paulan and Joe Solis (Laborers Local 1191). They're employed by Ajax.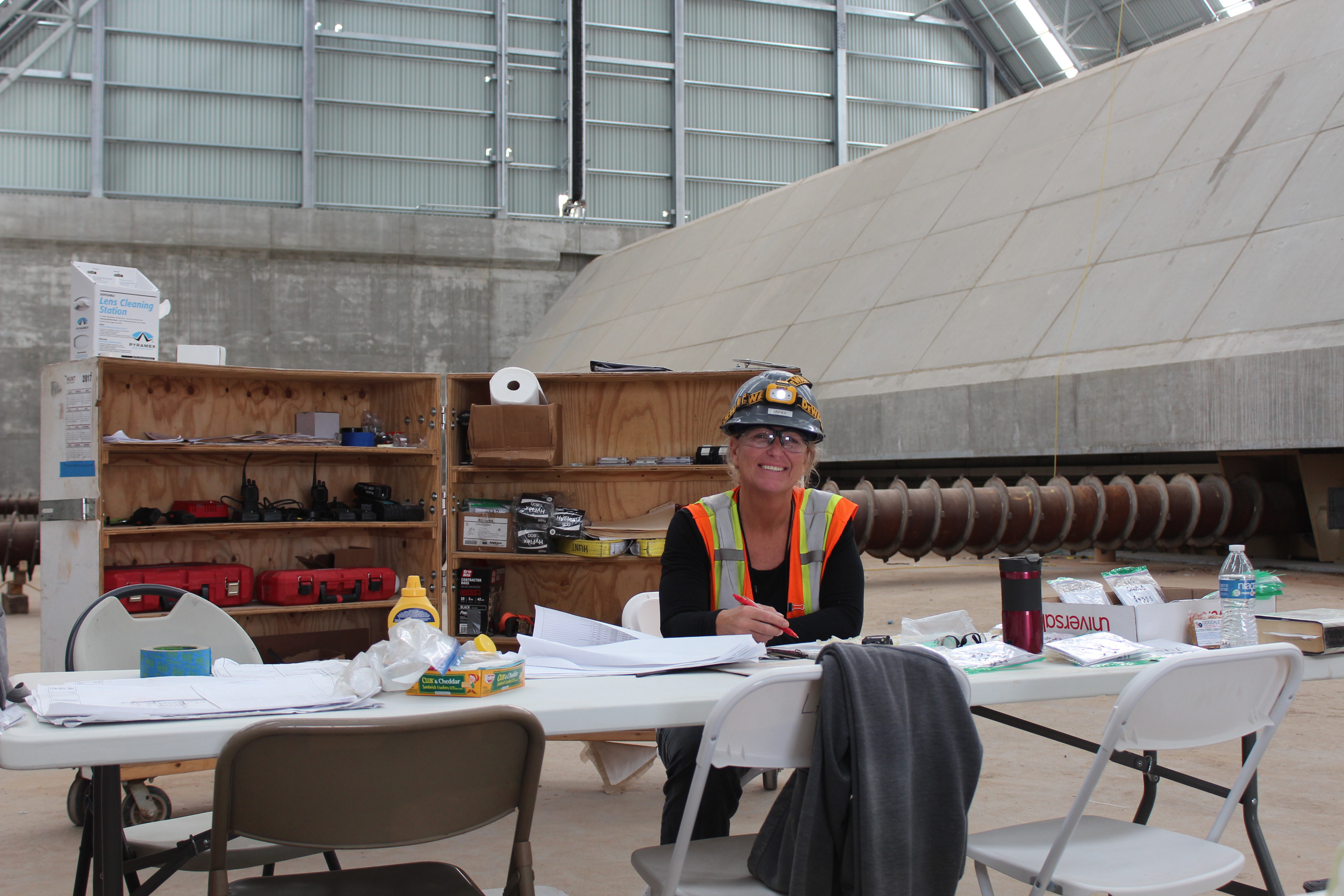 THE CHIP STORAGE building at the Arauco plant was an oversize office, of sorts, for electrician Laurie Thybault of IBEW Local 498 when we visited in late August. She's employed by Hunt Electric. When the plant's wood chips start moving in, they will be pulled onto a conveyor by the screws in the background.