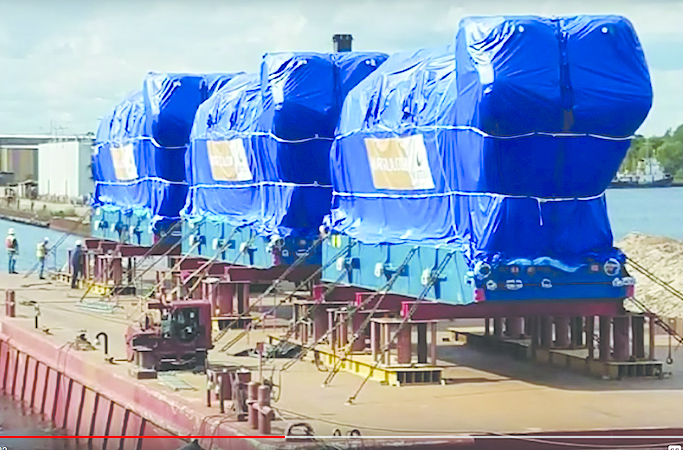 MARQUETTE - The Marquette Board of Light and Power (MBLP) and its 17,000 customers have a host of challenges, both real and potential. The difficulties start with an aging, coal-fired power plant that is affected by increasingly stringent environmental regulations necessitating costly upgrades, as well as an inadequate power grid.
But those difficulties are turning into an opportunity, and a solution: the ongoing construction of a new, reliable, environmentally friendly 50-megawatt power generation plant that is being installed by building trades union members.
Wartsilla, a global supplier of flexible baseload power plants, has supplied a power setup that includes three dual-fuel engines running primarily on natural gas, with light fuel as backup. The new "Marquette Energy Center" is being installed at the MBLP's Wright Street Complex. Miron Construction is the prime contractor, with engineering provided by Sargent and Lundy.
"We have a reliability problem due to aging coal units, no firm transmission service and the closure of a 400-megawatt power plant," said Paul Kitti, executive director of the MBLP. "Wartsilla's solution is reliable, efficient, flexible in fuel choice and is also environmentally sustainable. It will support our compliance with upcoming CO2 regulations."
The 18-megawatt reciprocating internal combustion engines, the largest of their type in the world, are extremely energy efficient and can be started in 10 minutes. They weigh nearly 300 tons and produce 25,000 horsepower. The engines were built in Italy and shipped through the Great Lakes to the Shiras Coal Dock in Marquette where they were loaded onto 20 axle trailers and transported to the Energy Center.
"This technology provides the most efficient, reliable and flexible production of electricity available in the industry today. This asset will generate tremendous cost savings and benefits to the Marquette community for decades to come," said Gary Groninger, business development manager at Wartsilla. The company has installed 4,600 megawatts of power in the U.S., and 58 gigawatts globally.
Work began in June 2016, and there are currently 70-80 Hardhats on site. "I was on TV-6 this weekend, and I'll tell you what I told them," Kitti said. "These tradespeople out here have a phenomenal work ethic. We get below-zero temps, they're working six 10-hour days, and they are always working hard, no one is ever standing around. We're seeing a first-class, top-notch job from our tradespeople."
The Marquette Board of Light and Power provides service to the City of Marquette, and nine townships, including 30 line miles covering 400 square miles. The new gas-fired units will displace generation from an aging coal-fired unit run by the utility that will continue to operate at limited capacity. The MBLP follows the lead of municipal utilities in Lansing and Holland that have opted to take advantage of cheaper and cleaner-burning natural gas to generate their power.
The electrical grid of the entire Upper Peninsula is generally recognized as inadequate, especially given the region's sparse population, making it difficult to import power. In October 2014 Midcontinent Independent System Operator announced the Marquette utility would no longer have access to importing 10 percent of its power from the grid, one of the reasons MBLP says it "needs to generate power locally for reliability reasons."
The new $66 million plant is scheduled to start commercial operation on June 1.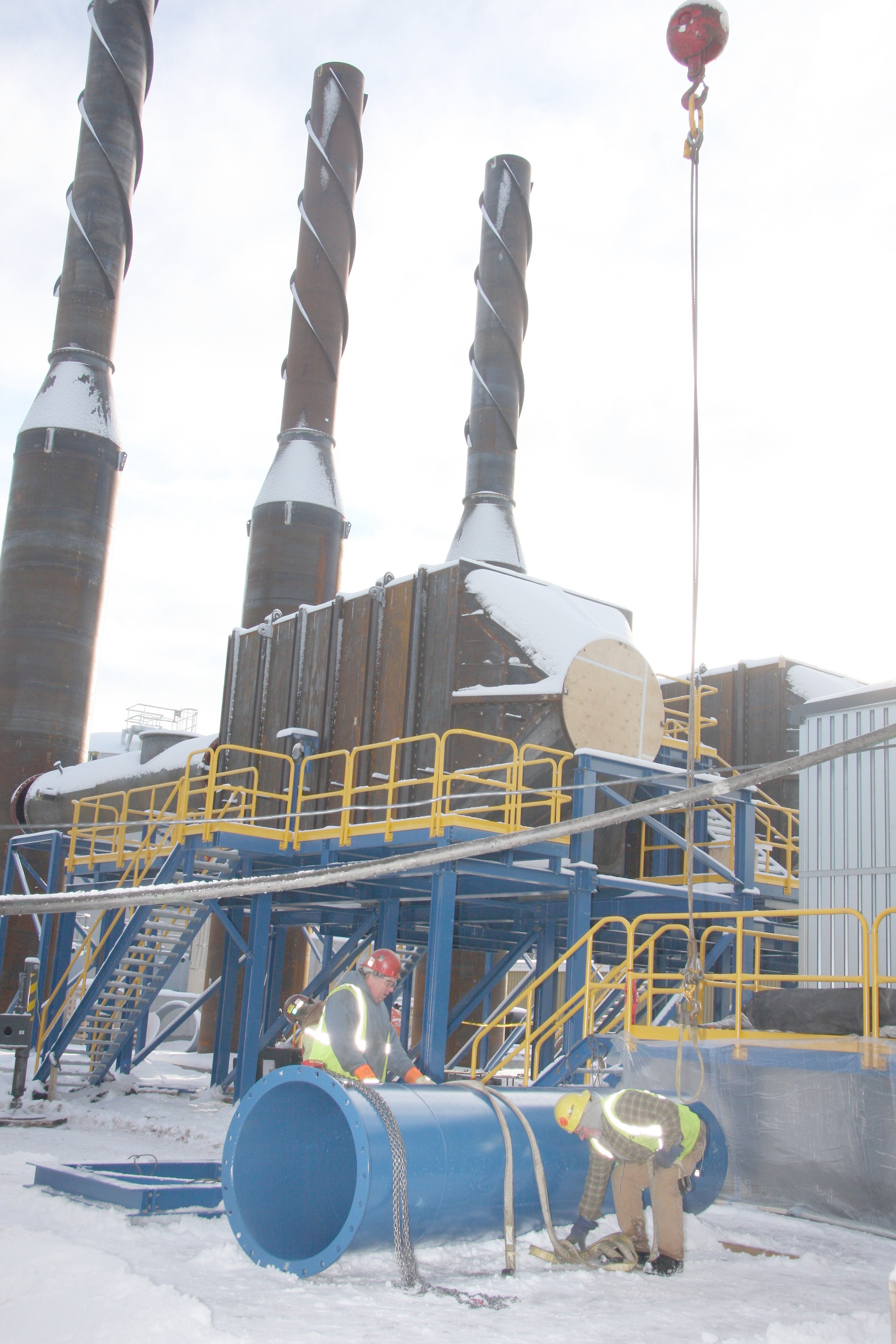 RIGGING AN EXHAUST DUCT for a lift at the Marquette Energy Center are Boilermakers Local 169 members Tim Miller and Rick Cryderman. New stacks have risen behind them as part of the project. They are employed by Miron Construction. Photo by Jack Deo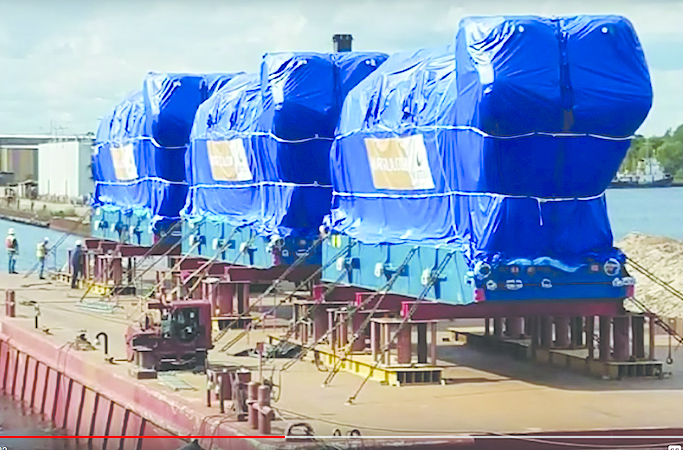 THREE WARTSILLA engines, shown here arriving in Marquette on a barge, at 300 tons are among the largest of their type in the world.
INSTALLING CABLE TRAY at the Marquette Energy Center project are Bryan Richardson and Jordan Skytta of IBEW Local 906. They're employed by B & B Electric. Photo by Jack Deo