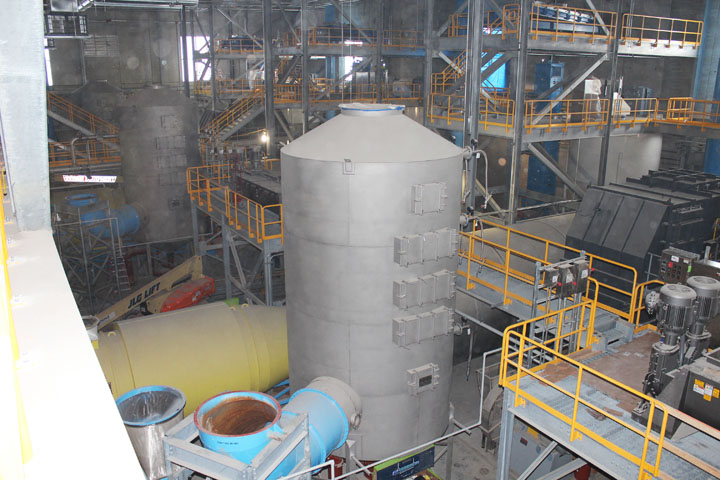 DETROIT - Under construction on the city's southwest side is the largest bio-solids dryer facility in North American. If you don't know what such a facility is or does, you're not alone. But the good people residing in eight Southeast Michigan counties, nearly one-third of the state's population, will be contributing to its operation more or less on a daily basis.
Located across West Jefferson Avenue from the Detroit Water and Sewage Department's (DWSD) Wastewater Treatment Facility, the 47,500-square-foot Detroit Bio-Solids Processing Facility will have the capacity to take in 420 tons per day of sewage sludge - then drying it and processing it - and turning it into fertilizer to increase crop productivity or even for end-use as a bio-solid fuel.
The work is proceeding under the design/build team of NEFCO (the New England Fertilizer Co.), a subsidiary of Daniel O'Connell's Sons of Massachusetts, using local subcontractors and tradespeople.
"We have a long history of successfully managing bio-solids and reducing costs for our clients," said NEFCO General Manager Jim Sullivan. "At the same time, the end-product is a nutrient-rich material with fertilizer and thermal combustion properties that benefits the environment, agriculture, taxpayers and the municipality."
Slated for completion in the spring of 2016, the $143 million project will employ major equipment processes such as centrifuges, a dryer system, silos, and an odor control system.
"It's a different building than we're used to seeing, you'll find just about every piping process that's out there," said Jeff Pacific, general foreman for mechanical contractor De-Cal. "It's been a good gig for the plumbers; a good job, lots of work." He said about 15-20 pipe trades workers are on the job on any given day.
It's not a bad job for the sparkies, either. About 35 IBEW Local 58 electricians working for Shaw Electric were on the job last month. "It's a very power-intensive building," said Shaw Field Foreman Randy House. "This is a fast-paced industrial job, and I'd say the real challenge working here is planning the conduit runs. There are lots of obstacles."
NEFCO's sludge treatment begins at the end of the wastewater treatment process. According to NEFCO, the process of separating sewage solids from water produces a relatively dry, soil-like product called "cake," which can be recycled back into the earth. In NEFCO facilities, this cake is exposed to high temperatures killing 95 percent of the pathogens present and substantially reducing odors. Water is removed from the bio-solids, producing a pellet which can be used as a high-end fertilizer for agriculture. Using such fertilizer pellets through land application safely enhances the soil with rich organic product that conditions it and increases plant growth.
In more recent times, NEFCO said bio-solids are increasingly being used as renewable fuel, notably in cement kilns. The fuel value of dry bio-solids "can be quite high, and is attracting attention as a carbon-neutral substitute for coal in these energy-conscious times," the company says. The net energy balance depends on the fuel value of dry sludge and feed dryness.
On average, Detroit has incinerated about two-thirds of its solids, trucking the remainder to landfills or to farms for land application. But there are fuel costs associated with incineration in addition to landfill costs. The new plant will allow the city to dry nearly 70 percent of the sludge, incinerate about 17 percent with the remaining amount sent to landfills or to farms for land application.
The new facility will save the city $16.9 million per year and offer odor reduction and environmental benefits. With NEFCO operating the bio-solids system for the next 20 years, the City of Detroit will not have to spend nearly $70 million in needed upgrades to the existing plant that won't be needed with the new system online.
"We are excited about this project's environmental and financial benefits which will serve the Detroit metropolitan area for decades into the future," said DWSD Assistant Director Sam Smalley. "We selected NEFCO through a transparent process as the most qualified bio-solids management company to work with us as a long-term partner. We are very confident they will deliver."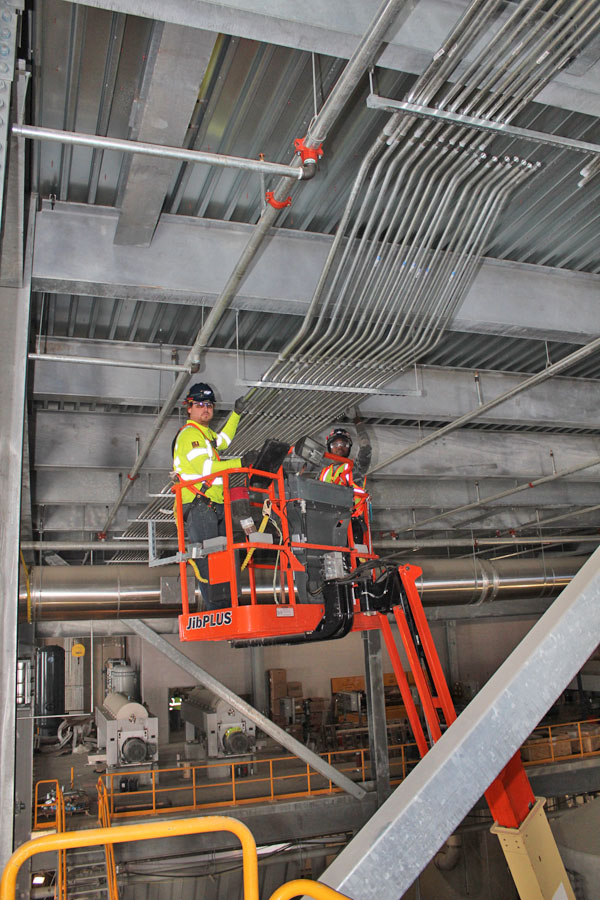 A VENTILATION SCRUBBER dominates the foreground of this photo of the
interior of the Detroit Bio-Solids Processing Facility.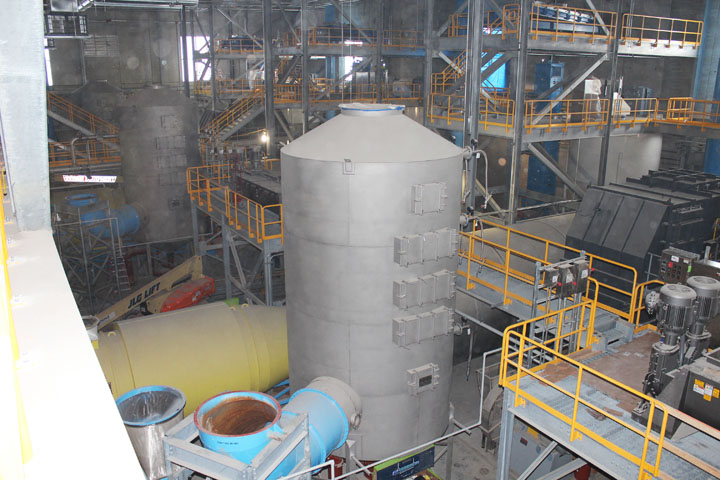 ALWAYS NICE TO SHOW conduit artistry: this collection was created in the ceiling of the plant by Joe Alberty and Clyde Allen of IBEW Local 58, working for Shaw Electric.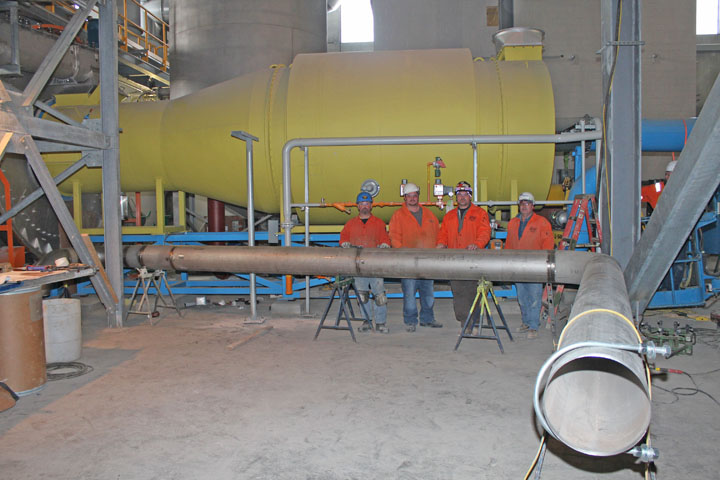 A VARIETY OF RARELY seen mechanical applications can be found in Detroit Bio-Solids Processing Facility. This group of Local 98 Plumbers is standing in front of a furnace that will dry solid waste. They include (l-r) steward John Boelter, general foreman Jeff Pacific, Brad Hometz and Patrick Smigels. All are employed by De-Cal Mechanical Contractors. In front of them, they're working on a 14-inch stainless pipe.