Boilermakers Local 169 members received the "Top Craft" award from the Raytheon Constructors Inc. (now the Washington Group) for their good work on the Detroit Edison River Rouge Unit One Rebuild project that wrapped up last month.
In the past the award was primarily used by Raytheon to laud good safety practices on its construction projects, but now it has been expanded to recognize things like worker skill, productivity, manpower availability and spirit of cooperation. The boilermakers were chosen following consultation with superintendents on the eight-month project.
"The thing that really stuck out in my mind was that the boilermakers worked in a very businesslike manner," said Project Manager Vic Chrjapin. "The workers were qualified, skilled, trained, and very professional. They cared about the money we were spending."
The boilermakers made up a third of the workforce on the fast-track project, which involved totally refurbishing a boiler that had been dormant for 20 years. Edison will use the gas-fired boiler to increase its overall power production. About 480 Hardhats were employed on the project, which included gutting the old boiler, installing new air heaters and duct work, and installing 160,000 feet of new electrical cable and 3,000 feet of gas pipeline.
"Obviously we're flattered, and this is quite an honor," said Local 169 Business Manager John Marek. "The injury rate on the project was almost nil, and the job was done well and completed on time, which obviously is important to everyone involved."
Washington Group Regional Project Manager John Johnson said the award "helps build a relationship with the building trades, and reminds them know we both care about safety and high quality work."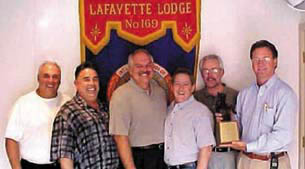 RAYTHEON Project Mgr. Lanny South, on the right, shows the "Top Craft" award recognizing Boilermakers 169 members on the Rouge-Edison project. Accepting the award were (l-r) Local 169 BA Tony Jacobs, site safety manager Jackie Hughes, Local 169 Business Mgr. John Marek, 169 General Foreman Bruce Warnken and Local 169 BA Don Cochran.