ALLEN PARK - You know an event has "arrived" when high school career and technical education centers from around Michigan are circling a May event in red on the school calendar for their high school welders.
No, we're not referring to prom - we're referring to this year's 16th annual Boilermakers Local 169 High School Welding Invitational. This year, 33 high school seniors from 11 schools took part in the contest, a combination of a welding skills exhibition and a written test. The contest exposes the kids to a professional working environment with experts in the field, and allows them to display their skills with a shot at future employment in the trade.


"I have brought kids here to the contest all 16 years," said welding instructor Nichols Regets, who teaches at the Willian D. Ford Technical Center in the Wayne-Westland School District. "You can't ask for a better program. As an educator, you take kids here who have a lot of interest in welding, and they have an opportunity to connect with the pros, and possibly get connected to jobs. It really gives them a leg up."


Mark Stein, a career and technical education instructor from Pinckney High School, brought three high school welders with him to the contest. "We come to this event every year," he said. "It's a very welcoming, relaxed atmosphere. The competition challenges the students, but at the same time, they get help and get any questions they have answered."


The contestants' work is judged by a panel of owner, contractor and union representatives. "Not all of these kids are going to go on and become Boilermakers, but a lot of them do, and that's great for us," said Local 169 Business Manager Robert Hutsell. "We know these kids are already inclined toward this kind of work, so they know what they're getting into. This contest provides a great opportunity for us to see what they're all about, and allows the kids to get to know us, too."


For most of the participants, the invitational also provides students' first exposure to organized labor. "Over 10 percent of our current local union has participated in this program," said Boilermakers National Apprenticeship Coordinator Mark Wertz, a Local 169 member who founded the contest. "These kids are motivated in this industry, and if they're not employed here, maybe they will get into an apprenticeship with another union trade. It's all good."


Mike Card, Local 169's president and apprenticeship coordinator, told the 33 high school contestants during introductory remarks that labor unions "were formed because way back when, people realized that they could make a better living for themselves if they worked together. They won good wages, health care benefits, pensions, annuities. and good, safe working conditions. This job isn't for everybody, it involves hard physical labor. But labor unions made workplaces better 100 years ago and they still do today."


The team winners from the contest came from Flat Rock High School.


Individually, first place was won by Mark Virzi from Oakland Technical Center Southeast. Keith Clements, also from Oakland Tech, came in second, and third place was taken by Patrick Paige of Flat Rock High School.


One of the regulars helping out with the event and taking part in the judging is Frank Wimmer, vice president of Monarch Welding and Engineering. "It's an important event for all of us," he said. "The reason is, we need more help. We need people. A lot of boilermakers are going to be retiring. This contest is a good way to get young people exposed to what we do."


One of those young people is Adam Blotske, a senior at Oakland Technical Center Southeast. "I like doing this," he said, having completed his welding test. "I've really been looking forward to taking part in this contest all year."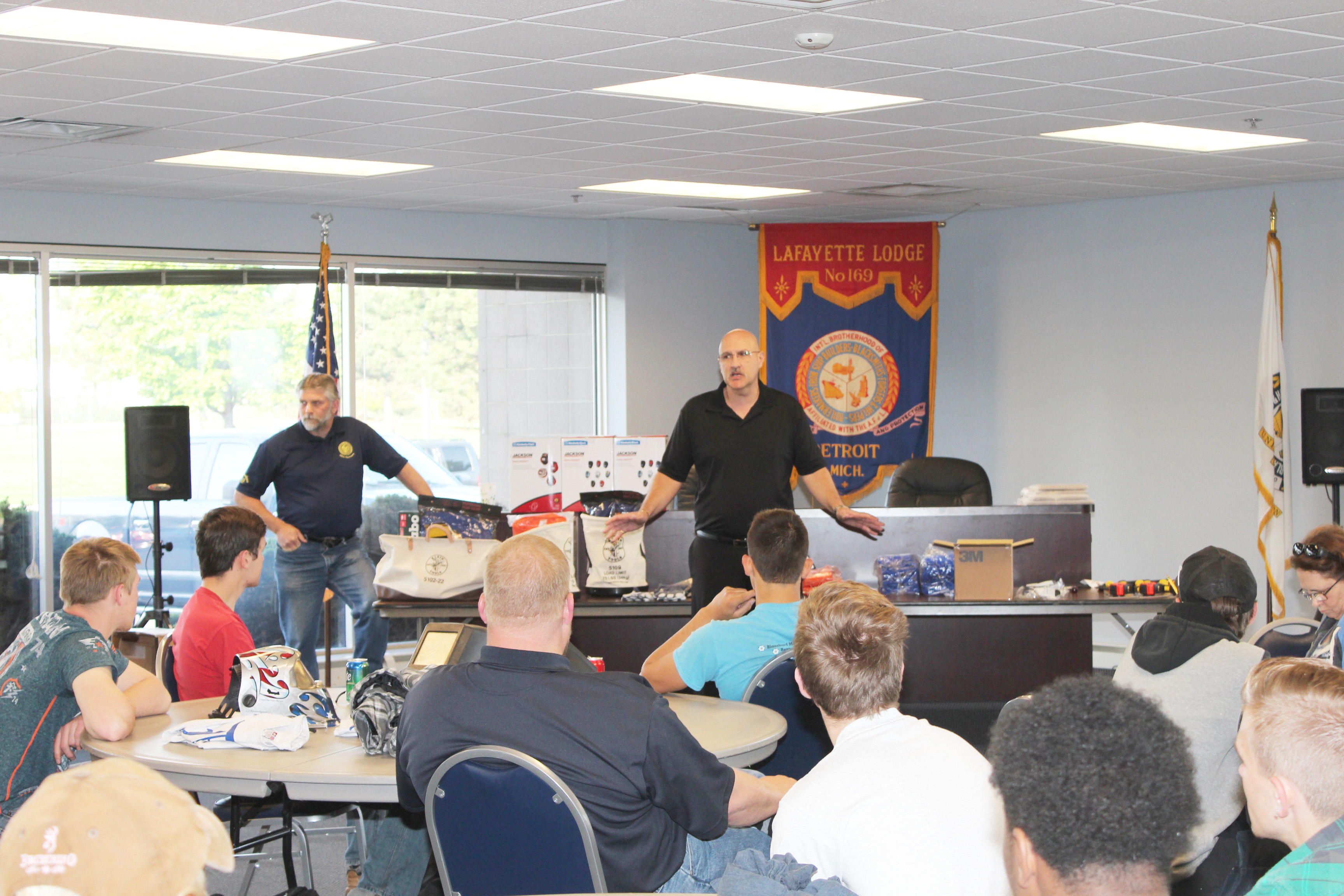 BOILERMAKERS Local 169 Business Manager Robert Hutsell, right, and President Mike Card, left, make opening remarks May 18 during the union's annual High School Invitational.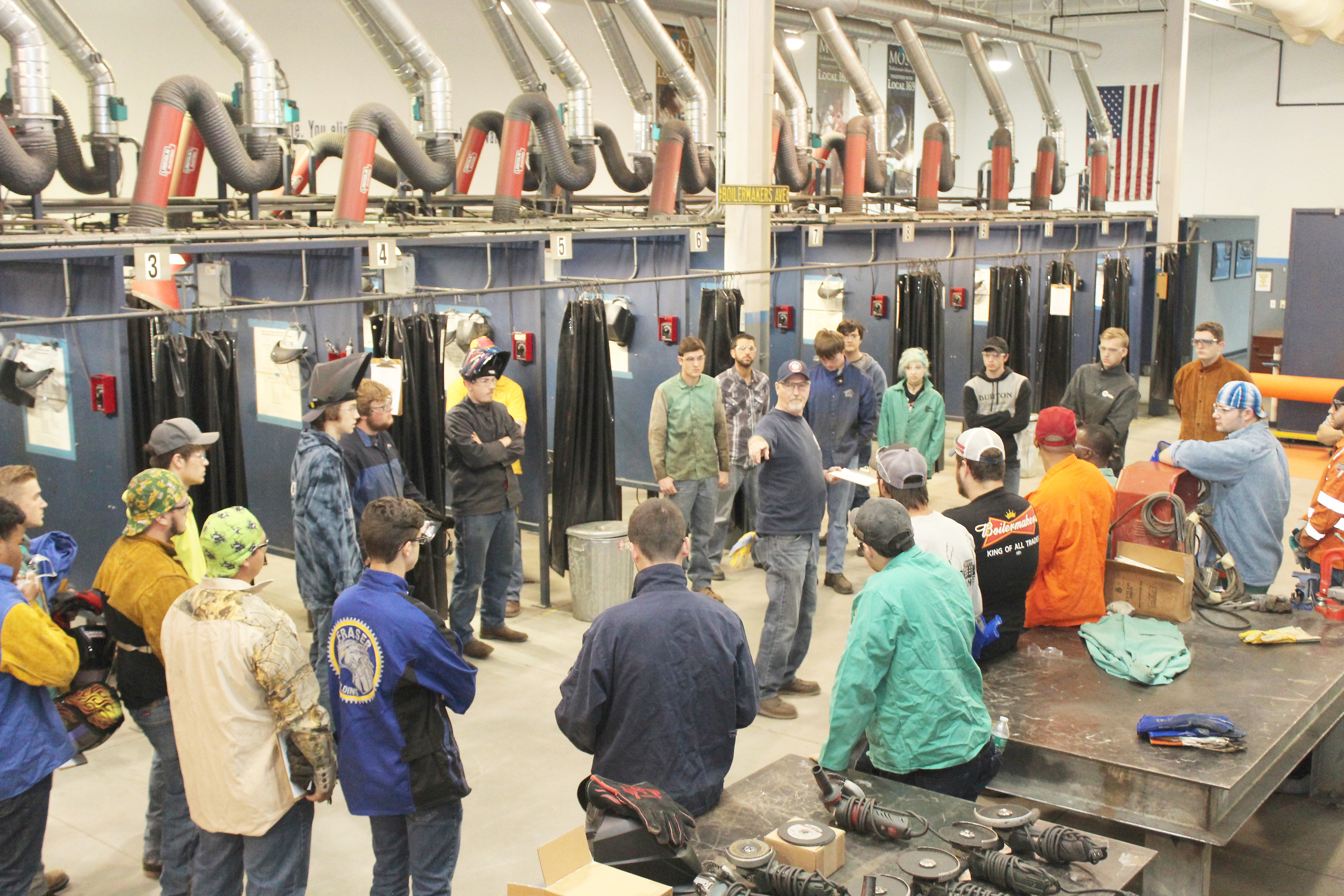 PROVIDING DIRECTIONS to the high school students taking part in the Boilermakers Local 169 High School Invitational on May 18 is local union instructor Lew Harris.