ALLEN PARK - Now in its 15th year, the Boilermakers Local 169 High School Welding Invitational contest is becoming a bit of an institution.
Held every spring at the union office/training center, the day-long written and practical skills contest brings an annual red circle on the calendar of numerous high school career and technical education instructors. This year, instructors and 40 high school seniors from 13 school districts around Michigan participated.


"There is such a shortage of workers in the skilled trades, and especially among welders," said Darin Kearns, an instructor in the Wexford-Missaukee Intermediate School District near Cadillac, and president of the Northern Michigan Welding Educators. "This is our first year here, and we wanted to do something different. I like this, it's laid back, but as far as the welding goes, this is exactly what the students would be doing in the field, it's real-work experience."


Boilermakers National Apprenticeship Program National Coordinator Mark Wertz, a product of a vocational education program, began the high school invitational program at Local 169 as a way to get interested, motivated high school seniors to display their welding skills and knowledge to labor union and contractor representatives. Over the years, he said 60 participants in the contest have become members of the union - about 10 percent of Local 169's membership,


"With this program we're getting right to the people we need - the 18-year-olds who are already familiar with welding and are easy to train," Wertz said. "We've had some really talented kids come through here."


The students are given a welding test and a written exam. Their work is judged by a panel of owner, contractor and union representatives. Among them are Monarch Welding and Engineering Vice President Safety and Health Frank Wimmer. Five of his current employees have participated in past competitions.


"We want the best, and a lot of these kids who participate in this contest are superstars," Wimmer said. "They're motivated, and they're focused on what they want to do in life. Not everybody is made to go to college, and this career provides an opportunity for these young people to make a good living."


Mike Card, Local 169's Assistant Business Manager and Apprenticeship Coordinator, told the high schoolers that the event can also be a valuable learning opportunity. "You will be around owners, contractors, instructors, people in this business who know the craft and can answer any questions you have," Card said during introductory remarks. "I know this is called a contest, but relax and take your time and give 100 percent. That's all anybody can ask."


For most of the participants, the invitational also provides students' first exposure to organized labor. "It's nice to see people who want to work with their hands, who know that there is more out there in the world after high school than going to college," Local 169 Business Manager Bob Hutsell told the students. "You're at a union hall, but it's not about this building, and it's not about me. The Boilermakers are a great opportunity. The union is about a good wage, working at a safe job, about working at a place where you can have pride in what you do. It's about having good benefits, and a retirement, so that you don't have to work until you're 75 years old."


This is the fourth year that Dave Morelli, a career and technical education teacher at Ida High School, has taken a group of seniors to the High School Invitational. "I'm a big supporter of this event," he said. "It gets kids out of their comfort zone, out of school and into a place that shows them what a boilermaker career is all about. It shows them if they want a career doing this, this is what you have to do."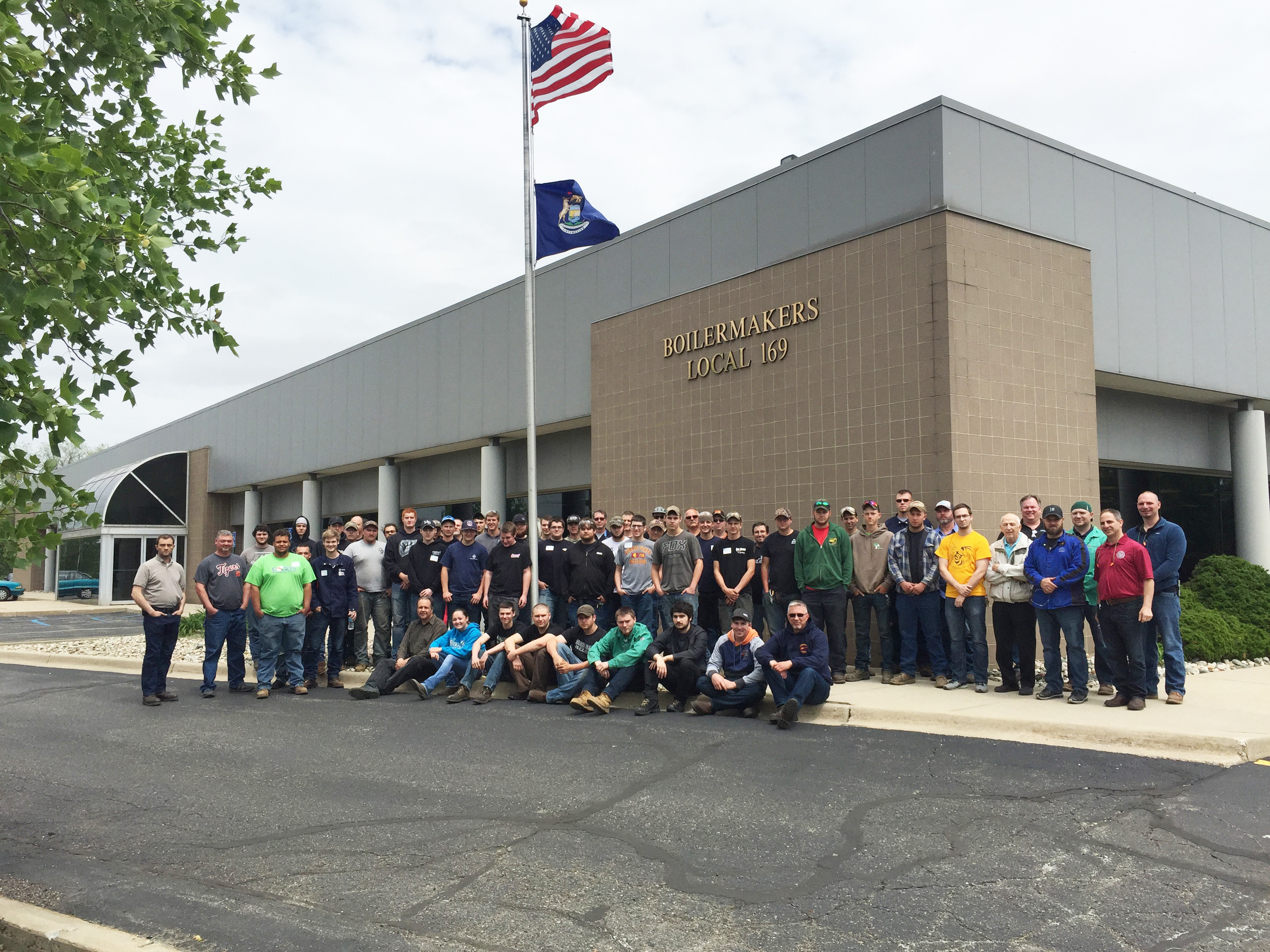 PARTICIPANTS, JUDGES and helpers gather at the Boilermakers 169 High School Invitational welding contest.