DEARBORN - An "efficiency upgrade" at the AK Steel Corp. plant next to the Ford Rouge works was handled most efficiently by a crew of primarily Boilermakers Local 169 members during a three-week outage that wrapped up Oct. 25.
During the outage, a crew of 30 boilermakers, plus carpenters, laborers, millwrights and operating engineers, undertook blast furnace lining repairs, installation of a new hydraulic ladle turret lift and an improved BOF lance cooling system, a new boiler hood system and downcomer, new caster drives and drive controls as well as a new compartment for an electrostatic precipitator.
The trades' exemplary work was a particular benefit to the owner, as the Boilermakers' skills help bring the project in on time. Contractors who participated in the project included Barton Malow, Monarch Welding and Engineering, Mid-American Group and OMI.
"It was actually quite an exciting job," said Brian Kidd, boilermaker superintendent for Monarch Welding and Engineering. He said working with the massive downcomer "overshadowed everything" about the project. "We were dealing with the weight of a 466,900-pound downcomer, and getting that through existing structure with the (D-Mag 8800) crane was like threading a needle," he said. "It was the biggest one that I have been involved with, and the trick was the weight and how far it was away from the crane.
"But I'll tell you, it went as smooth as you can imagine."
Keith Mowrer, Monarch's general foreman on days, said the tagline system to move the old downcomer out, and then the new one in, "was the most complicated I've ever seen. We had 20 guys involved guiding that in through the boiler."
The new downcomer was made at the Moran Iron Works, near Rogers City, and floated south to Dearborn by barge.
The outage work is expected to "yield significant cost savings" to the plant, the steeelmaker said. "This is a major investment in the Dearborn Works hot end, and many of the projects will improve the operation's efficiency as well as reduce costs," said AK Steel chief operating officer Kirk Reich.
AK Steel said the improvements are expected to shave $10 per ton in costs at the steel plant - a significant savings in the ultra-competitive worldwide steel industry. "What it means to the shop is the overall throughput will be increased and the efficiency with which we can run that facility will be improved," Reich said.
Kidd said much of the efficiency that AK Steel will gain is simply in improved air flow through the system.
He said the Monarch crew first had to manage the process of extracting numerous sections of the "hot end" portion of the plant - parts of which were originally installed in the mid-1960s - without contacting the plant's existing hardware. "That was a bit scary," Kidd said. "A big part of it is, you just don't know how much some of those pieces weigh when you go to pick them up, so we had to be very cautious."
A dual boiler panel replacement was also part of the outage - and it was a task that had never been done in the long history of the plant, Kidd said. More people were working inside the boiler than outside. "As we opened things up, a lot of what we did had to be done on the fly, so I have to say that our crew did a great job for sure working in that environment," Kidd said.
The Boilermakers crew for Monarch included Supt. Brian Kidd; General Foreman Keith Mowrer (days); General Foreman Rich Cowley (nights); Inside General Foremen Bill Buell and Robert Armstrong, and foremen Bill Martin, John Nevedal, Justin Howington and Steve Vermeesch.
AK's Dearborn Works produces hot-rolled, cold-rolled and hot-dipped galvanized flat-rolled steel as well as advanced high-strength steel. The facility supplies original equipment manufacturers, including customers in the automotive industry, according to AK's website.
"The most important thing through this whole outage process," Kidd said, "was that we had no injuries. Beyond that, we came in ahead of the schedule, and we were on budget."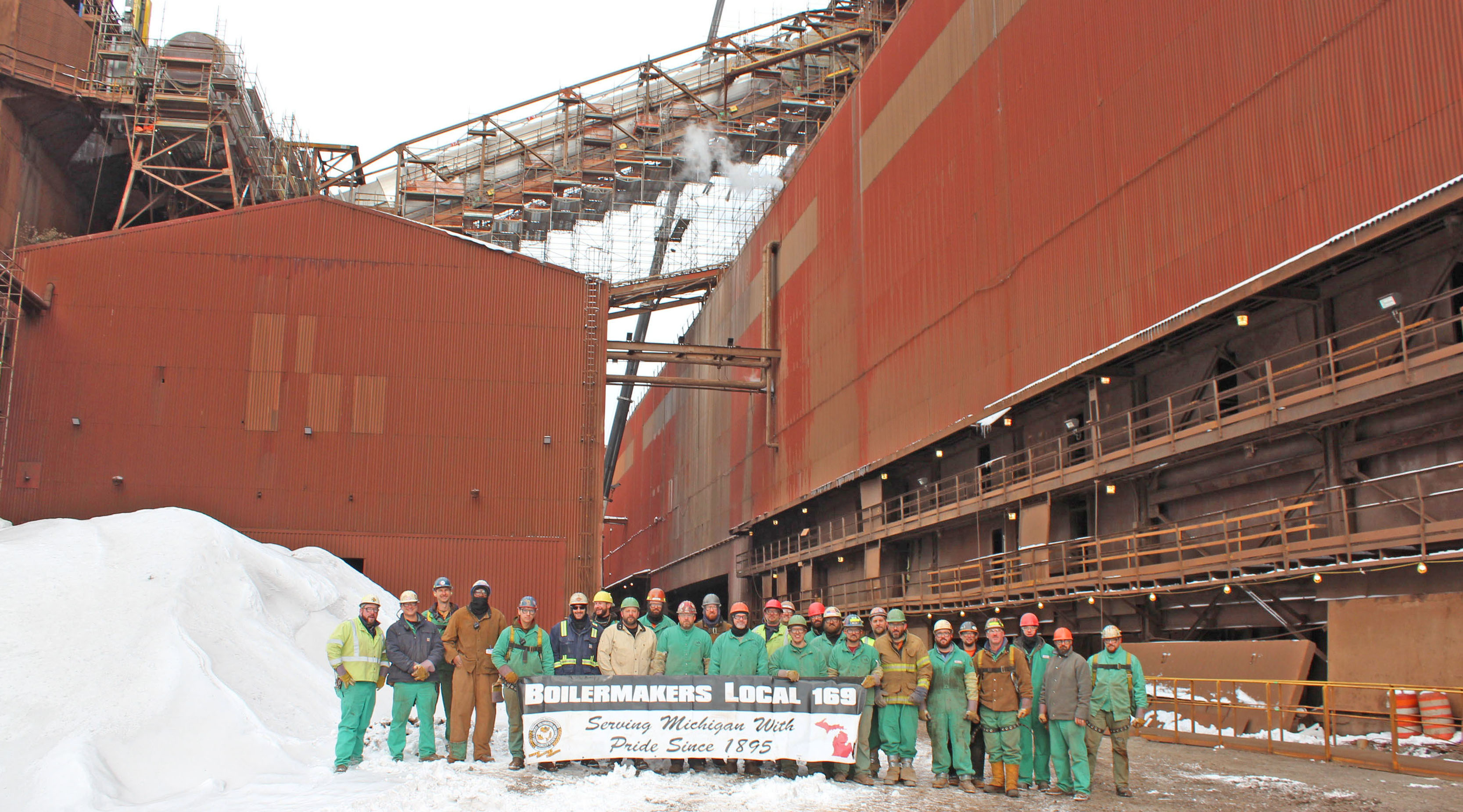 BOILERMAKERS Local 169 members stand behind their banner and in front of where they worked during a highly successful three-day outage at AK Steel in Dearborn. The project included the placement of a 466,900-pound downcomer, which was likened to threading a needle through the existing steel plant. Earlier this month, it was announced that AK Steel was being acquired by iron ore mining company Cleveland Cliffs , Inc.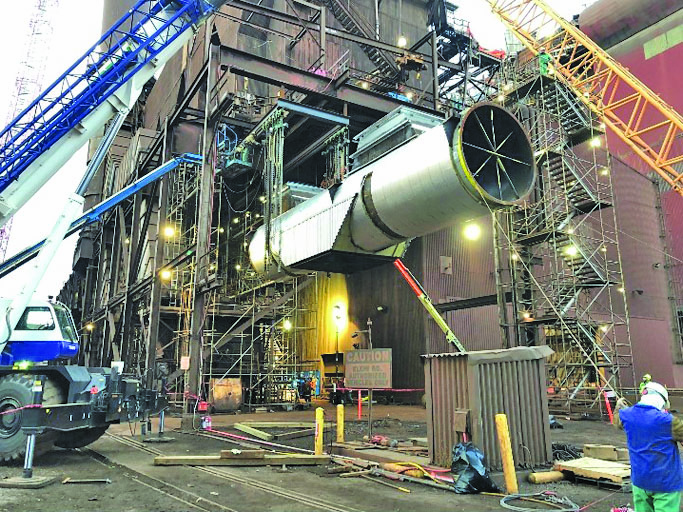 AN ESP OUTLET HEADER is loaded into the AK Steel plant in Dearborn during the outage.