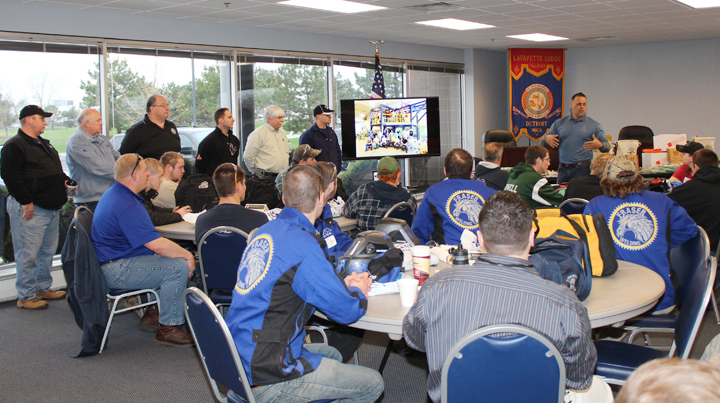 ALLEN PARK – Forty two vocational education students from 12 Michigan schools descended on the training facility at Boilermakers Local 169 on May 2, participating in the 11th annual High School Welding Invitational.They came to participate in a contest where they would show their welding skills and possibly get a leg up on starting a career as a boilermaker. But they also got plenty of encouragement for making a living at welding – and to make it a career by seeking out a union apprenticeship.
"I was a vocational tech student; I was what you are," said Martin Spencer during the event's introductory remarks. He's the national coordinator of the Boilermakers National Apprenticeship Program (BNAP), and a graduate of Seneca Vocational High School in Buffalo, New York. "We're always looking for some great men and women to move our program forward. Pay attention to what you hear from the instructors you will talk to today, and what your teachers tell you back at school. They will help you by telling you things about your work that you won't necessarily see. Work hard, and there's an opportunity here for you to start a promising career."
Over the last 11 years, the Local 169 High School Welding Invitational has hosted more than 500 vocational education students from around Michigan. "Forty of them have become apprentices in our program," said Local 169 Business Agent/Apprentice Coordinator Mark Wertz to the assembled high school seniors. "They were sitting where you're sitting. They are now highly skilled craftsmen with a good career."
Wertz, who established the invitational contest, spoke to the high schoolers on his final day of employment at Local 169. On May 5, he moved up to the Boilermakers International Union, becoming an administrative assistant at BNAP. Replacing him as Apprenticeship Coordinator is Local 169 President/Business Agent Mike Card. Card reminded the students that they were not only representing themselves at the contest, "you're representing your school, your community. We'll give you a chance to see what being a boilermaker is all about."
The contest, as always, had input from labor, management and the educational realms, with support and words of encouragement from each. "This country needs engineers, we need accountants, we need lawyers," said John Gose, a retired Consumers Energy construction senior project manager. "But if you're a boilermaker and you don't work, this country doesn't work."
Dr. William Pettis, a retired vocational education instructor at the William D. Ford Technical Education Center in Westland, had been sending students to the welding contest for years before he retired. "This is totally awesome," he said of the Boilermakers' sponsorship of the contest, and the way it reaches out directly to the high school students. He said numerous students had thanked him for getting them involved in the welding competition, because it set them up for future employment-related job tests.
"Sometimes it irritates me the way the media portrays the American education system, especially vocational ed," Pettis said. "Our students can be the best in the world if the local school districts supports instructors, students and vocational programs."
Following are this year's contest's winners:
1st Place – Ricky Nemitz, St. Clair TEC
2nd Place – Derek Coch, Flat Rock High School
3rd Place – Jeffrey Cejmer, Utica Stevenson High School
The Team Award went to Mecosta Osceola Career Center, including Ian Ames, Michael Barker, Adam Kehr, and Gabriel Morse.
Monarch Welding and Engineering Vice President Frank Wimmer, whose company is signatory with Local 169, said the contest helps move forward the next generation of workers. "It's hard to find good, qualified, people," he said. "This event helps. These guys have a great start on learning welding, and that's such a huge part of our trade."
Local 169 Business Manager Robert Hutsell said "the collaboration between Michigan's building trade unions, our National Apprenticeship programs, and our communities is a key component behind the success of Boilermakers Local 169 for nearly 120 years. Working together, we supply our owners and signatory contractors with the safest and highest skilled craftsmen available."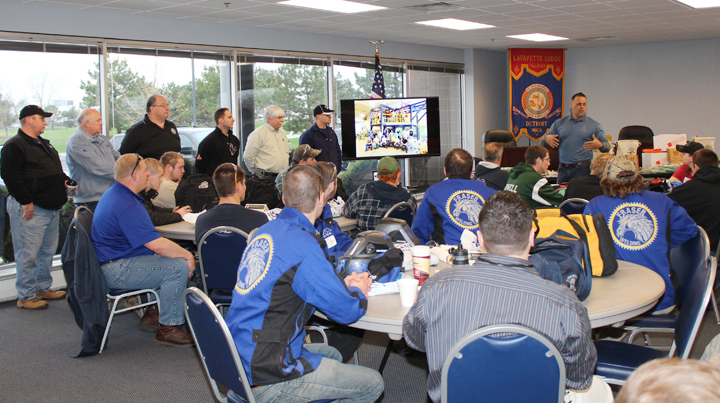 BOILERMAKERS Local 169 Apprenticeship Coordinator Mark Wertz, at right, talks to students attending the union's High School Welding Invitational. Judges of the contest are along the window at left, and include (l-r) Chris Lanzon, Barton Malow; John Gose, retired, senior project manager – Consumers Energy; Marty Spencer (not a judge), National Coordinator, Boilermakers Apprenticeship Program; Frank Wimmer, vice president, Monarch Welding & Engineering; Tony Parasiliti, construction manager, Utility Division – RMF Nooter, and Bill Bass, DTE Energy.