DETROIT – A $505 million capital improvement bond issue approved a year ago by Detroit voters is starting to translate into a wide swath of construction projects to improve the city's schools, while providing jobs for the building trades.
There are 10 projects that have started in the city, ranging from a new $45.3 million Martin Luther King Jr. Senior High School to a $5.6 million Detroit Public Schools Police Headquarters and Command Center. A total of 18 projects will be performed under the Proposal S Bond Referendum, including seven new schools and 11 renovations.
One of the current projects is the $27.7 million renovation of Western International High School. Work began in July on the project, which currently employs about 40 Hardhats. The project will feature a new athletic annex including a new pool and gymnasium, weight rooms and locker rooms. Various mechanical, electrical and plumbing upgrades are also on the to-do list, including a new fin-tube heating system that will replace the building's radiators. The trades have created six temporary classrooms in the building to accommodate the construction.
Work is sometimes taking place after school and on weekends when necessary, and much of the heavy lifting will take place over summer vacation. The project is expected to be complete Aug. 1, 2011.
On the Colasanti/DCI joint venture management team are Vice President Dave Rzepka, Project Manager Jim Kaiser and Project Supt. Jim Rzepka. "Everything is going well," Jim Rzepka said. "Obviously the most challenging aspect is doing this work while school is open, so student safety is our number one consideration. The school has been great to work with, we have weekly meetings with the principal. Plus we're making a real effort to stay in tune with the community."
That outreach effort with the community is led by Robert Washington, project coordinator/community development director for Colasanti/DCI. "This is a close-knit community, and we're just making sure that the community is kept informed and involved," he said. Several area residents are working on the project, he added.
Western High School was built in the 1890s on the east side of Clark Park in Southwest Detroit. It was rebuilt in 1935 after a devastating fire, and has received only a few improvements since then – one of the reasons it was placed on the list of schools to be renovated as part of the bond issue.
Work that has been completed to date includes in-fill of the existing swimming pool, lighting and cosmetic upgrades in the cafeteria and construction of the temporary classrooms. The trades are currently building new foundations for the new pool, installing a new roof, and performing mechanical and electrical improvements, where possible.
The program manager for the bond program is Walbridge Joint Venture, which is a partnership between Walbridge, Brailsford and Dunlavey and Fanning Howey. The implementation of the entire Detroit Public Schools capital improvement project is being led by Walbridge, a 93-year-old Detroit-headquartered construction firm. They have partnered with E. L. Bailey & Co., a minority-owned construction management company.
"We are delivering on our promises to voters and residents that we will stay on time and on budget with every project that is part of the DPS school construction program," said DPS Emergency Financial Manager Robert Bobb. "We are also guaranteeing priority to Detroit residents first for jobs, with 70 percent of procurement contracts in the first ten projects awarded to Detroit-headquartered firms."
In the coming months, we will check in other projects that are taking place under the bond program.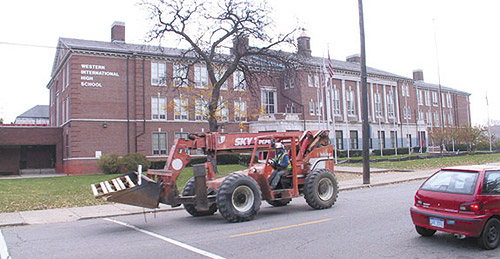 THE $27.7 MILLION renovation of Western International High School in Detroit is part of a fast-track, $505 billion bond issue that will upgrade a number of Detroit schools.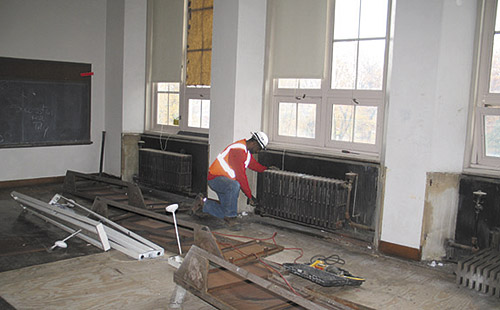 REMOVING RADIATORS from a third-floor classroom at Western International High School in Detroit is Flin Fike of Pipe Fitters 636, working for E.L. Mechanical.