Some tradesmen golf, fish or play softball in their spare time.
Others - well, only one that we know of - climb into a high-tech boat cockpit and competitively race at speeds up to 200 miles per hour
We refer to Jimmy King, a Bricklayers Local 1 member and owner of King Masonry. For about 10 weeks out of the year, he puts down his trowel and races in unlimited hydroplane events around the country. On July 6-9, King drove the yellow Llumar Window Film boat in the 2000 Chrysler Jeep Detroit APBA Gold Cup race. Choppy water damaged the boat during the elimination heats, so King and the Llumar craft weren't in the water on race day. Miss Budweiser took the crown.
"We'll try again next time," King said. "It's great fun. For me it's a change of pace from humping block."
King, 39, has been racing boats 25 years. He drove Grand Prix-class boats for most of his career, winning two world championships. In 1994, he moved up to the unlimited class, and was named UHRA Rookie of the Year in 1994.
In 1998 he entered only six of the 10 races and still achieved fifth place in national high points. He took third place in the 1998 Detroit hydroplane race even with extensive damage to the bottom of his boat. King has 20 career victories in boat racing.
The Llumar boat, like other Unlimited hydroplanes, is 30 feet-long, 14 feet-wide and weighs about 6,400 lbs. Up until about 1990, unlimited hydroplanes were powered by piston aircraft engines designed in World War II, but they gave way to the 2,650 horsepower helicopter turbine engines that drive the boats today.
Once a hydroplane comes up to speed, it "hydroplanes" on top of the water using airflow beneath the boat to decrease the boat's drag on the water. Hydroplanes fly more than they float, and the ideal stance is for the boat to have just half of its prop in the water,
King said the differences between competing boats are slight: successful racing teams do the best job of tweaking their boat's propeller and aerodynamic configuration. "Every team has their own system," he said. "Most people would never see the difference in the boats."
So it often comes down to the driver's skill, and King has had his share of success. But he's also had his share of mishaps behind the wheel, having broken both knees, an elbow and his collarbone. But those injures were sustained in older boats. King said it's been a decade since he's been in the hospital, in good part because the cockpits of today's boats are modified from military designs and do a much better job of preserving drivers' life and limbs. "They're pretty bulletproof," he said.
As for the river courses from city to city, "no one is better or worse than another," he said. "I happen to like Detroit because it's home."
During the Detroit leg of the schedule, King has time to see his wife, Tammy and their three children, Kiara, 9; Bobby, 6, and Jeff, 4. But the hydroplane circuit this year takes him to locales like Madison, Ind., San Diego, Honolulu and Seattle.
"The money's decent" driving unlimited hydros, King said, and a successful driver could make a living exclusively driving hydroplanes. But brick and mortar have been part of his life since he was 18 and now King owns his own company. He said he's going to keep his day job.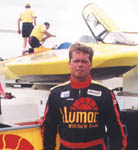 BRICKLAYERS Local 1 member Jimmy King drives the Llumar Window Film boat in the Unlimited Hydroplane race circuit.