BRIGHTON - Masons of Michigan, say hello to SAM-100.
Once you get to know how to setup his onboard computer and tablet interface, get him up and running on his scaffold track, then feed him brick and mortar, he will lay nice, level, straight wall courses for you all day long. He's not perfect at his craft, but he's very good, and the bricklayers working with him building walls at the University of Michigan's Brighton Health Center South project appreciate what he brings to the jobsite. The Leidal and Hart Mason Contractors crew working with SAM look at the bricklaying robot as a tool not to replace them, but to make their jobs easier.


"I would say it has its ups and downs, and it probably could use a software update so that it's not so fussy," said Leidal and Hart foreman Brent Federer of Bricklayers and Allied Craftworkers Local 2. The 15 masons on their crew late last month had been working with the robot for about a month. "But overall I think it does a good job, mechanically, it has been up and running every day. We have had pretty decent luck with it."


SAM is short for Semi-Automated Mason. It's a machine built by Construction Robotics of Victor, New York, that can lay between 800 to 1,200 brick a day. Its manufacturer says it can provide 50 percent labor savings and increase a mason's productivity by a factor of 3-5 times, while reducing lifting by 80 percent. Fueled by propane, once it is set up the robot runs parallel to a brick wall on a track in the floor of the heavy-duty scaffolding that's necessary to support it.


Masons and laborers feed it brick and mortar, and the machine uses onboard mechanical and laser sensors to keep it in place as it lays brick in rows that run the length of the scaffold. SAM's mechanical arm and hand grabs a single brick at a time, butters its bottom and one side with mortar, and places it using a twisting mechanical arm with remarkable accuracy. The robot then advances itself along the track in the scaffolding, and will stop automatically if it runs into an obstruction.


Federer said the mortar mix for the robot is a little stiffer than usual so that it sticks better to the brick. Once the machine gets going on laying a row of brick, the team of masons and laborers hop to it, keeping it fed with brick and mortar, watching its progress, and follow it by doing mortar clean-up and touch-ups with taps of the trowel to ensure proper setting of brick.


"From the beginning, we had some hiccups, but not too many," said David Blom, a journeyman bricklayer. "The first week and a half, we were learning it, programming it and making adjustments. Now it's running pretty good. This thing keeps you busy, it keeps laying and it keeps us going." Blom said masons have to regularly pause the machine to do things it cannot do: such as place the mechanical wall tie-ins, and install insulation, waterproofing and caulking.


The machine has its limitations. It can work with a wide variety of brick, but a human needs to feed it flawless brick as the machine can't discern when there are chips or cracks. The machine works best when it can work with long, uninterrupted courses. Humans must install the masonry sills and lintels around window openings. The machine doesn't do edges, and is stopped eight feet from an inside corner and four feet from an outside corner, and the masons take over the rest of the course.


"Overall I think SAM is a plus, and it's really a part of better changes in the whole industry," Federer said. "The better scaffolding helps us work at a better height. And SAM does all the repetitive stuff, and it takes away that twisting motion from us, so its easier on the body."


The SAM100 is described by the company's owners as "the first commercially available bricklaying robot for onsite masonry construction." It has been used across the country and on at least one other site in Michigan.


In a company video, Construction Robotics co-founder Scott Peters said bringing robotics and automation to the jobsite in the form of the SAM 100 has been a challenge on multiple fronts. He said the technological aspect can help attract young talent to the industry.


"It's a machine designed to help your commercial masonry contractors increase their productivity and help reduce some of the heavy lifting from the mason," he said. "The mason still works alongside SAM. They're still responsible for setting SAM up. They're still responsible for striking the joints and ensuring the best wall quality and using some of the knowledge and the skills they have, but they don't have to have the physical demand on their body that they might previously."


The company has a patent for their robot issued in 2015.


"This thing works pretty fast, you have to keep up with it," said Chris Bryant, a second-year Local 2 apprentice. "I like it, as long as it doesn't take away any jobs. I think one good thing is that it's saving our bodies, it takes away some of the aches we get in laying brick. Hopefully SAM will be a good friend to us in the future."


Trades operate to make more room for U-M Health


BRIGHTON - A new 297,000 square-foot full-service health center going up here will attempt to better serve the burgeoning medical needs of the community.


It's called the University of Michigan Health Center's Brighton Health Center South project, and the new space is U-M's attempt to bring health care facilities closer to its patients.


"We continue to see the number of patients visiting our clinics rise steadily, and we have reached over 2 million outpatient visits a year in our health system," says Connie Standiford, M.D., executive medical director of Ambulatory Care Services at UMHS, to the University Record.


The $175 million project is being erected in Brighton south of Challis Road, on 32 acres owned by the University of Michigan Health System (UMHS). The project is being managed by Christman Construction. Work on the two-year project began last summer. The structural steel was topped out last month by members of Iron Workers Local 25 employed by Kirby Steel.


U-M Health System said the new facility is expected to have multiple exam and operating rooms, a pharmacy and specialty services in both pediatric and adult health care, musculoskeletal health, ophthalmology, radiology and diagnostic imaging and pathology and comprehensive cancer services including radiation oncology.


"Demand for our high quality care is high: our new patient appointment volume has increased by 38 percent in the past five years. Our goal is to increase access and make it easier for our patients to get the care they need," said Jeanne Rizzo, U-M's Ambulatory Care executive director.


The UMHS already operates three existing health centers in the Brighton area, and all will remain open. They include the current UMHS Brighton Health Center on Challis Rd., the Kellogg Eye Center of Brighton on Whitmore Lake Rd. and the Howell Pediatric and Teen Clinic on Byron Road.


The project is expected to provide an average of about 125 on-site construction jobs and 375 medical staff positions when the center opens.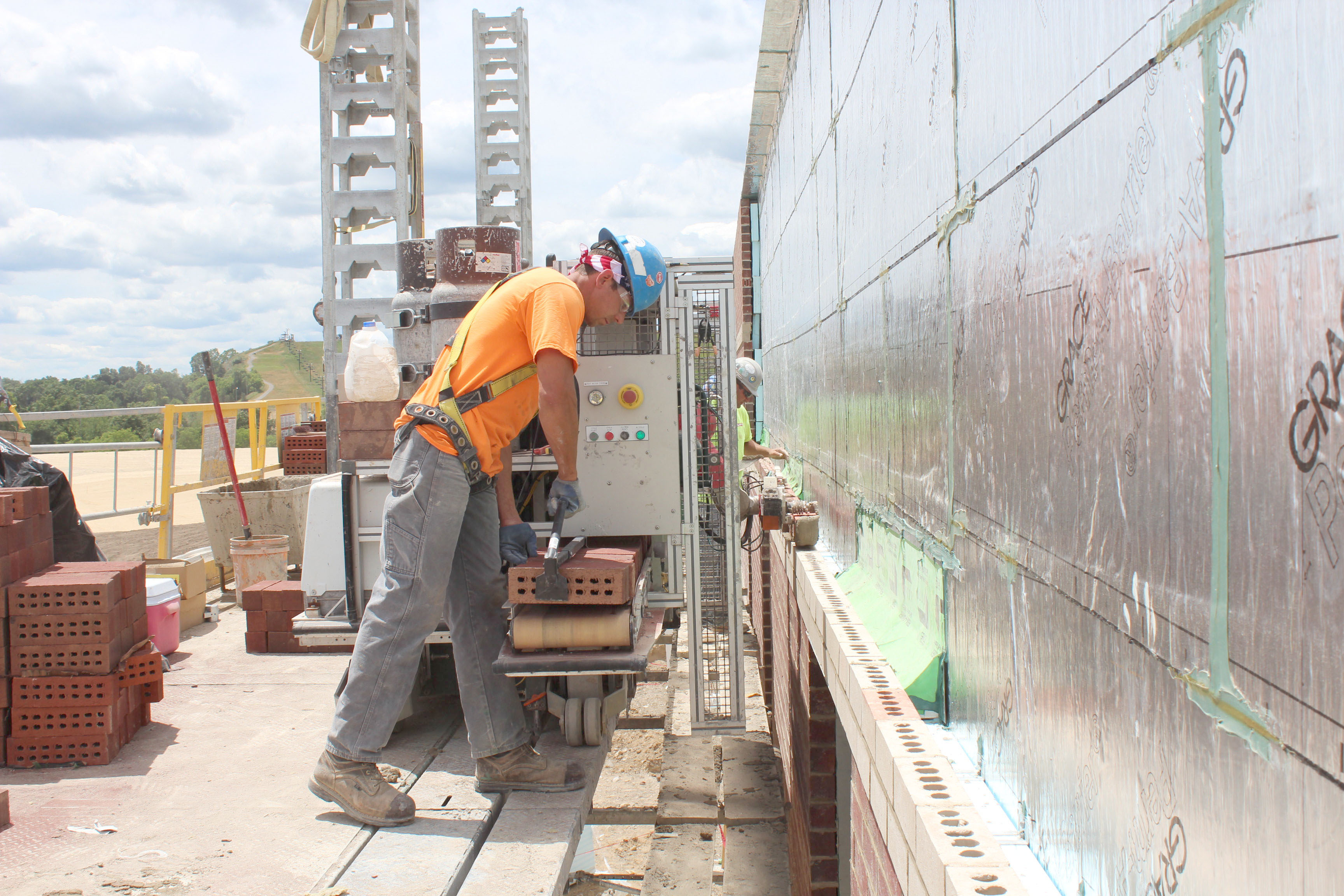 LOADING THE SAM 100 bricklaying robot's conveyor belt with a new load of brick is Matt Rutkowski of Laborers Local 1191. Following the robot and making touch-ups to the course of brick at right is David Blom of Bricklayers and Allied Craftworkers Local 2. They're employed by Leidal and Hart, building a wall at the University of Michigan's Brighton Health Center South project. The wheeled robot, guided by a laser and sensors, runs along a groove in the scaffolding, buttering brick with mortar and putting it into place, course after course.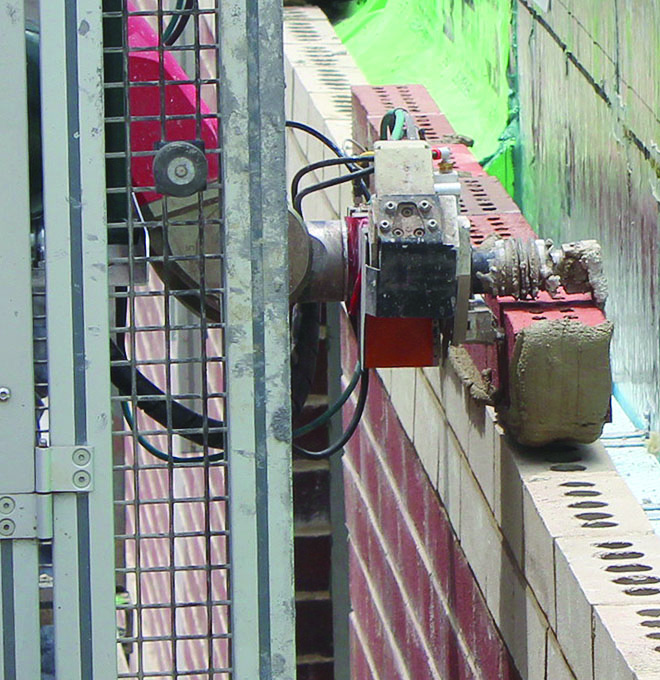 PINCERS ON THE SAM 100 robot pick up individual bricks, butter them with mortar, and place them neatly on course.

THE UNIVERSITY of Michigan Health Center's Brighton Health Center South project encompasses 297,000 square-feet on Challis Road near Grand River.