ST. JOHNS – This has been anything but a quiet, sleepy summer around St. John's High School.
As the summer season wraps up, Clark Construction and the building trades are also wrapping up a portion of a big renovation and addition project work at the school that will allow for a relatively normal start to the academic year for students and teachers.
"It hasn't been without hiccups, but we're happy with the progress that's been made on this project," said Ed Lorenz, project manager for construction manager Clark Construction. "We're going to meet all of our deadlines. The trades have understood what we needed to do, and they have been fine. We've been progressing well."
Expansion and renovation work at the high school and site improvements to the middle school and three elementary schools were made possible by St. Johns Public Schools voters' passage of a $64 million bond issue in May 2010. The bond issue will primarily focus on needs at the high school, which will get a new classroom and science rooms, a new football field and an athletic addition, among other improvements. The high school was constructed in 1969 and has received only a small 11,000 square-foot expansion since. St. Johns is about 20 miles north of Lansing.
Major construction work started in 2011. A series of phases, timed to work around the school calendar to limit disruptions to teachers and students, will finally make the project complete in 2014. Construction employment progressed this summer with a peak of about 120 Hardhats working on the project.
When the work is finished the high school will have: 149,500 square-feet of renovated space, a 54,000 square-foot addition on the east side and an 88,248 square-foot addition to the west side. Lorenz said the renovation work will improve the layout of the existing classrooms, many of which were built with circular walls that, logistically, did not create an optimum educational space.
Lorenz said the 1969-era building with a structurally curving flow made few allowances for easy additions. "It's been a shoehorn," he said. "It's a tight site, there's little room to move around, and one of the biggest challenges we've had is to make room in the ceiling for the mechanical, electrical and plumbing. There just is not a lot of space available."
Dr. Ken Ladouceur, superintendent of St. Johns Public Schools, told the Lansing State Journal that the project is moving along well, and while the school won't "take possession" of the first two sections of a new academic wing until Sept. 14, the work is on time. "We are on schedule and on budget," he said.
Last week, the school building's halls, classrooms and new science rooms were humming with activity by tradespeople. Ceiling tiles were off the grids in many areas while the final mechanical installations were being made. A number of masons were also working on new walls for the athletic area outside the building. New parking lots and sidewalks were also being installed.
"When we're finished, the look of the building will pretty much remain the same; we plan on keeping the same façade," Lorenz said. "But the final product is really going to be impressive, it will be a wonderful improvement for the community."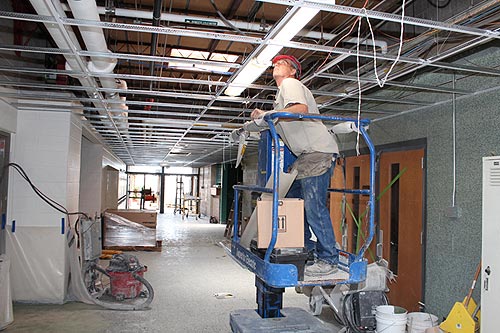 INSTALLING LIGHT fixtures in a hallway at St. Johns High School is Dan Lenneman of IBEW Local 665, working for Superior Electric.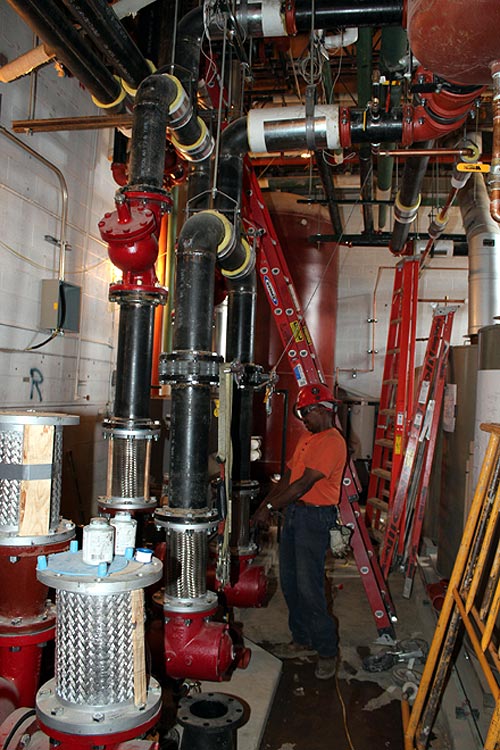 WORKING ON a six-inch bleeder hose pump at St. Johns High School is Justin Austin of Plumbers and Pipe Fitters Local 333. He's working for William E. Walter.