DETROIT - Henry Ford Health System's hospital along West Grand Boulevard in the city's New Center area has physically grown over the past century about as much as its confined campus will allow.
With the hospital in need of more, and streamlined space for cancer treatment that was impractical to create in the existing campus, Henry Ford planners looked at available real estate directly across the boulevard and found what they were looking for.
The result: Turner Construction/KEO, their subcontractors and building trades union workers have been hard at work for the past 20 months at the site across the street, erecting the 185,000 square-foot Brigitte Harris Cancer Pavilion. The connected three- and six-floor structures that comprise the pavilion will be linked to the main hospital via a skybridge over West Grand Boulevard. The new center is designed to accommodate the 7,500 (and growing) cancer patients who seek treatment at Henry Ford Hospital every year.
"As we continue to watch the amazing work being done to complete this building, we are reminded that what we are building here extends far beyond the facility itself," said Wright L. Lassiter, III, President and CEO, Henry Ford Health System during the topping out of the structure last year. "We are changing the whole approach to cancer care and making it accessible to patients, regardless of where they live."
The new $155 million building will consolidate all cancer treatment, and will provide a "patient centered" treatment program tuned to the needs of the individual. A nurse navigator, trained in specific types of cancer, will be assigned to each patient, and manage their treatment journey. All cancer doctors and specialists – including radiation oncology, medical oncology, and surgeons – will work together on the same floors.
The facility will also have extended weekday and weekend hours, an integrated lab with rapid test results, streamlined access to clinical trials, on-site exercise, nutrition, and wellness planning, food services directed to the tastes of cancer patients, as well as counseling, spiritual and other support services.
"By combining those comforts with unprecedented access to precision medicine, clinical trials and digital consumer technology, we really are creating something unique," said Steven N. Kalkanis, M.D., Medical Director, Henry Ford Cancer Institute, and, Chair, Department of Neurosurgery. "We want to walk alongside our patients and families from the very moment their journey begins and we have carefully and thoughtfully designed both this facility and the experience to exceed their expectations."
It's rare for a health care facility to have an entire building of this size devoted to cancer care. Pam Hazel, director of Henry Ford Cancer Institute's Brigitte Harris Cancer Center Pavilion Project, said it was "valuable to design and build the new cancer center from scratch," and doing so allows a logical step-by-step treatment process "that mitigates the movement of patients from one place to another."
Erected over space that included a former parking lot and some old houses on the south side of West Grand Boulevard, the new cancer center is being built atop some beefed-up foundations that will serve as stable structures for the facility itself, as well as the extensive radiology and imaging equipment inside. Oftentimes radiation-delivering linear accelerators are built below-ground in health care facilities, but designing and building this center from scratch, with foundations that will all but eliminate vibration, allows them to be placed on the ground floor, allowing patients to be surrounded in light from ample windows.
"In order to get the foundation support that we need, we had to go really deep with the caissons," said Turner Construction Co. Senior Project Manager Charles Hornacek. "Under the three-story west wing, we went down 145 feet - that's pretty extreme for this area. About 115 feet is usual." Hornacek said caissons were also used under the site's five-level parking deck, and the six-story portion of the project sits on a three-foot-thick concrete mat foundation, which helped the builders with sequencing the project.

Above ground, a curtain wall with unitized prefabricated metal panels helps with quality control and speed of installation. Henry Ford Hospital's familiar "Five-Blend Brick" that's used across the street at the main campus and at other sites is being incorporated into this project, with the thin columns of brick allowing for maximum use of glass.

Hornacek said he expects perhaps the biggest challenge of the project will be the construction and installation of the 428-foot-long steel-framed connecting skybridge across West Grand Boulevard. The 10-foot-wide by 12-foot-tall glass-enclosed walkway will extend from the second level of the new cancer center to the main hospital. The walkway's structure will actually be built in a single span along two closed lanes of West Grand Boulevard.

"There will be no intermediate support in the center of the median," Hornacek said. "The reason is the presence of existing water mains and utility vaults in that easement - we didn't want to have to deal with that, and a clear span will give it a cleaner look." Construction on the skywalk is expected to begin this month, and plans call for it to be lifted into place and installed over the course of an expected 36 hours or so on a weekend.

Hornacek said 110-120 building trades workers have typically been employed on the project. "They're doing very well," he said. "I applaud them for working through a tough winter, and just keeping at it. They're done good work, and they have worked safety, I really commend them."

The Turner project team also includes Project Executive Ron Dawson, Senior Project Supt. Bob Sanders, Senior Project Engineer Sid Bhalia and Project Engineer Forrest Wagner. The building was designed by SmithGroupJJR,

"We really expect this project to be transformational in the way we deliver care to our cancer patients," Hazel said. "Not only in the space, which will be patient-centered, open, airy, and with lots of natural light. We expect the facility to improve the experience for patients, visitors and family. We look at it as an optimal way to treat patients, and we expect that it will improve outcomes and survival rates."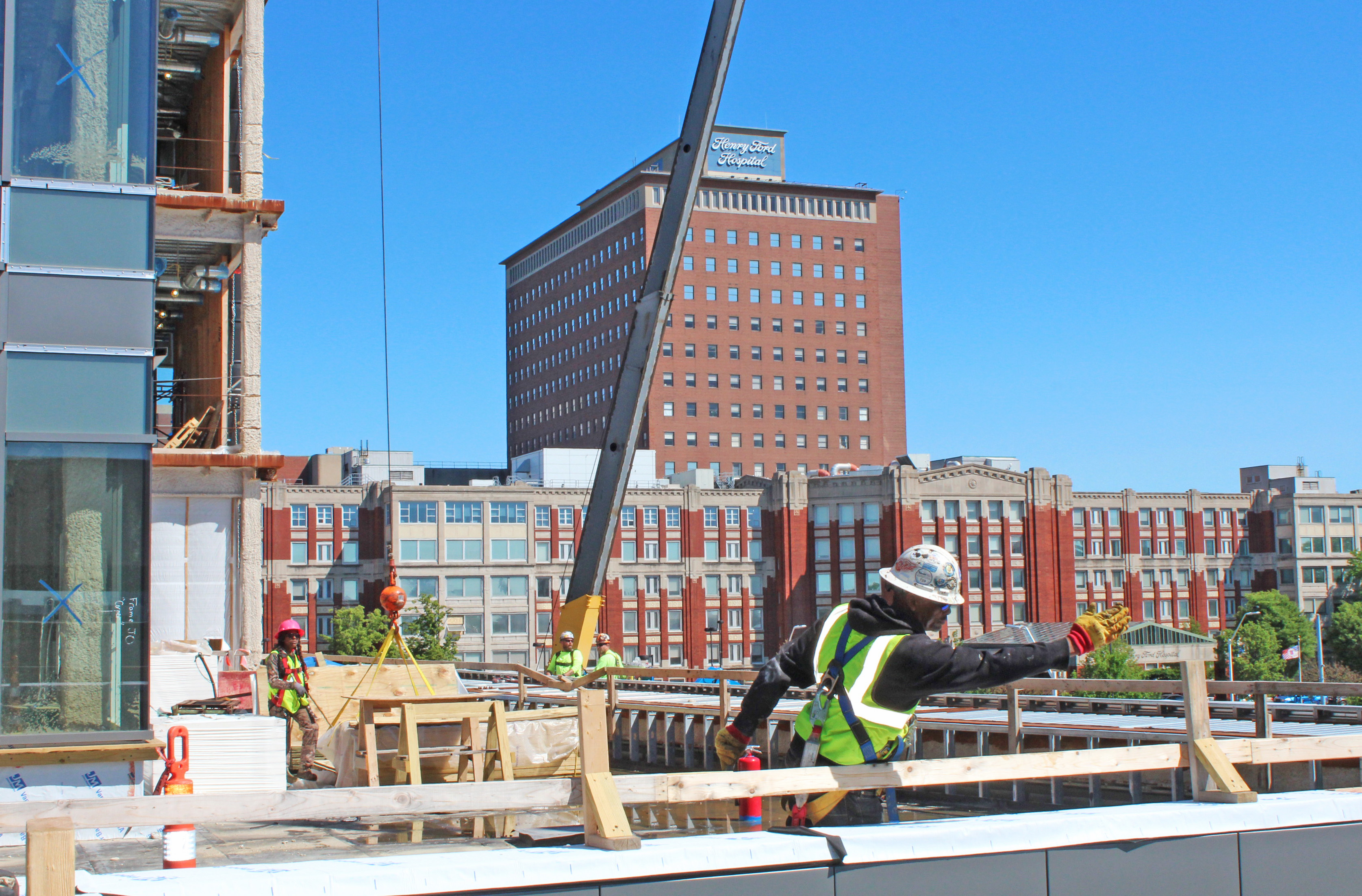 SIGNALLING A CRANE operator lifting plywood sheets at the Henry Ford Health System Brigitte Harris Cancer Pavilion is George Green of Roofers Local 149 and Christen Detroit. Properly placing that plywood is fellow roofer Lakennyia Posey. The main tower of Henry Ford Hospital looms in the distance.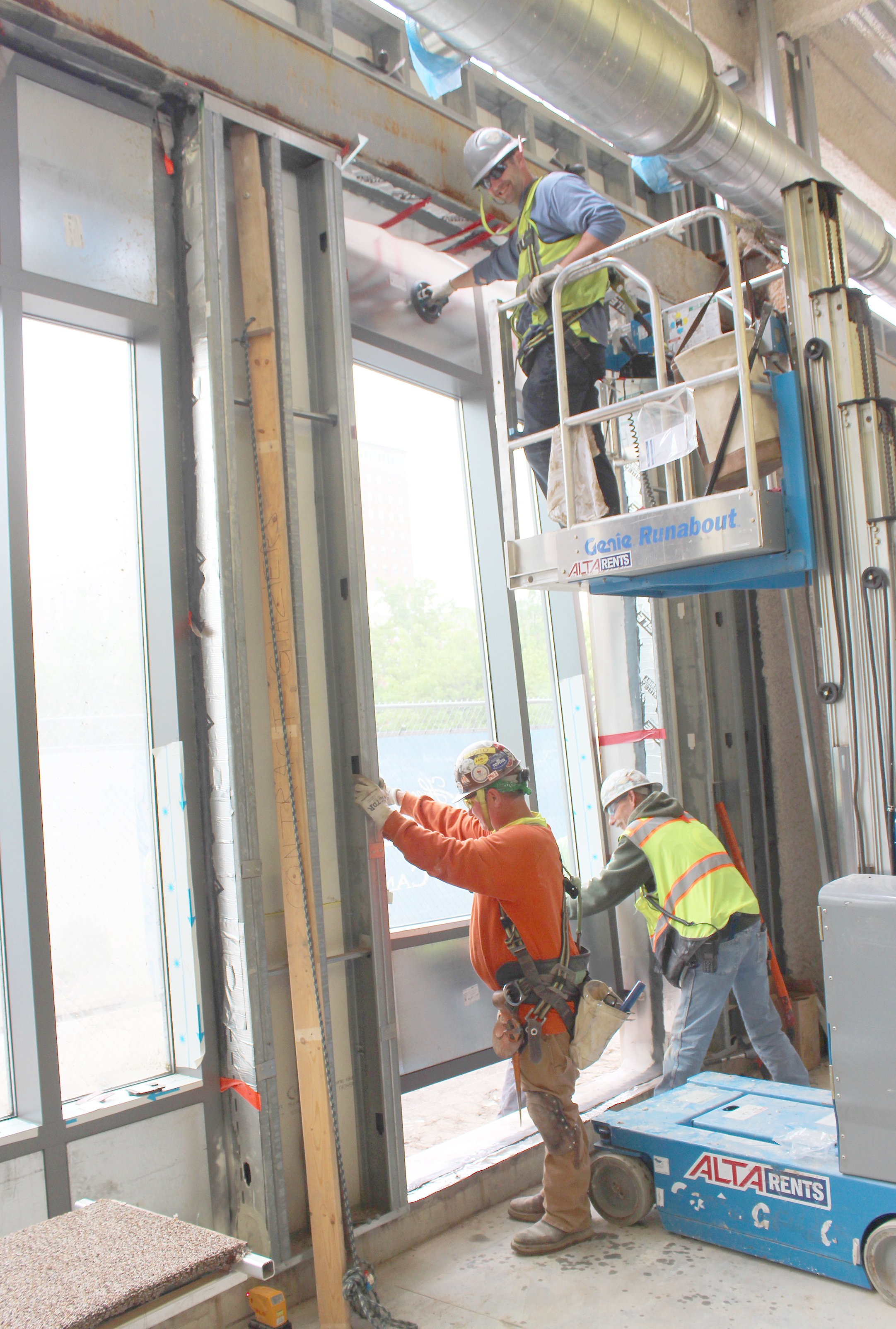 SETTING GLASS at the Henry Ford Cancer Center in Detroit are (on lift) Ryan Davis and below (l-r) Marty Victor and Scott Johnson. The trio are Glaziers and Glassworkers Local 357 members employed by Contract Glaziers Inc.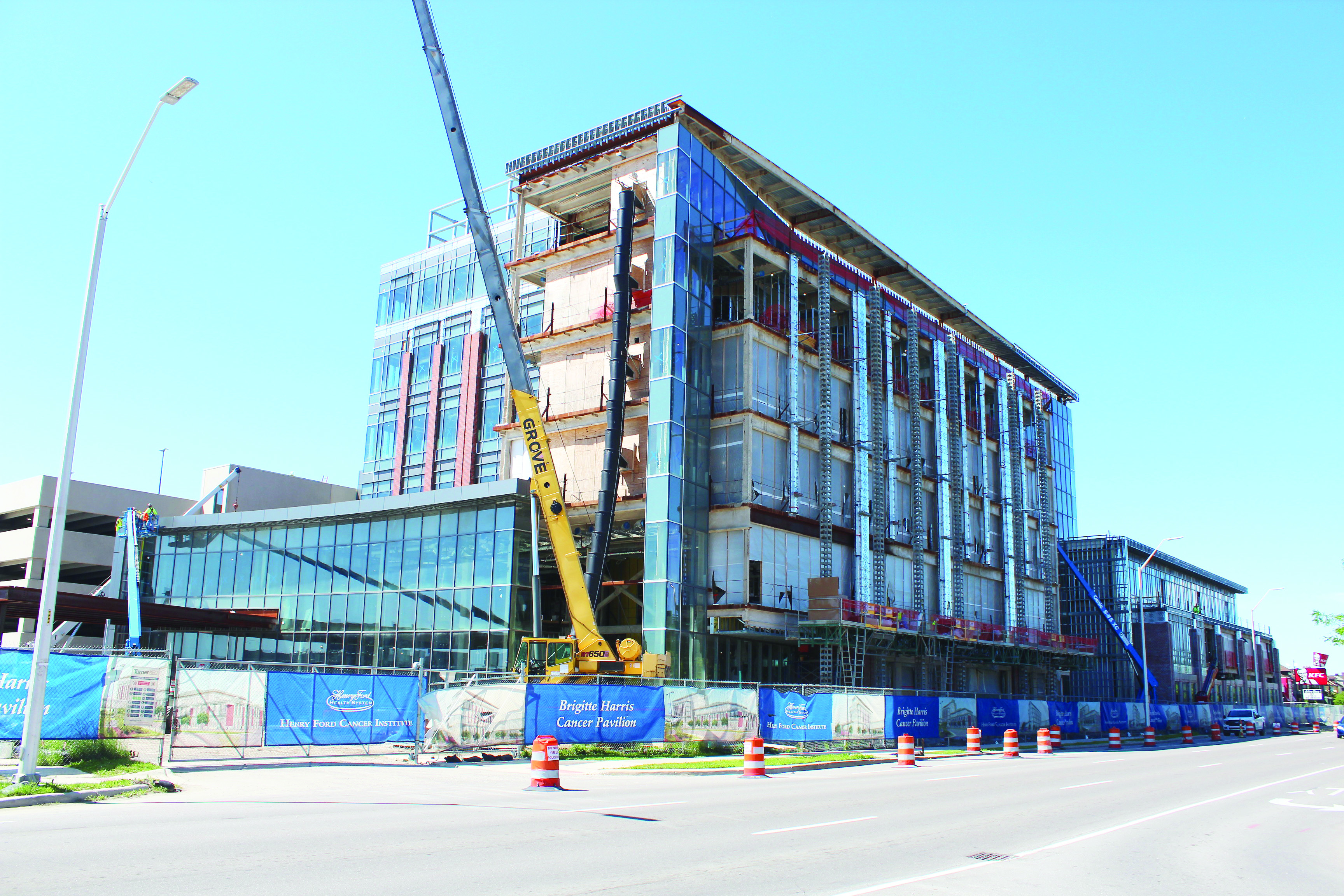 HENRY FORD HEALTH SYSTEM as well as Turner Construction/KEO, their subcontractors and building trades union workers are undertaking the construction of the new 185,000 square-foot, $155 million Brigitte Harris Cancer Pavilion across West Grand Boulevard from its main hospital in Detroit's New Center area.