STERLING HEIGHTS – SHAP is taking shape.
Chrysler Group LLC's $1 billion investment to upgrade its Sterling Heights Assembly Plant is moving along according to schedule, with completion expected in the first quarter of 2014.
With that investment, SHAP got a new lease on life. The plant was scheduled to close at the end of 2010 as part of a court-ordered reorganization. With some help from federal, state and local governments, Chrysler Group kept the facility open, and now it's getting a newly constructed body shop and paint shop – each of them in excess of one million square feet in floor space.
The investment has also benefited the local construction trades: up to 900 Hardhats are currently working on the project, working two shifts daily and weekends. Plus, it's the largest corporate investment in construction in Sterling Heights' history.
"It's been a great team effort with our tradespeople and contractors helping bring us to where we are today," said Chris Carnell, project manager for Walbridge, which is providing construction management services for the paint shop and adjacent body shop. "The quality of work has been outstanding and we've had a very good safety record."
SHAP, located along the west side of Van Dyke and north of 16 Mile Rd., employs nearly 2,600 people and is home to the Chrysler 200 and Dodge Avenger. The original plant was built in 1953 as a jet engine plant and was operated by the Army as the Michigan Ordinance Missile Plant with Chrysler serving as contractor, building Redstone and Jupiter missiles. It was converted to an automobile plant in 1980 by Volkswagen and purchased by Chrysler Corp. in 1983.
In October 2010, Chrysler Group said it would invest nearly $850 million in a state-of-the-art paint shop. According to Walbridge, the work includes construction of an energy center, which will house compressors, dryers, chillers, hot water equipment, purified water equipment, and non-potable water supplies. The project will include a paint mix building and sludge building, as well as connector bridges from the new body shop to the new paint facility and from the paint shop to the existing trim shop.
The paint shop building itself is basically a massive, industrial-strength shell to house painting operations. It will sit on an eight-inch-thick concrete floor, supported by 24-feet-deep caissons.
Giffin won the contract to construct and install the entire paint system at SHAP, while Gallagher-Kaiser is building the paint booth oven modules. Work on the paint shop actually started back in 2007, but was halted because of the faltering economy.
Then in October 2011, Chrysler Group announced that it would invest $165 million to add a one million square-foot body shop on the grounds of a former parking lot at the site. The body shop will be one of the largest in North America with some of the most advanced equipment and conveyors in the auto industry. Commercial Contracting Corp. is managing much of the work inside the body shop.
When the body shop work was announced, Scott Garberding, Senior Vice President and Head of Manufacturing, Chrysler Group LLC, said: "Today marks another milestone in the rags to riches story of the Sterling Heights Assembly Plant. A plant that was slated to close nearly two years ago will now be a state-of-the-art facility that will play an integral role in the success of this company by building the next generation of all-new vehicles."
Chrysler Group's total investment in U.S. facilities has exceeded nearly $5.2 billion since June 2009.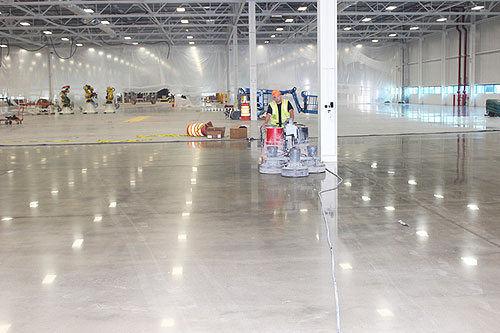 SMOOTH, SHINY, LEVEL – this section of concrete flooring in the Chrysler Sterling Heights Assembly Plant body shop has it all. One of the crew who built it is Brian Hennigar of Cement Masons Local 514, who is operating a floor grinder/polisher. He's employed by Titan Industrial Flooring.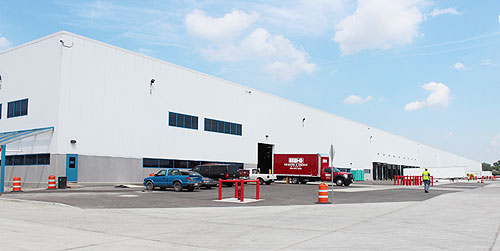 THE NEW Chrysler Sterling Heights Assembly Body Shop (above) and nearby Paint Shop together will cost more than $1 billion. They're the largest ongoing construction project in Michigan.

HOOKING UP A MAINTENANCE receptacle inside the Chrysler SHAP's body shop is Steve DeLongchamp of IBEW Local 58, working for Motor City Electric.