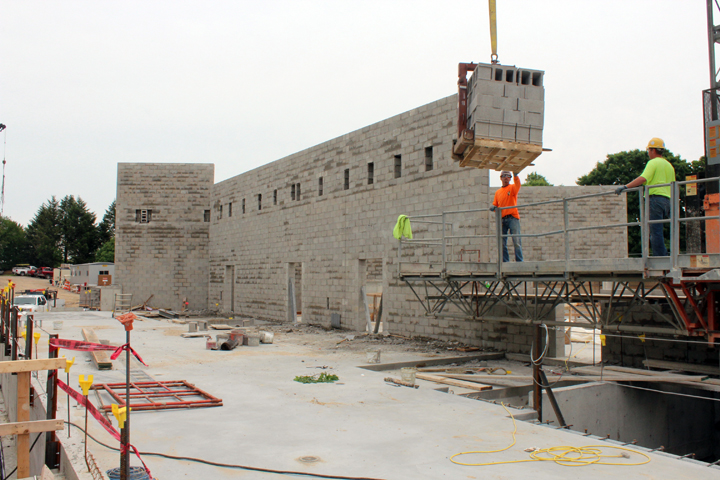 ROYAL OAK - If you love to watch penguins - and who doesn't? - you're going to love the new Polk Penguin Conservation Center under construction at the Detroit Zoo.
General contractor Demaria Building Co./Wharton-Smith, joint venture, their subcontractors and the building trades are erecting a beautiful new $29.5 million habitat for the four penguin species that will be moved from the zoo's current penguinarium. The new home for the zoo's penguins will feature a continuous pool which will allow the penguins to swim fast enough to porpoise or "fly through the water," a behavior frequently seen in the wild. The Detroit Zoo is one of the few zoos in the world to incorporate this design feature.
"Being from this area, my kids are excited that I'm working at the zoo, and they can't wait to see it finished," said DeMaria Senior Project Supt. Nick Annoni. "It's great to be working on the largest project in the history of the zoo. And I can tell you, the penguins are going to be even more excited. It's going to be a great habitat for them." Work began on the project in July 2014 and is expected to wrap up early next year.
Visitors to the new penguinarium will be greeted by a building with a multi-angled, metal-clad exterior intended to look like an iceberg. Inside, visitors will have a virtual ship-bound experience inspired by Sir Ernest Shackleton's legendary Antarctic expeditions as well as epic crossings of the Drake Passage. The facility will feature 4-D effects such as arctic blasts, rough waves and snow, and physical elements such as ice crevasses.
A series of ramps will allow visitors to see the penguins, who will be swimming, eating and socializing in the chilled 326,000-gallon, 25-foot-deep aquatic area. The primary viewing spot will be a 34-foot by 19-foot window that's nine inches thick. Heavy duty mechanical systems will maintain dual comfortable environments for both the penguins on one side of the glass and humans on the other.
Approximately 35 building trades workers are currently employed on the project.
"In my 30 years in this industry, I've never seen anything like it, so many systems in one place," said foreman Butch Stearns of Johnson and Wood, the project's mechanical contractor. "We've got chilled water, hot water, refrigeration, sanitary pumps, a life support system, and more. It's really impressive what's going in here."
Penguins, apparently, are messy creatures, and mechanical systems will also be put in place to filter out their droppings, feathers and any uneaten fish-food.
The 14,000 square-foot penguinarium is being built on a former greenbelt on the far east side of the zoo. Annoni said the project has been plagued by a high water table, and de-watering efforts have only recently wrapped up. Keeping the whole system water-tight from the inside-out, he said, starts with very tight tolerances for the structural steel erection. The steel in the right place provides structure for a series of highly insulated, waterproof panels that are clipped into place and contain the water in the penguins' environment. Forensic scans of each completed stage of work helps assure that every piece of structure is exactly where it should be before the next step is taken.
"Everything has to be exactly right in order for the system to lock together," Annoni said. "And there's not a straight line in this building, everything is custom and complicated."
The future flippered inhabitants, which include about 80 King, Macaroni, Rockhopper, and Gentoo penguins, thrive in air and water that's between 45 and 50 degrees. The interior light cycle will be timed to mimic what the birds would experience in the wild, with shorter days in the winter and longer days in the summer. The zoo says this is critical for the overall health of penguins because they molt and breed when the length of day increases.
The lighting installation, like most everything else in the penguinarium, is complicated, said Kevin Deckard, project foreman for Conti Electric. "Not only are there lots of different show lights in the habitat areas for the penguins, there are different types of lighting and controls for the public areas, plus controls for systems like the wave machine and the snow machine. This is certainly not a typical building, I've never seen anything like this."
The habitats in the building will ensure an optimal environment for the penguins' welfare and encourage wild behavior, from diving and porpoising to nesting and rearing young.
"We believe this will be the world's most significant center for penguin conservation and education," said Detroit Zoo Executive Director Ron Kagan. "We are thrilled to be moving forward with our plans for this amazing place for people and penguins that will be centered on conservation. It will be an extraordinary and unique experience for our guests."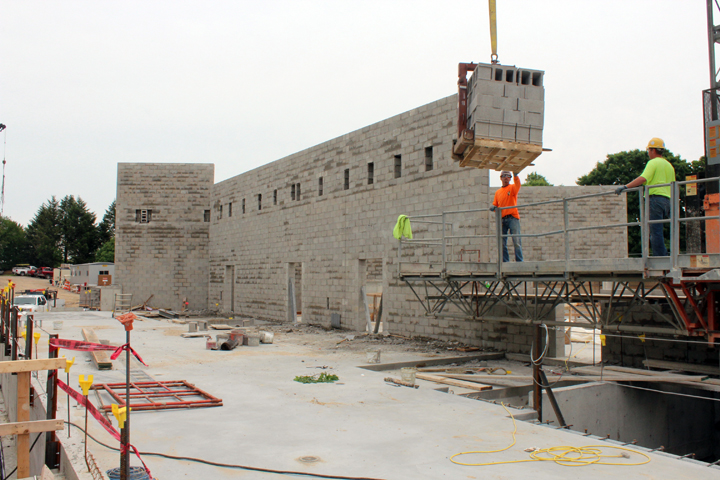 GUIDING A PALLET OF BLOCK in what will be an office/work area of the Detroit Zoo's new penguin exhibit is Laborer Joe Reddick. At right is Brian Storey of Bricklayers and Allied Craftworkers Local 2. They're employed by Brazen and Greer.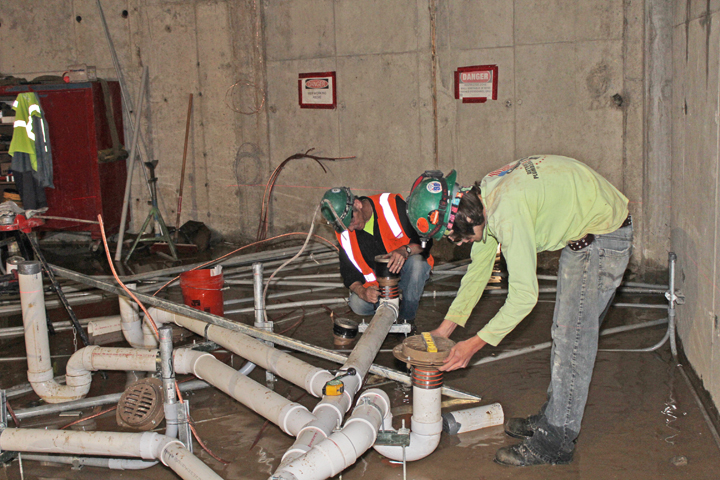 SETTING FLOOR DRAINS in a lower level "husbandry area" of the Detroit Zoo's new penguin exhibit are (l-r) Les Hilder and Jordan Bachman of Plumbers Local 98. They're employed by Johnson and Wood.


A RENDERING of the new penguinarium at the Detroit Zoo. With few straight lines and exact tolerances to keep it watertight, the construction of the building will be a challenge. Penguins are expected to inhabit their new home beginning early next year.