ANN ARBOR – Couzens Hall's nice brick exterior will look about the same when a major ongoing renovation project is complete in June. Likewise, there won't be that many physical changes to the layout of the interior of the hall, especially on the upper floors, which provides housing for some 600 students.
But hidden behind the walls and the ceiling of the 180,000 square-foot residence hall will be a trove of new and renovated systems that will modernize the mechanics of the facility. The hall will feature a new fire suppression system, new air conditioning, as well as wholesale upgrades to plumbing, electrical, heating and ventilation, and wireless Internet.Walbridge is managing construction of the project at 1300 E. Ann Street, which is, not surprisingly, on a fast track. The project began at the end of the school year last May, and the U of M wants the renovation performed in a time frame to assure the building is out of commission for only a single academic school year.
"It's been a good job, we have a great team out here," said Walbridge Senior Supt. Mike Hubert. "The trades and our subs have experienced significant change orders during the project, but they've been able to keep to the schedule."
Also part of the project: bathrooms and student rooms will be renovated, "while common areas are being redesigned and repurposed into new community spaces for living and learning," the university said. New common areas for student living and learning activities will be created out of the former dining and kitchen areas. Dining services formerly located in Couzens Hall have been moved into the new Hill Dining Center. A new coat of paint throughout, as well as new floor coverings, will make the $49 million renovation complete.
Hubert said the tight time frame for the project, plus merger of the old and new buildings, as well as work performed on a renovation about 15 years ago and earlier unknown projects "have really made it a challenge to merge the new building with the designers' original plans." Many of the new mechanical systems are being placed into the ceiling, which makes it a challenge to maintain a desired nine-foot height. At one point the lip of a single flange connecting two pipes caused a ceiling to be lowered a couple of inches. In another spot, there was no way around routing pipes through a vital iron support beam, which was otherwise reinforced.
"You just don't know what you're going to find until you start opening up walls," said Walbridge Project Supt. Jon Molnar. "It's like renovating a house, you deal with the work done by every homeowner before you." Both Molnar and Hubert said Walbridge and their subcontractors worked closely with the university to minimize any impact on students.
Construction manpower on the project peaked at about 180 Hardhats. Nearby Mott Children's Hospital is the beneficiary of an effort on the project to collect construction workers' pop cans and bottles and turn them into cash. So far $450 in returnables have been collected, an amount matched by Walbridge.
According to the University of Michigan, Couzens Hall was built in 1926 at a cost of $600,000. A six-story east addition in 1955 doubled space in the hall. Originally it was a women-only facility for campus nurses; today, it's co-ed with single- and double-occupancy rooms. Nearby Mosher-Jordan and Stockwell residence halls have been similarly renovated by Wabridge in recent years.
"The renovation of Couzens Hall continues the vital momentum in the Residential Life Initiatives to improve the residential facilities on campus and to strengthen the connections between living and learning," said U-M Vice President for Student Affairs E. Royster Harper. "Input from students, faculty and staff, as well as national benchmark data for campus residential communities, were very important in informing this recommendation to the regents. We will continue to engage students and others as the vision for Couzens develops."
Walbridge become the first construction company in Michigan to receive the Star Award for safety and health excellence from the Michigan Occupational Safety and Health Administration (MIOSHA). Under the new Michigan Voluntary Protection Program for Construction (MVPPC), Walbridge was recognized in September for its exemplary safety program and practices at the Couzens Hall renovation project.
"The university is fully committed to operating safely at all times and we applaud Walbridge for its emphasis on safety," said Marina Roelofs, executive director, Architecture, Engineering and Construction at U-M. "We value their purposeful approach and the way they hold themselves and their subcontractors accountable."
The MVPP program has been in place in Michigan since 1998 for general industry. MIOSHA worked with construction industry leaders to create the MVPPC. The program recognizes the specialized work conducted by contractors and subcontractors. To qualify for the Star Award on a fixed-base project, companies must be in business at least three years, have a history of successful partnering with MIOSHA, show a superior commitment to safety and proof of outstanding programs, and have injury and illness rates at or below the national average in a very hazardous industry, according to MIOSHA.
"The Star Award recognizes the highest level of achievement in the state for occupational safety and health management in construction," MIOSHA Director Doug Kalinowski said. "The industry plays a vital role in the state's economy and higher education is a key to Michigan's future. Walbridge and the University of Michigan have created a partnership at Couzens Hall that demonstrates how a shared vision for safety and consistent follow-through can yield exemplary results."
Walbridge has been repeatedly recognized for the quality and effectiveness of its safety programs. In March 2010, the company was awarded first place in the 2009 Associated General Contractors of America Construction Safety and Excellence Awards competition, recognizing it as best in the nation for safety in the Building Division (1 million – 4 million hours worked category).
Walbridge Chairman and CEO John Rakolta, Jr. pointed to the important contributions made by company employees and subcontractors. "Our employees and construction partners made this happen," he said. "This honor is the result of efforts they make every day to think about safety and to act safely. Safety is a core value and not a part-time obligation with us."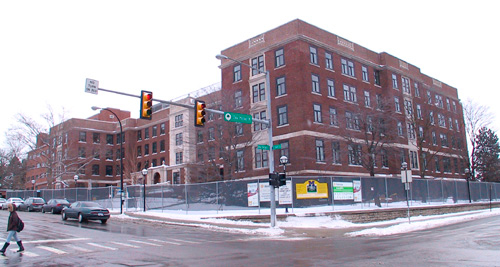 COUZENS HALL on the University of Michigan Campus is Ann Arbor is in the process of being gutted and refurbished with modern mechanical systems. Common areas on the lower floors are also being re-purposed.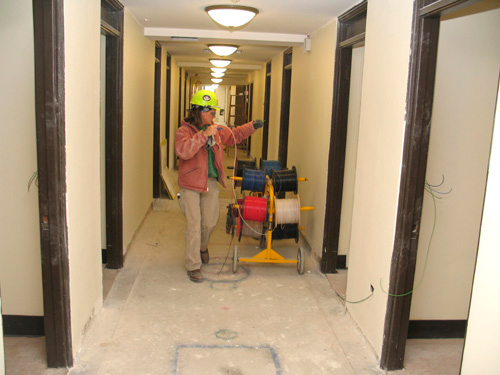 PULLING 120 VOLT wire in a 5th floor hallway at Couzens Hall in Ann Arbor is Lecia Cochran of IBEW Local 252, working for Maryland Electric.