SAULT STE. MARIE – Michigan Building and Construction Trades Council Secretary-Treasurer Patrick Devlin and President Patrick "Shorty" Gleason were both re-elected to four-year terms during the council's 49th annual convention.
Neither Devlin nor Gleason had opposition.
This marked the first election for the leadership positions at the council since building trades delegates approved the 2005 merger of the Detroit Building and Construction Trades Council and the Michigan State Building and Construction Trades Council.
"It was a lot of hard work uniting the councils, but the merger has paid off," Devlin told convention delegates. "It has been an honor serving you and the membership, and I look forward to serving another four years." Delegates also approved a resolution changing Devlin's title from CEO to Secretary-Treasurer – as it was before the merger.
Gleason added: "I'd like to thank each of you for your support. Just like the last four years, we're going to continue to work and do the best we can on behalf of our members."
When the council was established in 1957, The Building Tradesman reported the Michigan State Building and Construction Trades Council "came into being at the behest of leaders of the Detroit Building Trades Council and similar organizations throughout the state. These leaders saw a need for a more compact and unified body… the need for central organization, and the need to coordinate the state's building tradesmen into one unit as a means of presenting a solid front against jurisdictional inroads and organizational drives."
The 2009 convention was held at the Kewadin Hotel and Casino in the Soo, Delegates also voted to hold the convention every four years, given the economic conditions in the state.
This convention, Devlin said, "comes during an economic period which may be the worst in our lifetimes."
The few bright spots in the state, he said, are the increasing use of project labor agreements, better construction industry injury and fatality trends reported by MIOSHA, and strong relationships with the state's utilities – which will help a few years down the road when power plant and other energy-related construction will be a major employer in Michigan.
And, he said, President Barack Obama is "not afraid to use the word union" and has committed to spending more money on infrastructure – although the spending isn't happening quickly enough.
"Way too many of our people are sitting on the bench waiting for the economy to turn around," Devlin said. "There are a few local areas and a handful of trades that are actually doing pretty well, but no one here needs to be reminded what a tough situation this economy has put us in."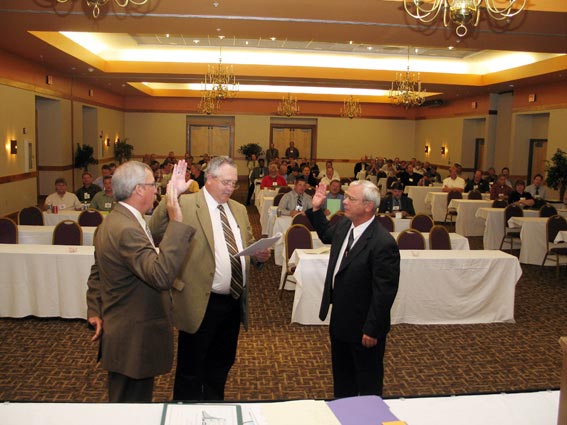 TAKING THE OATH of office for new four-year terms at the Michigan Building and Construction Trades Council are Secretary-Treasurer Patrick Devlin (left) and President Patrick "Shorty" Gleason, right. Administering the oath is Roofers Local 149 Business Manager and Michigan Building and Construction Trades Council Executive Board member Bob Peterson, center.